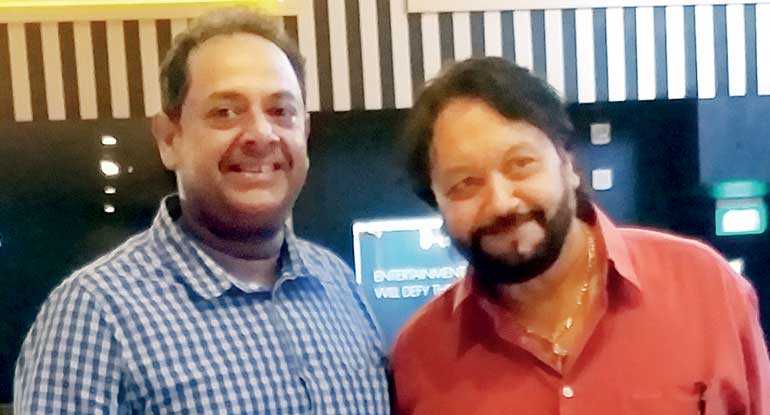 Saliya Jayasooriya and Alston Koch
---
Excel Green Residencies (EGR) is growing in popularity with Sri Lankan and overseas investors and buyers showing a keen interest in the unique self-sustaining and highly eco-friendly concept visualised by visionary founder, Saliya Jayasooriya.
Alston Koch, also a film celebrity in the controversial movie 'According to Matthew,' unequivocally endorses Excel Green's sustainable living concept with its eco-friendly features.

On the success of its overseas buyers, Saliya commented saying, "We are extremely pleased to have Alston Koch promoting our brand which is an innovative approach to living. His performance as a globally recognised musician and environmentalist, endorses our strict adherence in preserving our surrounding environment in its natural habitat. In addition to our use of the most sustainable materials and technologies to develop our apartment complex, we are certain that EGR will contribute to practical living."

He added, "EGR and Alston share a common, mutual desire to improve people's lives and contribute to society. In addition to creating truly great place to live with new and unique value, Excel Green Residencies takes to heart our mission to enrich people's lives through unique corporate activities and to grow our company in unity with society. We look forward to collaborating with Alston on a number of corporate social responsibility programs in the future."

Alston Koch, commenting on this project, "I am honoured and also very excited, to be associated with EGR, which is a cool concept with strong roots in preserving the eco balance of nature, moreover since Sri Lanka is a country whose culture and way of life I respect. He added, "I feel a natural connection with EGR. To me, it is not merely a profit oriented project, but is the ultimate in responsible living, which is exactly what I respect and endorse."

Alston Koch is a Sri Lanka born Australian singer-songwriter, film producer, record producer and actor. He was often lauded in the Australian and Asian media as "Asia's King of Pop" after gaining international success in the late 1970s. He has performed worldwide and achieved international success in Australia, Indonesia, Thailand, Malaysia, Singapore, India and Sri Lanka among other places.

He received State of California Senate's Certificate of Recognition and Certificate of Special

US Congressional Recognition for improving the lives of the communities in America.