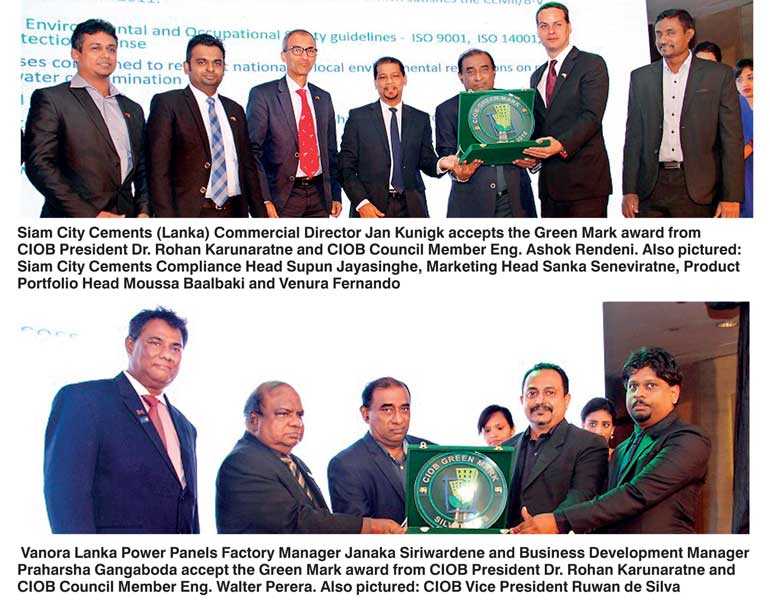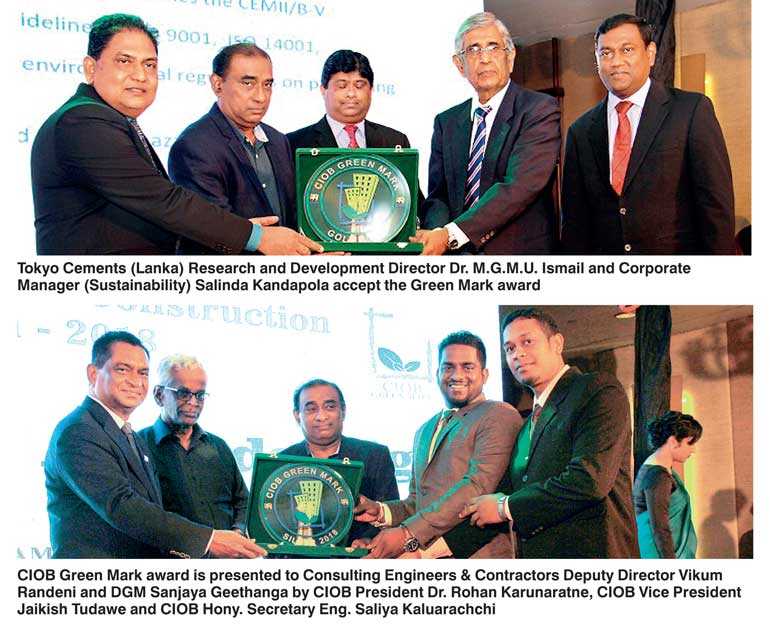 CIOB Green Mark Building Awards 2018 was held in a grand scale on the evening of 30 June, at the Ramada Hotel, Colombo. Awards and certifications were awarded to organisations, products and buildings that have achieved CIOB Green Mark Certification after a rigorous evaluation process and professionals who have successfully completed the CIOB Advanced certificate course for Green Managers.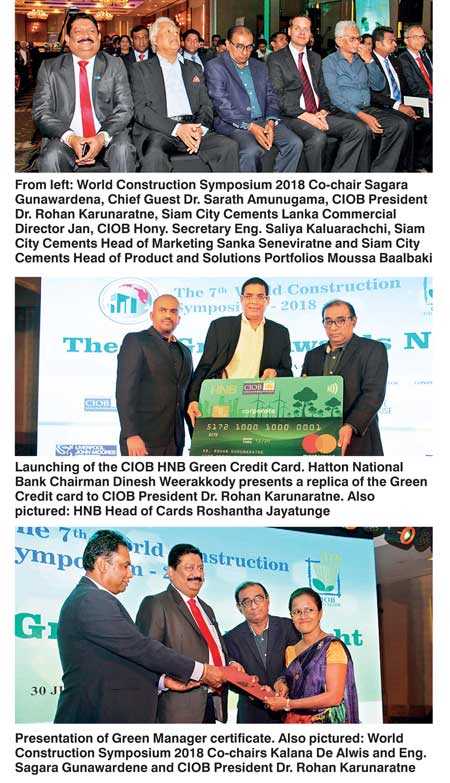 The CIOB Green Mark Scheme was launched as an initiative to drive Sri Lanka's construction industry towards more environment-friendly buildings, products and services. It is intended to promote sustainability in the built environment and raise environmental awareness among developers, designers and builders when they commence project, from conceptualisation and design to construction. CIOB GreenMark is derived from the world renowned BCA Green Mark scheme managed by the Building Construction Authority of Singapore and is awarded to Constructed Buildings (New and Existing), Building Products and Materials and Building Contractors.

Siam City Cements (Lanka) Ltd. for their product 'Portland Limestone Cement', Venora Lanka Power Panels Ltd. for their product 'Power Panels', Tokyo Cements (Lanka) Ltd. for their product 'Tokyo Super + Portland' and Nippon Paint Lanka Ltd. for their products '3 in 1 Weatherfresh' & 'Weatherbond Algaeguard' were awarded Green Mark Certificates & Plaques in the Building Materials & Products' category while Consulting Engineers and Contractors Ltd. were awarded in the Building services category.

The awards night coincided with the World Construction Symposium 2018 which was held from 29 to 30 June at Hotel Galadari. The academics and researchers who have presented their papers at the Symposium and the associate partner Universities also were honoured at the Awards ceremony. Special recognition awards were presented to Devindi Geekiyanage and Thanuja Ramachandra for their paper on 'Significant Factors Influencing Operational and Maintenance (O&M) Costs of Commercial Buildings', Bon-Gang Hwang, Ming Shan and Sijia Xie for the paper 'Assessment of Green Retrofit of Existing Mature Residential Estates in Singapore', R.R. Omprakash, Sivakumar Palaniappan and Pandian Ganesh Kumar for the paper 'Techno-Economic Feasibility Study of Using Solar Energy for Operating Sewage Treatment Plants' and M.F.F. Fasna and Sachie Gunatilake for their study on 'Factors Affecting the Successful Adoption and Implementation of Energy Retrofits in Existing Hotel Buildings'.

Minister of Science, Technology and Research, Skills Development and Vocational Studies and Kandyan Heritage Dr. Sarath Amunugama, was the Chief Guest at the event. In his remarks the Minister mentioned that 'there is a need to promote environmental friendly technologies in the construction industry as Sri Lanka moves forward with its infrastructure development drive. He congratulated the Ceylon Institute of Builders for introducing the Green Mark rating scheme in Sri Lanka. He also congratulated both the Ceylon Institute of Builders and the University of Moratuwa for joining together to host the World Construction Symposium and showing the initiative in forging academic industry partnerships.

Speaking on the occasion, Dr. Rohan Karunaratne, President of Ceylon Institute of Builders aired the following views: "Our journey to promote sustainable building practices in Sri Lanka started way back in 2014 when we became the first institution to introduce an internationally acclaimed Green Certification scheme in Sri Lanka. Since then we have been at the forefront of promoting sustainable build environment in Sri Lanka." While congratulating the organisations that have achieved Green Mark certifications, he commented, "By choosing to get CIOB Green Mark certification for their buildings, products and services, the awardees proved that they care for the environment that we live in."

Dr. Moussa Baalbaki, Head of Products and Solutions portfolio at Siam City Cements Lanka Ltd. made a detailed presentation on the 'Cement manufacturing and Sustainability'. In his presentation, he discussed about the large quantity of raw materials used and Greenhouse gas emissions effected during the production of Ordinary Portland Cement and the need for changes that cement, concrete and construction industries need to implement to make concrete structures more sustainable and durable.

He went on to explain the possible things that are done in this direction. Some of them being; replacing as much Ordinary Portland Cement (OPC) as possible with high quality and low CO2 footprint blended cements manufactured with various supplementary cementing materials (SCMs) such as slag, fly ash, natural Pozzolana, limestone, etc., using more durable high performance concretes (HPCs), using alternative raw materials and fuels during clinker production and using recycled concrete.

Dr. Ravihansa, Vice Chairman of Construction Industry Skills Council, made a presentation on the title 'Green Innovation – The only option'. The aim of the presentation was to convince the importance of innovation especially green innovation related to construction industry. He pointed out that "there are only limited innovations happening in the country and out of those only few comes to enterprise level and contributing to the national economy. He stated that soon CIOB will be initiating green innovators forum which will help innovators."

Commenting on the award function to the press, Vice Presidents of CIOB Jaikish Tudawe and Ruwan De Silva mentioned that they are thankful to the Conference Chair Person Prof. Chitra Weddikkara, Symposium Co-Chairs Sagara Gunawardena and Kalana Alwis for their effort in organising the Symposium and the Awards function. They further mentioned about the Sustainable Development Goals, a set of 17 goals formulated by the United Nations in 2015. As a signatory to this, Sri Lanka has to achieve the SDG goals and their targets by 2030. CIOB, as a socially responsible institution has been working towards contributing to the achievement of these goals, especially Goal #9 which deals with Innovation and Infrastructure, by encouraging industry academic partnerships for innovation and research in the area of building construction, by conducting seminars and awareness meetings about Green buildings and by encouraging the construction industry to minimise wastage via the implementation of Green Mark scheme.

The World Construction Symposium and the Awards Ceremony were sponsored by the following organisations: Siam Cements (Lanka) Ltd. – Platinum Sponsor, Ranjanas Ceramics & Sierra Cables – Silver Sponsors, Hatton National Bank – Official Banker, Lake House Publishers – Media Sponsors and Sri Lanka Convention Bureau – Convention Partner.