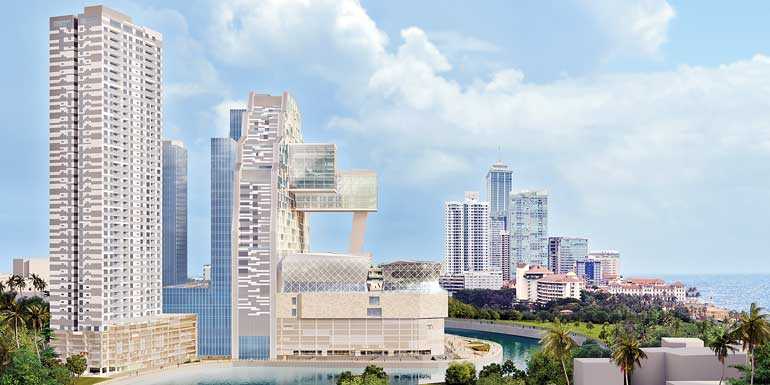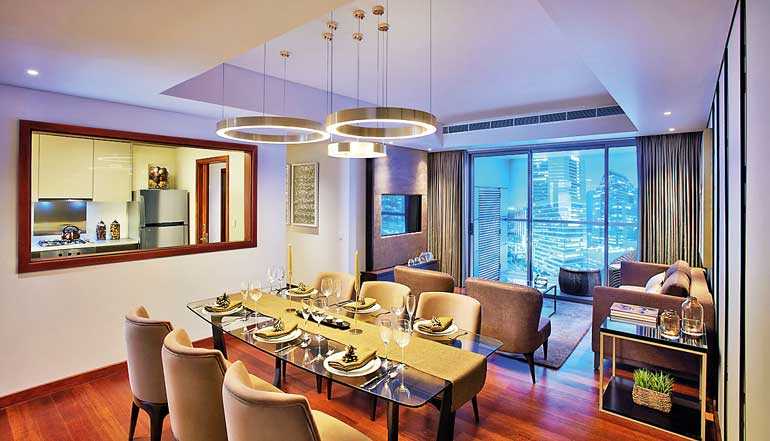 Cinnamon Life, the region's most iconic integrated development is set to embellish its two luxury apartment towers, 'The Residence' and 'The Suites' at Cinnamon Life with a range of exquisitely crafted tiles by Versace Ceramics– the globally renowned luxury brand that offers the haute couture of ceramics.

Cinnamon Life will employ Versace's unparalleled standards of style and quality to complement and further enhance the project's contemporary look and feel. Upon completion, the premier 4.5 million sq. ft. real estate development will house the island's first-ever apartments to be fitted with tiles by Versace Ceramics. Having recently been acquired by Michael Kors, Versace is a truly exclusive brand that has evolved over decades to offer optimal luxury.

Commenting on Cinnamon Life becoming Sri Lanka's first-ever real estate development to install Versace Ceramics, John Keells Holdings PLC Chief Marketing Officer/Executive Vice President Roshanie Jayasundera-Moraes stated: We are very pleased to have chosen Versace Ceramics for the apartments at Cinnamon Life to truly add a modern contemporary finish to the interiors of the apartments. We look forward to working with Versace Ceramics to add the finishing touches to our world-class apartments. Cinnamon Life is gradually transforming Colombo's landscape and once completed, it will serve as the ultimate heart and hub of the city's growing metropolis. We are also pleased to report that approximately 89% of Cinnamon Life's structural work has now been completed, and that the main access bridge to the premises is also nearing completion."

All bathrooms at 'The Residence' and 'The Suites' apartments will be fitted with a carefully selected range of tiles by Versace Ceramics that feature harmonious colour combinations and exude grandeur. Stemming from a dynamic partnership between Versace, a prestigious Italian fashion designer and the Gardenia Orchidea Group, this luxury tile range has been manufactured using state-of-the-art technology and the highest degree of artisan expertise. Versace's classic sheets, mosaics and other decorative elements are designed to create intriguing designs on the floors and walls of high-end homes and environments.

Versace and Gardenia's vision to create timeless home environments are based on innovation in design and constant evolution of product methods. As a result, all ceramics are designed and vetted down to the finest detail to ensure that they are in constant harmony with evolving styles. Moreover, all design elements at Versace Ceramics are always created in Italy, to maintain the total expressive autonomy that the company is famous for worldwide. It is this pinnacle of luxury and exclusivity that Cinnamon Life brings to its residential spaces, so as to redefine and transform the real estate industry of Sri Lanka, as well as that of the entire region.

Gianni Versace is a synonym of Italian excellence throughout the world. Since 1997, the fashion house has worked with Gardenia Orchidea as a partner of choice, sharing both aims and values. Soft and enveloping shapes, the finest raw materials, timeless colour combinations and the key decorative elements of the establishment, such as the Medusa and the Greek fret pattern produced using the very latest technology, characterise the Versace Ceramics collections. Versace is one of the best-known and appreciated Italian fashion brands worldwide. Owing to this successful and established cooperation Gardenia Orchidea has been participating in the realisation of prestigious projects in residential, commercial and hospitality sectors. Cinnamon Life is the first premier real estate development of its kind in Sri Lanka. A "city within a city", this iconic project will redefine Colombo's skyline and deliver a vibrant lifestyle experience at every touch point. Set to be the heartbeat of the city whilst making its mark as Colombo's lifestyle capital, the property will feature an 800-roomed luxury "Cinnamon" hotel, an array of entertainment facilities, premium residential apartments, retail and entertainment mall, state-of-the-art office spaces, and many other attractions to set stage as the entertainment hotspot in the Indian Subcontinent. The development's iconic design by Cecil Balmond will span across 4.5 million square feet and is envisioned to be the epicentre of modern South Asia., Cinnamon Life will be the city's ultimate lifestyle and entertainment hub. The pricing for the residential apartments starts from $ 400,000. For further information contact +94-112-152152 or email info@cinnamonlife.com.