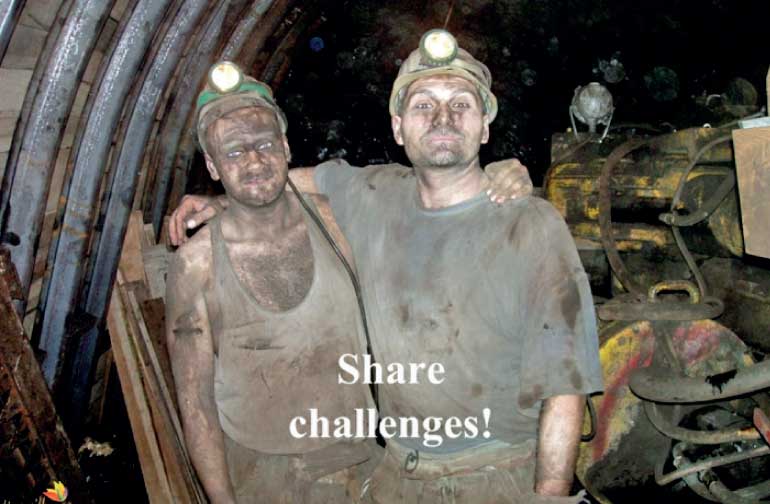 1. Listen in silence when someone needs to talk or share a frustration and keep eye contact.

If a member of your team would like to speak with you, they might be going through a difficult situation. Therefore, they will expect your attention and guidance in order to solve their issue.

Even if you disagree with what you are hearing, it is recommended not to interrupt them and wait until the person has vented their frustration. People often feel much better when they are heard by someone who is carefully listening to what they have to say, even if no solution is found yet. They feel they are being appreciated and receiving the attention they need. You can ask more questions to get clarity and have a full picture of the situation, and then provide your honest feedback and advice.
2. Appreciate how they perceive the situation from their own point of view.

A person will assess a situation and react to it based on their perception, the information they have and the organisational environment in which they are growing. Allow your team members to share their perception and accept that it may be different from yours.

If people are evolving in a culture of fear and control, their perceptions will be affected and they might feel insecure in certain situations. If they are working in a healthy environment in which they are constantly empowered, they feel confident to handle specific circumstances.

Different experiences, leadership and communication styles influence how each and every one perceives a situation. The quality of information involved can also determine people's perception level and conflict resolution abilities.
3. Ask how they would resolve the matter and how many solutions they would suggest.

Your team members know their job and they most likely know what needs to be done. Empower them to share their solutions and train them to take initiative. With different perceptions and different experiences, you can consider different solutions and it is always interesting to hear what your team members have in mind. People are usually looking for an opportunity to take lead, resolve the challenges they face and learn from the experience.

In his article "9 Strategies Of Uncommon Wisdom For Fuelling Top Performance", Larry Sternberg says: "Leaders and managers who drive top performance empower the people closest to the action to make decisions and initiate improvement. They don't ignore mistakes. But when mistakes happen, they resist the temptation to seize control. Instead, they ask good questions and empower their people to identify and implement the right solutions for the future."
4. Refrain from answering an email, when you are disturbed by its content; put it aside for a while till you are calmer and then decide how you would like to act.

Does the individual writing the email have the full facts? Are you the right person to answer what is being requested? How many people are involved in the issue being raised? Is it a procedural matter, unethical behaviour, a bad customer experience, or a major financial problem?

When someone is frustrated, if they have not been trained on writing professional business emails, they may resort to expressive colourful words, with exclamation points and capital letters. However, they may as well use artful writing to draw attention to their message.

It is our job as Leaders to ensure that our team members have grasped professional email communication in general and that they know the right approach to resolving an issue.

When we take a deep breath and consider the circumstances that are being described, as well as the sender's communication style and attitude (if known to us), we can decide how and how fast we should deal with it.
5. Pick up the phone to talk to your colleagues when you can avoid writing reactive emails.

When we read an email, we may not always know the tone that the person is using. We could be assuming that someone is angry, based on their exclamation points, capital letters and their choice of words, as described above. However, a colleague or partner can be really upset and despite how they feel, they always write eloquent emails to describe a major issue, to ask for clarification or to seek solutions.

Situations can be quickly clarified and resolved when addressed over the phone or face-to-face, with a calm and respectful way. After all, what is important is to deal with a certain matter using the best possible approach to solve a problem, while preserving relationships with colleagues, suppliers and customers. Everyone will learn from the experience of managing various communication methods with different people.

Creating partnerships within a team and aligning its behaviours with the organisational values is one of the characteristics of leadership.

Leading by example with compassion, recognition and purpose, will help you avoid potential conflicts within your team. In his article "9 Strategies Of Uncommon Wisdom For Fuelling Top Performance", Larry Sternberg provides an inspiring thought: "Cultivate a culture of appreciation. Find a way to express gratitude to someone on your team every single day. Say thank you. Write a note. Compliment someone's work in public. Create opportunities for people to thank each other, too."