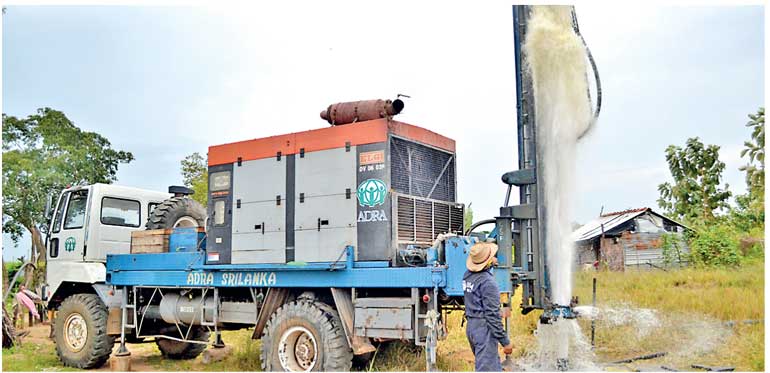 By Rochelle Palipane Gunaratne

Water is a precious commodity and it is priceless due to the scarcity of pure water. World Water Day 2018 celebrates this precious thirst quencher with the theme 'Nature for Water' which focuses on nature based solutions for the water oriented challenges faced in this era.

According to a global survey, 2.1 billion people live without safe drinking water at home and this factor affects their education and livelihoods.

This necessity was identified by the Adventists Development and Relief Agency Sri Lanka (ADRA Sri Lanka) at its inception in the island 35 years ago. Initially established as the Seventh day Adventist Welfare Service (SAWS) it recognised the necessity prevalent in certain areas in the country which ironically was surrounded by water and contained an abundance of water sources such as rivers, lakes, reservoirs, streams and brooks.

In 1981, a Matching Grant was obtained to provide drinking water wells, a gravity fed pipe borne water system and water sealed toilets. The beneficiaries were organised to donate their portion of the match with labour by digging wells, trenches and toilet pits in Mailapitiya in the Central Province. This was a start of journey which empowered lives through many programs with water-based solutions being offered in large scale.

ADRA Sri Lanka are pioneers in establishing gravity- fed water systems (GFWS), deep bore well hand pumps and other water purification systems in various parts of the island. All systems are established through a community driven methodology and built for long term use. Maintenance is handed over to communities after extensive training.

To date, ADRA has established 15 GFWSs, over 500 new hand pumps, over 800 hand pump renovations and runs water purification units for CKDu affected communities in the North Central province.

Water Water everywhere

but not a drop to drink

"The community was so grateful for the GFWS which made clean water accessible to them after a period of two hundred years," added a member of ADRA who was in awe of the villagers' reaction to the successful implementation of a project to source clean water in one of the estates.

The lack of safe drinking water and inadequate personal hygiene and environmental sanitation has been having detrimental effects on the tea estate communities for over two centuries. This has affected their health, and thus affected economic, social and even the personal growth of the tea estate community. School attendance in the tea estates remains the lowest in the island and one of the contributing causes is constant sickness. The above reasons have constantly motivated the ADRA Sri Lanka team to provide communities with access to sources of pure water, sometimes it's a gravity-fed systems, community built dam or reservoir that captures the rain water, wells or bore holes and water filtration systems,. Having a convenient source of water means villagers are now able to live healthier or hygienic lives as ADRA Sri Lanka upholds the global mission of changing the world, one life at a time.