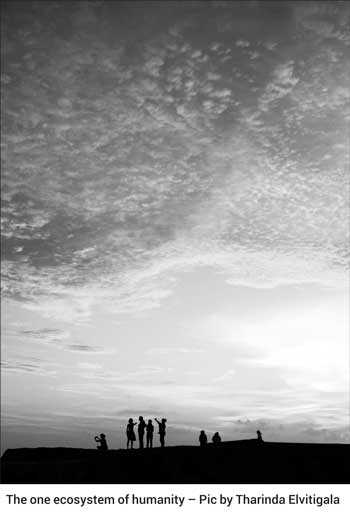 By Suryamithra Vishwa

It is 36 years since the 1983 Black July ethnic riots that targeted our fellow Tamil citizens and marred our nation's consciousness. With each breath, with the quiet ticking of the clock, time has lapsed beneath the clouds of memory and despite 1983 we have continued to create mayhem for ourselves.

Overall, being swept by the tide of time and its unending chaos, we have passed 10 years after the end of Sri Lanka's civil war without much reflection or attempting to learn from past mistakes. And we have witnessed a new terror this year. Neighbours we knew and youth who had much potential to lead wondrous lives, had turned terrorists in a seeming blink of an eye. A day meant for celebration for the Christians of Sri Lanka and the resurrection of the spirit, was plunged in darkness and death.

The spiritual quest that is Islam was turned into a spree of hate and as a nation we have not even come close to asking the questions we should ask. Just as we have not asked the questions we should have asked 36 years ago. But we continue to live by rote.

We bring up children to be reflections of our non-reflective selves. We send them to school to cram their heads with information that mean nothing to them or give meaning to their lives or the true holistic prosperity of their country. The teachers have no sense of joy as they start each day's teaching. The whole glorious exercise of imparting knowledge in the manner that was done in our ancient Gurukula systems where ethics, values and environment protection were very much part of the knowledge sharing cycle, is now a lost memory. Not even a faint trace exists.

Instead we are today products of the tuition mafia, in a race to receive a piece of paper, resorted to being mere human memorising machines of information, having forgotten that without love and the values of our heritage, we are nothing. Hence we have proudly stacked our array of paper qualifications and simultaneously allowed hate to thrive in our country. Why are we surprised? Our communally and religiously segmented education system like the many other systems that are gripped by poisonous tentacles of greed and intrigue, have laid the foundation of ethnic and religious divide. How long will we remain like this?

To save or to destroy

Each human has two choices in everything faced in life. To save or to destroy. The instinct to kill or save is in each of us. We are neither born sinner nor saint. We can kill our minds, our spirit of compassion, and our ability to differentiate between right or wrong. We can kill ourselves by doing to our neighbour what we would not do to us. We can kill ourselves by not exercising the greatest science of the mind as preached by the Buddha and other spiritual leaders. We can kill our awareness, indulging in every form of knowing except knowledge of the self.

We can create a rule rigged fetish, of religions of peace and kill every iota of spirituality sought by the founders of those paths and then sit back and wonder how these religions have created suicide bombers And we thereby pay the penalty as individuals, community and country. And we all know how we have paid over the years and most recently on Easter Sunday.

The concept of oneness that we have missed

Often humans perceive ourselves as separate individuals, separate from one another resulting in us being tossed upon a sea of petty jealousy and divisions, whether across the realms of our childhood, education, job sphere and many other spheres of life. This fragmentation gets continued into politics, religious divides and unrest among different communities. Sri Lanka could be used as one of the best case in points.

Taking this disunity one more step, we see around us the sacrilege of how we treat our larger home; this planet. We have sold the portions of this home for petty silver, cut down the trees that give us shelter, destroyed the animals that keep our eco system together and then go about scrambling for artificial rain; something that would have been an abomination to our ancestors; in a similar way that the hate we have unleashed on each other would have been.

Our ultimate reality

Our ultimate reality is our consciousness which is linked to the universal consciousness. Hundreds of books have been written on the subject whether approached through individual or collective religion or spirituality or science. Everything that is born into and of this earth is connected to us and we are naturally called upon to treat with love and compassion and to live in harmony with, taking what is needed and not more.

Today, we live apart from these values that shaped the consciousness of our forefathers and we give ourselves titles that we do not deserve. We say we are civilised, developed and that we are advanced. We consider currently powerful nations as superior to us because we consider them to be assumedly 'civilised', 'developed' and 'advanced'. It does not today matter to us if these nations have achieved their current so called development by plundering, robbing and destroying the original people of the land.

Enslaved

We who have lost our awareness with regard to our minds are now looking for others to save us. We follow like a blind herd. We commemorate every year our independence from foreign domination but cannot even explain to ourselves how this has manifested in actual terms over the past decades. In the dry rhetoric that is spoken on our behalf at independence day commemorations we can only know one truth; that we remain enslaved in a hundred intriguing ways and that we shall be enslaved unless we realise that each citizen; rich or poor; Buddhist, Christian, Muslim, Hindu, Agnostic or Atheist, has to genuinely feel for the true independence of our motherland and thereby our very hearts. All of us consist the heart of the nation that beats together. Our country is not the property of politicians. It is ours.

Even as we condemn

Even as we condemn and are quick to point out who are patriots and who are not, may we not be blinded by those who dictate to us lofty ideals despite the fact that they themselves have laid the foundations of such ideals on plundered truths, to the extent that global history is now a thwarted myth and the oppressed are no longer heard of. May we rise as a phoenix to raise our nation and our people above and beyond enslavement, hypocrisy, greed and terrorism. May the spirits of the ancestors of our land protect it and protect us. May our wise and contemplative actions each day as citizens create for us a truly liveable future for ourselves and our country.