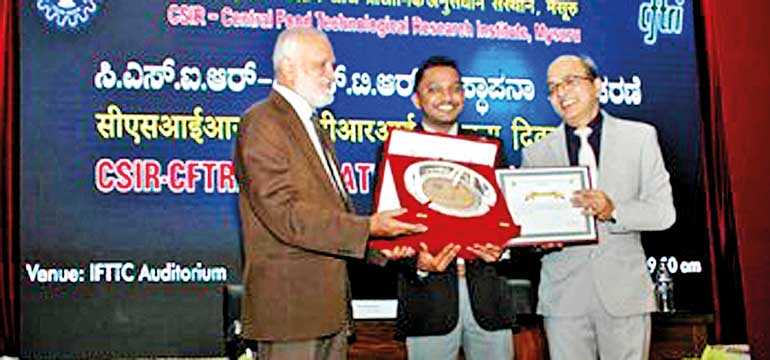 Assistant Miller Sanjeewa Dharmaratne receiving the 'Best Student of 2019' award
Serendib Flour Mills, one of the most trusted wheat flour manufacturers in Sri Lanka, celebrated its success on the global stage as one of its team members won international acclaim in milling technology training.

Assistant Miller Sanjeewa Dharmaratne successfully bagged the Gold Medal for the Highest Achiever and also won the 'Best Student of 2019' award in the International Flour Milling Technology course (ISMT) at the Central Food Technological Research Institute (CFTRI) in Mysore, India. Sanjeewa outperformed over 30 Indian and international students during the one-year full-time course.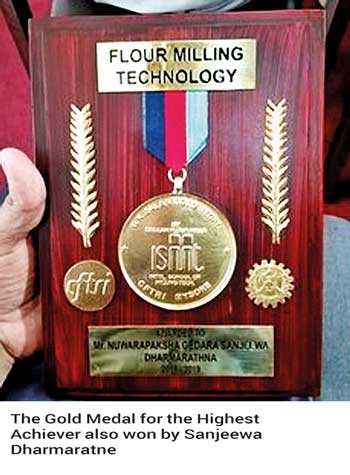 Serendib Flour Mills employees have a winning trend in this reputed international course, with Assistant Miller Saheed Mohamed Shafrin also being awarded the Gold Medal in 2016. At the recently-concluded National Sales Congress (NASCO) 2019 organised by the Sri Lanka Institute of Marketing (SLIM), the company's employees bagged three awards – two Golds and one Bronze.

The Central Food Technological Research Institute (CFTRI) is a pioneering organisation in Research and Development in the area of Food Science and Technology and Human Resource Development. In 1981, the International School of Milling Technology (ISMT) was formed as a joint Indo-Swiss venture and Roller Flour Millers' Federation of India project to serve the needs of the flour milling industry in India and other developing countries with regard to training in flour milling technology.

Sharing his thoughts on Sanjeewa's achievement, Serendib Flour Mills Chief Technical Officer Mohamed Hamza Khan stated, "The entire Serendib Flour Mills family offers our congratulations to Sanjeewa on his outstanding achievement in the ICFMT Flour Milling Technology course. He has brought glory to both the company as well as the country through this win. This is a tough one-year course that trains students in the latest milling technologies. He was up against some tough competition, with over 30 Indian and international students also following the course. Through sheer hard work, determination and commitment, Sanjeewa has been able to outshine all of them and come out on top of the batch. That is indeed a great achievement and we are all very proud of him."