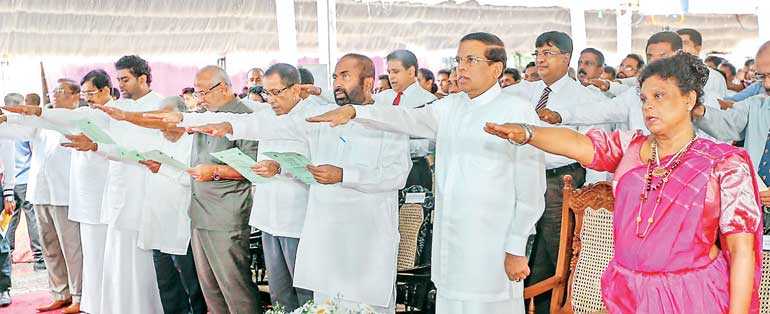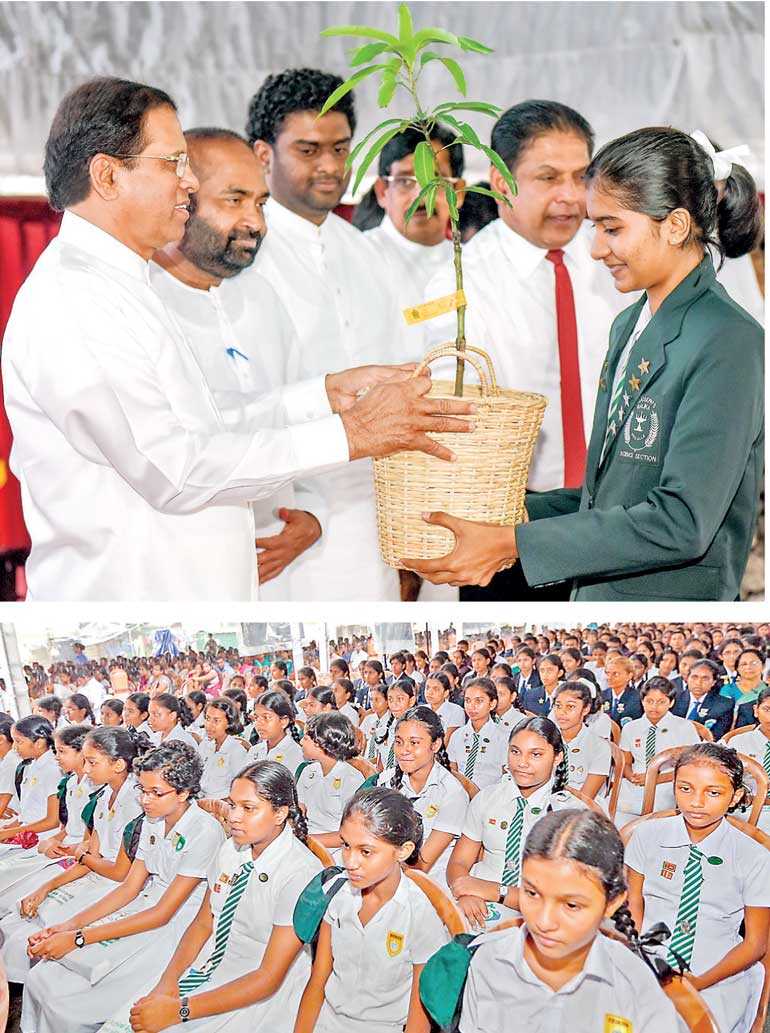 President Maithripala Sirisena called on the people of the historic town of Kegalle to fulfill their respective duties towards the environmental conservation with a continuous program, not limiting to that responsibility to one day.

The President further said that it is not the duty of one party, but all the citizens and politicians, public servants and school children must be united in this regard.

He made these remarks addressing a ceremony held in Kegalle to commemorate World Environment Day on 4 June.

The President said that today's environment degradation would become a problem for the lives of future generation and many countries in the world which had achieved rapid development had faced a similar tragedy. "Hence, we must immediately take steps to protect our environment," he said.

He pointed out that a special gazette had been issued to curtail use of polythene and plastic as that was a duty needed to be fulfilled today for the sake of tomorrow. "Many people tried to stop that and it was an unfortunate situation," he recalled.

President Sirisena emphasised the adverse effects caused to the environment by limitless excavation of sand and stone for construction works and said the use of alternative raw materials was a timely need.

He also pointed out that corrupt businessmen harmed the environment by illegal activities and they had also caused several deaths in recent years.

The Environment Day activities were organised to mark the World Environment Day.

'Let's avoid the environmental pollution caused by plastic waste' is the theme for this year's World Environment Day.

The national ceremony of the commemoration of the World Environment Day started with the President planting a sapling.

Launching a booklet on the environment profile of Kegalle District and launching the survey report regarding basic bio environment data conducted in the main ports of Colombo, Galle and Trincomalee Districts also took place.

The sand mountain area ranging from 106 hectares of Pottuvil Panama and the mangroves of the Shastrawela forest of Ampara District were declared as a conservation forest while the catchment area of Pansalthanna of Ukuwela Divisional Secretariat of Matale District was announced as an environmentally-protected area.

The President distributed fruit saplings to school children, presented awards to winners of environment-themed competitions held for school children and made presentations for garbage management in the area.

The Maha Sangha, representatives of other religions, Ministers Ranjith Siyambalapitiya, Kabir Hashim, Rauff Hakeem, State Ministers Weerakumara Dissanayake and Sriyani Wijewickrema, Deputy Minister Dushmantha Mithrapala, Governor Niluka Ekanayake, Thusitha Wijemanne MP, other politicians, officials, school principals and school children were present on this occasion.

Later, President Sirisena made an inspection visit to the housing scheme constructed for landslide victims with a grant from China at Ruwandeniya Gramasevaka Division in Aranayake.

He also indulged in a friendly discussion with the householders, where they expressed gratitude to the President for finding them alternate housing quickly.

Pradeshiya Secretary of Aranayake Z.A.N. Faizal presented a token of appreciation to the President.

Ministers Ranjith Siyambalapitiya, Duminda Dissanayake and Kabir Hashim, Attorney-at-Law Lalith Dissanayake and Chinese Ambassador Weng Shuan Uan and other officials were present on this occasion.