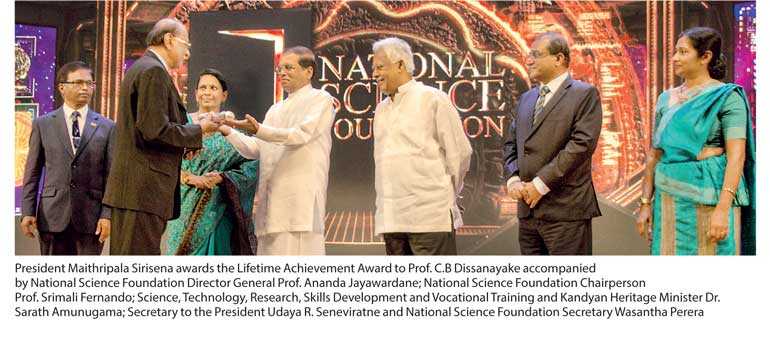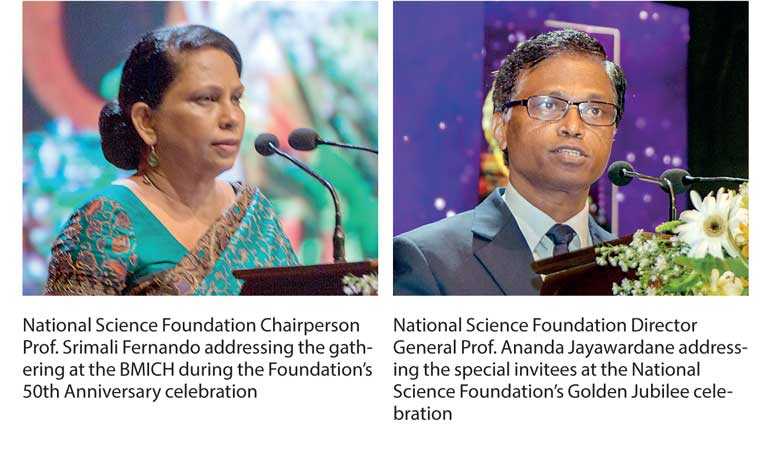 The National Science Foundation (NSF) of Sri Lanka celebrated 50 years of service to the nation as Sri Lanka's foremost enabler of science, technology and innovation on Tuesday, under the patronage of President Maithripala Sirisena.

The country's apex body powering the execution of scientific research and popularisation of science is looking to keep the momentum of empowering Sri Lankan talent and genius, through continued Government endorsements and investment.

"Today, we are immensely proud to be part of an institution that has, for half a century, contributed towards the steady intellectual and technological evolution of our country," expressed NSF Director General Prof. Ananda Jayawardane. "To celebrate our Golden Jubilee under the patronage of the President of Sri Lanka reminds us of the significant role we have played, and are yet to play in the country's future. There is much we have done, yet much more that we have to do to ensure that aspiring Sri Lankan scientists are given ample opportunities to realise new ideas with our support, and not look elsewhere for investment and faith in their innovations."

As the premier driving force in promoting scientific research and innovation for social prosperity in Sri Lanka, the NSF offers an array of grants under basic and applied research, technology, and other areas to supplement the financial, physical, and manpower resources available in science and technology institutions. This resulted in the Foundation initiating a National Thematic Research Programme (NTRP), which delivers solid and noticeable outputs for socio-economic development in the country, covering key areas that require immediate attention.

Technology grants are provided for technology development and start-up businesses leveraging innovation to meet future demands. This leads to intellectual property (IP) creation and technology transfer, with further support extended in various forms to protect and manage IP. Such initiatives, along with numerous other approaches, have made the NSF a strong anchor for young Sri Lankan scientists to build their research careers. International collaborations and links established by the NSF play a big role in continuing all these endeavours. As policymaking is a vital component in all areas, a scientific basis to facilitate decision-making is propelled by important and continuous studies and surveys done by the NSF.

Originally established in 1968 as the National Science Council (NSC), and later succeeded by the Natural Resources Energy & Science Authority (NARESA) in 1981, the institution was re-established as the NSF in 1998 by the Science and Technology Development Act No. 11 of 1994. Today, the NSF consists of six segregated divisions: the Research Division; Technology Division; the International Liaison Division; Science Popularisation Division; Science & Technology Policy Research Division; and the National Science Library and Resource Centre. The NSF enjoys its highly acclaimed and prestigious position among scientists, academics, undergraduates, and school children, locally as well as globally, as one of the most knowledgeable and scientifically advanced Foundations in the world.

Communicating a message of continued learning, the NSF has nurtured a solid intellectual foundation across Sri Lanka, by facilitating the establishment of Science Associations in over 900 schools across the island. These associations and practices have since been followed up in universities and research institutions in the country. This drive is further strengthened by the circulation of monthly editorials on science and technology published by the NSF – 'Vidurawa', and monographs supporting in the establishment of a knowledge-based society in Sri Lanka. The quarterly issued peer-reviewed publication, the Journal of the National Science Foundation of Sri Lanka, and the Sri Lanka Journal of Social Sciences, add further value to the scientific knowledge base in the country.

The NSF is also behind one of the most advanced, and highly comprehensive knowledge gathering projects in the region – the National Digitisation Project, a five-year old project established in 2013, that has seen the digitisation of a staggering 3 million science and technology related volumes, manuscripts and books to create an encyclopaedic online database for academics and stakeholders to benefit from the distribution of unparalleled knowledge.

"We are going to commence our second half-century of operations by launching Phase II of the National Digitisation Project," Prof. Jayawardane commented. "With the successful digitisation of 3 million records over the past 5 years, our next target is to upload another 10 million more records during the next phase of the project. This is where we need the continued support of our Government as well as our collaborating institutions, to ensure that this large knowledge bank that now exists in Sri Lanka is saved, explored, and utilised for the betterment of our people. We look forward to the great transformations we can make across the world as proud Sri Lankans."

Mobitel, the leading mobile service provider in Sri Lanka, and Commercial Bank, one of Sri Lanka's foremost private banking institutions, have joined in the celebrations as Principal Sponsors of the event. Other sponsors of the jubilee celebration includes Sri Lanka Technological Campus (SLTC), National Institute of Business Management (NIBM), Sri Lanka Insurance, Bank of Ceylon (BOC), BOC Travels, People's Travel and Expographics.