A section of the Laos-China railway under construction at Luang Namtha province – Pic credit Vientiane Times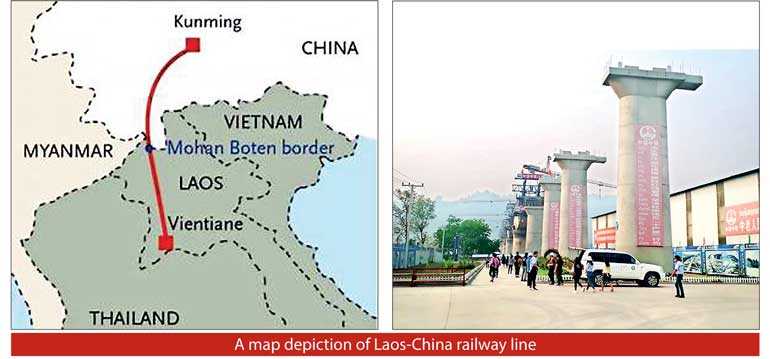 ---
By Harsha Udayakantha Peiris

The Belt and Road initiative is a global project that aims to build a trade and infrastructure network connecting Asia with Europe, Africa and beyond. Just like Sri Lanka, Lao PDR is one of the countries that lies on this strategic trading route.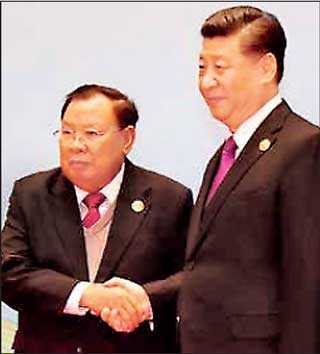 President of the Lao PDR Bounchang Vorachit (left) with Chinese President Xi Jinping (right) – Pic credit Vientiane Times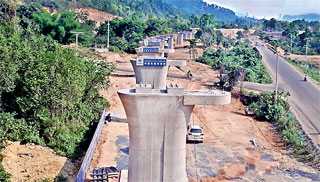 A section of the Laos-China railway during construction in Vientiane province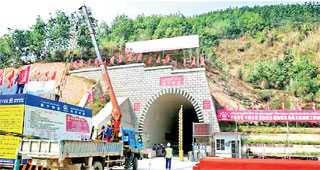 Completely bored 6,453.5 metre long Boten tunnel – Pic credit Vientiane Times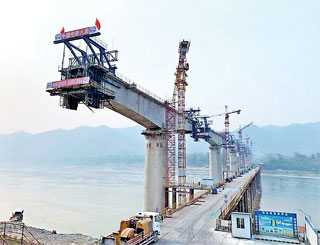 A part of Laos-China railway line project under construction


Lao People's Democratic Republic or Lao PDR is a country located in the north of Indochina Peninsula of South East Asia. The country consists of a land area of 236,800 square kilometres and is a landlocked country. However, the Lao PDR is a country that has a major strategic location in transportation and international shipping due to shared borders with five countries such as Vietnam, Thailand, Cambodia, Myanmar, and China.

So, Laos has a dominant role in bridging relations from one country to another in the region and especially to maintain strong bilateral and diplomatic ties with the neighbouring People's Republic of China that shares a Joint boundary of 505 square kilometres bordered by three provinces namely, Phongsaly, Luangnamtha and Oudomxay, making the two Laos and Chinese people in a relationship since ancient times. This has been resultant towards a long-lasting friendship, relationship, and solidarity that continues to date with traditions grown between cultures and many spheres of socio-economic elements.
Landlocked to land-linked
One of the notable ways in which Laos is benefiting from the Belt and Road initiative is China's support for the under-construction Laos-China railway that runs from Lao-Chinese border to Vientiane, where the commercial capital of Lao PDR is situated. This railway is part of a rail link that will stretch from Kunming in China to Singapore and implemented as a government to government project.

At present, Laos has only 3.5 km of railway track that runs from the outskirts of the capital to Thailand's Nong Khai province.

According to Vientiane Times, work on the $ 5.986 billion project; Laos-China railway line is progressing ahead of schedule, with the project on track to be completed by 2021. Authorities in charge are continuing to accelerate construction work along with the payment of compensation to people affected by the project.

As of end February this year, 61% of the project that has a total length of 414 km and 332 metres has been completed. Laos and Chinese authorities have agreed to accelerate work to finish the railway started on 25 December 2016, in time, to mark the 46th anniversary of the Founding of the Lao People's Democratic Republic on 2 December 2021.

About 95% of the total land required for this mega project has been handed over to Chinese contractor, and officials thank the affected people for their cooperation.

More than 126.5 km of tunnels have been bored for the project. The railway line running through the four provinces of Luang Namtha, Oudomxay, Luang Prabang, Vientiane and the capital city of Vientiane will have 75 tunnels with a combined length of 197.83 km. Lao and Chinese authorities recently finished the boring and construction of the 6,453.5 metre Boten tunnel which is the first completed amongst the project's 10 longest tunnels that has a length of more than 5,000 metres each.

As of end December last year, a total of 143 bridges have been built along the route. The Director General of the Planning and Cooperation Department under the Ministry of Public Work and Transport of Laos, Sengdara Kattiyavong at a recent progress meeting has said that the railway line is a strategic cooperation project between Laos and China and the parties and governments of the two countries have attached special attention to the project.

"The project is significantly meaningful in implementing the policy of the Lao PDR to turn Laos from a landlocked into a land-linked country within the region, and implementing the Belt and Road Initiative of the People's Republic of China," he has said, Vientiane Time reports. Commenting on the success of the project the Prime Minister of the People's Republic of China Li Keqiang has stated that China is pleased to continue its cooperation with Laos especially in projects related to the Belt and Road Initiative such as the Lao-China railway.

According to a recently released 50-paged presidential ordinance promulgating the new law on railways of Lao PDR, guidance on railway development definitions on principles, regulations and measures to manage, follow up and inspect railway affairs have clearly been provided with. These are aimed at ensuring the effectiveness, efficiency, modernisation, sustainability and environmentally-friendly development of railways.

The objective is to make sure that railway operation and transport are convenient, safe and fast and that Laos' railway network and services integrate with regional and global networks.
Sino-Lao collaborative economic cooperation
The economic cooperation between Lao PDR and China increasingly developed following the signing of the agreement on the establishment of the Committee on Economic, Trade, and Techniques between the two countries in 1997 in Lao PDR. This historic bilateral agreement was aimed at increasing ability to implement the economic, trade and techniques cooperation for the economic and infrastructure investment between the two countries.

Starting from 2009, the Lao PDR and the People's Republic of China had launched a comprehensive cooperation policy, making the two countries' intimate support to each other to become a comprehensive and long-term strategic partnership. This made and expedited the development of the fields to continuously expand. These included economic investment, industry and culture to get special attention from the parties and the governments of the two countries. There was a cultural exchange and speedy provision of education and the use of technology for immediate communication to take place.

Statistics from China Customs show that trade between China and Laos reached $ 2.34 billion in 2016 with China as the second largest trade partner of Laos. From January to September 2017 the figure reached $ 2.1 billion, indicating an increase of 25.1% over the same period of 2016. China's major imports to Laos include automobiles, motorcycles, textiles, steel products, electric wire and cable, communication equipment, electric appliances and electronic products.

The additional contract for the economic and technical cooperation of Government on 2016-2020 has determined 126 projects. The Ministry of Planning and Investment of Laos with the National Development and Reform Commission of China has signed a Memorandum of Understanding (MOU) on master plans that includes the Belt and Road Initiative as the most imperative and influential project to prosper and the China-Laos railway line became the model cooperation project under the Belt and Road initiative.

The China-Laos Railway is a major project of cooperation to which both countries attach great importance as the railway carries with it the Laotian dream for the transition from a 'landlocked' to a 'land-linked' country. After completion, it will help Laos to realise its strategy of cooperating and connecting with China and other ASEAN countries towards sustainable development of not only the Lao PDR but also other neighbouring economies that connect with it.

Accordingly, the recent years witnessed a rising enthusiasm of Chinese enterprises in making investments in Laos, covering more and more extensive fields. According to statistics of Laotian Ministry of Planning and investment, China has become the largest source of foreign investment in Laos.

Statistics published by the Chinese Ministry of Commerce show that by September 2017, China has invested in total about $ 6.31 billion in Laos, becoming the third largest destination of Chinese investment in ASEAN countries. Among the top ten countries with the largest stock of Chinese investment along the Belt and Road Initiative by the end of 2016, Laos ranked the fourth, next only to Singapore, Russia, and Indonesia.

Amongst other major investment projects implemented under the Belt and Road Initiative in Lao PDR are the $ 0.35 billion Vientiane Saysettha Development Zone constructed as a cross-border economic cooperation zone, $ 0.5 billion Mohan-Boten Economic Cooperation Zone developed as another cross-border economic cooperation zone from Yunan province of China to Louang Namtha Province in Laos and the second of such zones between the China and neighbouring economies, $ 1.6 billion Vientiane Thatluand Lake Specific Economic Project constructed as a real-estate project, $ 1.2 billion Latsavong Plaza constructed in Vientiane as another successful real-estate project, the $ 2.8 billion Nam Ou River Basin Cascade Hydropower station constructed as a new model of Sino-Lao power and energy cooperation, $ 1.29 billion Nam Ngum III Hydro Power Station constructed as a key project under Laotian five-year development program, $ 2.1 billion Sekong Coal-electricity Integration Project constructed as the first coal power EPC project in Laos operated by a Chinese enterprise, the high-tech field Satellite Project of Laos and Laotian Agriculture Project built as a creative investment pattern by way of capital, tech, market plus labour and land project.

Laos takes international aid as an important means for revenue increase and social economic development. For the recent years, China has provided free aid and favourable loans to Laos for its infrastructure construction, development and livelihood projects such as roads, bridges, airports, hospitals and personnel training. These projects on one hand, have played a positive role in the socio-economic development and livelihood improvement of Laos and on the other hand created a wide and spacious environment for bilateral cooperation in trade and investment.
Towards a new pattern

of global supply chain
Hu Angag, the Dean of the Institute for Contemporary China studies and Professor at School of Public Policy and Management of Tsinghua University in a special report to China Daily says that as the best embodiment of win-win cooperation, the Belt and Road Initiative seeks to foster mutual benefit by integrating the economic development of china with that of the rest of the world.

China claims to have a high potential to ensure cooperation that leads to mutual benefit as China is the world's largest trader of goods and second largest of services, accounts for about 10% of the world's total imports and 20% of import growth. China is also the largest trading partner of more than 120 countries and regions and one of the largest overseas investors. 46.2% of its exports in 2017 were destined for developing countries and emerging markets.

According to the latest World Bank Reports, the Belt and Road Initiative is a global project whose financial scale has exceeded $ 1 trillion, larger than any initiative proposed by any other country. China's trade and investment growth directly drive the development of the countries participating in the initiative, which in turn helps boost global development.

The initiative will help integrate various elements and resources in Asia, Africa and beyond, and prompt more countries and regions to deliver more international public goods, by connecting and matching the demand and resources and thus creating new channels and a new pattern of global supply chain. This will enhance the development opportunities for Belt and Road countries, especially those with a relatively slow growth rate, as well as give a 'shot in the arm' to global economic development.

According to a report in China Daily, a research report released by the World Bank says the Belt and Road Initiative will significantly reduce shipment times and trade costs. Accordingly, globally, the average reduction in shipment time will range between 1.2 and 2.5%, leading to reduction of aggregate trade costs between 1.1 and 2.2%. For the Belt and Road economies, the change in shipment times and trade costs will range between 1.7 and 3.2% and 1.5 and 2.8% respectively. As a consequence, the global economic growth rate is expected to increase by at least 0.1 percentage.
An opportunity to think anew
China adheres to the simultaneous development of regional and global economies and seeks to not only safeguard the multilateral trading system, but also promote regional economic integration. Upholding the rules of the World Trade Organisation, China regards the Belt and Road Initiative as an important platform that would allow it to help formulate fair, reasonable and transparent international trade and investment rules.

"The Belt and Road Initiative is not limited to a specific country or region. It is an open initiative for Asia, Africa, Europe and the world beyond. Its great significance lies in its win-win principle. Taking the initiative as the starting point, China needs to work out a new model of global governance, help build a new order by joining hands with other economies to devise new trade rules that are inclusive in nature and beneficial to people across the world, as that is what win-win cooperation is all about," Hu Angag says.

From such lessons to learn, it is high time that Sri Lanka insists on a stronger industrial, economic and infrastructure development policy implementation with China and also in line with neighbouring economies that have successfully participated in the Belt and Road Initiative. At present, the presence of China is widely and apparently seen through the Belt and Road not only in Sri Lanka and Lao PDR but also in other neighbouring and slow growing economies such as Azerbaijan, Timor-Leste, Afghanistan, Dominica, Jamaica, Panama, Sudan, South Sudan, Egypt, Jordan, Ethiopia, Columbia, Korea, Liberia, Sierra Leone, Suriname and Tanga extending fullest cooperation to rise together.

In order to reap the harvest of this initiative and to prosper, Sri Lanka should take towards a collaboratively strategic path not only with China, but also with other countries where Chinese investments along the Belt and Road Initiative are successfully building stronger and sustainable socio-economic set-ups.

Instead of any aggressive outreach towards all negative and adverse propaganda against Chinese investment in countries concerned, continuous and strategically positive learning on new developmental approaches and initiatives in the back-drop of Belt and Road Initiative will ensure open new avenues to successfully and sustainably develop with the economic stronghold of the region.