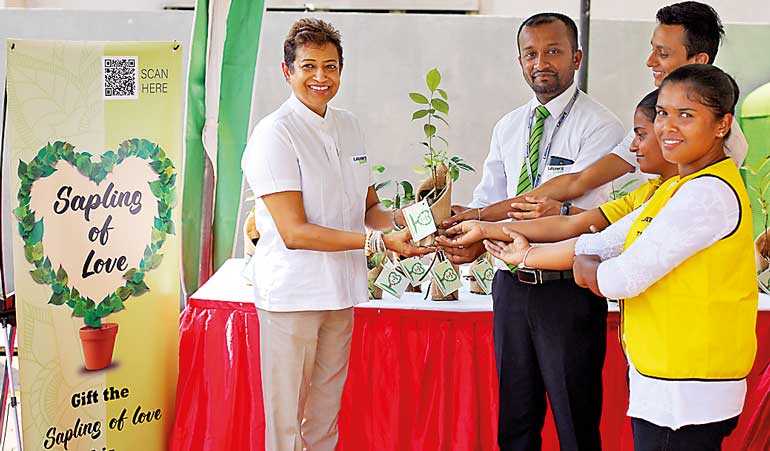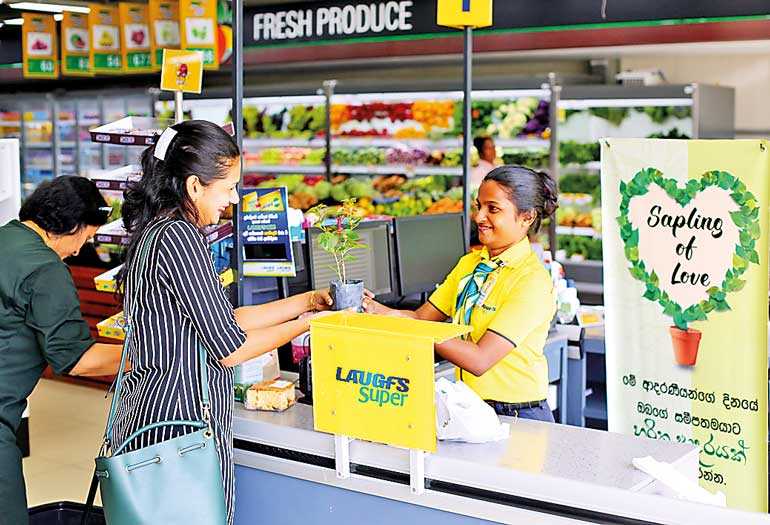 LAUGFS Supermarkets celebrated this Valentine's Day with a special twist, planting 'Saplings of Love' to commemorate this special occasion. Valentine's Day is truly an occasion that celebrates the bonds of love and care that exist between families, friends and loved ones. To highlight these bonds, LAUGFS Supermarkets marked this special day by gifting saplings to the first hundred customers who shopped at their outlets on Valentine's Day.
"At LAUGFS Supermarkets, we wanted to embrace the true spirit of Valentine's Day which honours the bonds that we create between individuals, as families, friends, and loved ones. The gift of a sapling is symbolic of the love and care that are required to nurture such bonds and ensure we grow closer together. Therefore we invited our customers to be one of the first 100 LAUGFS Supermarkets customers on Valentine's Day and to become a part of this unique experience," said LAUGFS Supermarkets Chief Executive Officer Lilanthi Herath.

The CEO together with her Management team kicked off this unique Valentine's campaign on the 14th of February 2020, with the symbolic tree planting at the Pepiliyana outlet.

The LAUGFS Supermarkets team took this campaign a step further, involving their internal staff by gifting a potted plant to every outlet as a gift from the management as a symbol of love, care and gratitude. The outlet teams will care for the plant collectively, symbolizing the spirit of teamwork and nurturing to care for their customers and their commitment to the success of the entire LAUGFS Supermarkets business. The Head Office staff too were gifted saplings to commemorate this special day.

A pioneer brand in the supermarket concept in Sri Lanka, LAUGFS Supermarkets introduced the chain of 24-hour supermarket retailing concept in Sri Lanka. The company currently manages 37 supermarket outlets in Colombo and its suburbs, as well as in Kurunegala and Chilaw.

The company's flagship brands, LAUGFS Super and LAUGFS SuperMart, cater to over 800,000 shoppers monthly. The supermarket chain also features its very own Crimson Bakeries and Medz Pharmacies, while catering to a broad spectrum of everyday needs such as utility bill payment facilities, providing continued convenience to its customers.

LAUGFS Holdings Limited is one of the largest diversified business conglomerates and a trusted and well-loved home grown business in Sri Lanka. Founded in 1995, LAUGFS today has expanded across 20 industries in Sri Lanka and overseas, establishing a strong presence as a leader and pioneer in the power and energy, retail, industrial, services, leisure and logistics sectors. With 4,000 employees and an annual turnover exceeding Rs. 54 billion, LAUGFS continues to expand and empower millions as a trusted Sri Lankan brand.