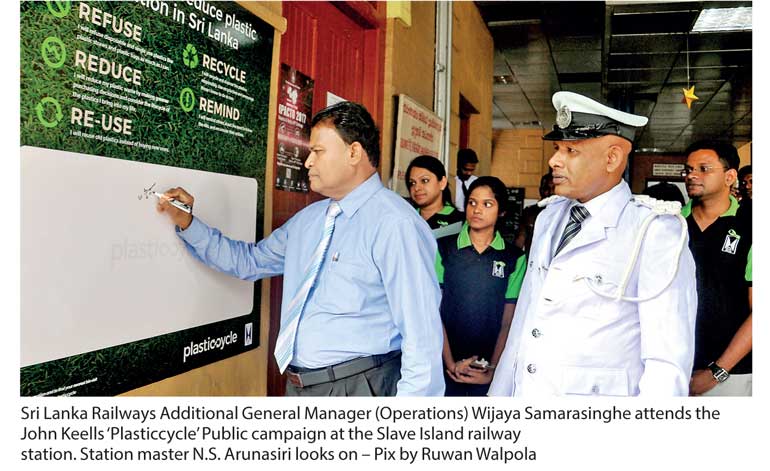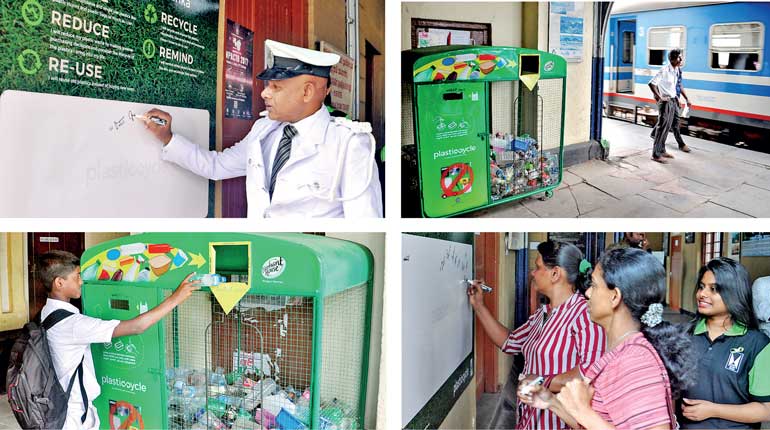 Collection point set up at Slave Island railway station
Commuters encouraged to take 4R pledge
Fresh projects to increase collection points, educate students and do beach cleaning
By Safna Malik

John Keells Holdings as part of a social entrepreneurship project launched a Plastic Cycle Public Campaign yesterday at the Slave Island railway station to encourage people to consume plastic responsibly and protect the environment.

Railway commuters who dispose of plastic bags and bottles in special bins assigned for the purpose will get green ribbon for assisting to help the environment. The ribbons were handed over on Tuesday, during the first day of the program.

Commuters who dispose of plastic will get the chance to write their names on a notice board at the station. The plastic will be collected by JKH and distributed to recycling companies. Members of the public who write on the notice board can also take the 4R pledge by John Keells to reuse, recycle, reduce and remind for more environmentally conscious living.

The 4R Pledge was first signed by Sri Lanka Railways General Manager Operations Wijaya Samarasinghe and Slave Island Station Master N.S. Anurasiri at the railway station. JKH staff members were also present to create awareness and educate the public to encourage them to sign the pledge and pinned green ribbons on obliging commuters. "It is an honour for me to take part in this campaign which will have a big impact on the public and encourage similar social service projects to make a difference to the country," Samarasinghe said.

Slave Island Station Master N.S. Anurasiri noted that plastic bottles littered around the station would not be reduced as there is a place for them to be disposed of and encouraged the public to make use to the new facility.

The Government and related agencies have, over the years, come up with various programmes to address the challenge of plastic pollution. John Keells Group, have an opportunity to do more, both internally and externally, especially recognising that some of their businesses are in industries that contribute directly or indirectly to the problem, JKH officials at the event said.

JKH is committed to significantly reducing plastic waste in Sri Lanka. The key focus areas are reducing plastic pollution, through encouraging reduction in the use of single-use plastics, supporting responsible disposal and promoting recycling initiatives.

This campaign is under the initiative 'Plastic Cycle' that introduced bins to Wekanda and Hunupitiya to collect plastic waste for recycling. Based on the positive response to the three bins that were placed initially, JKH is now expanding bin locations across many of the Keells Super outlets in and around Colombo.

John Keells Group volunteers engaged in clearing-up plastic waste collected on the beach in Wellawatte and Crow Island in September 2017. For the positive outcome of the campaign they are hoping to have a second clean-up campaign on 21 January.

JKH also conducted awareness sessions at schools in Colombo 2 such as T.B Jayah Zahira College, Holy Rosary Tamil and Sinhala Vidyalaya, Al Iqbal Balika Maha Vidyalaya, Siri Sariputta Maha Vidyalaya, where school children were educated on reducing single use plastics, and plastic recycling. The students were keen to know how they could contribute and as the first step, painted a cloth bag that could be used instead of plastic bags.