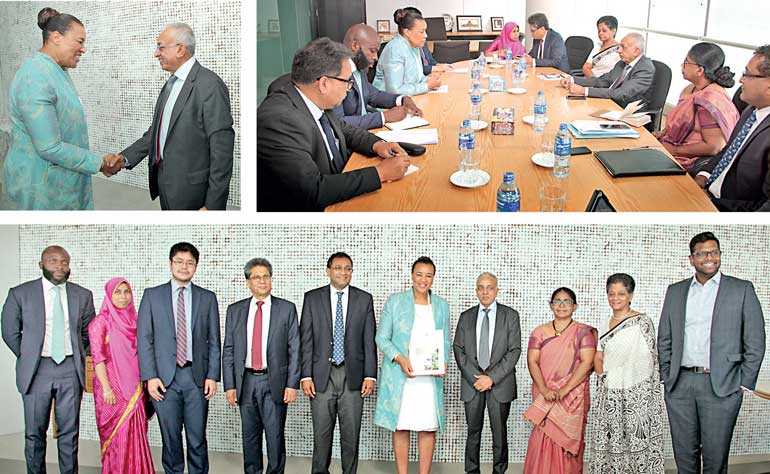 Commonwealth Secretary-General Rt. Patricia Scotland QC made a courtesy call on Minister of Development Strategies and International Trade Malik Samarawickrama, along with an accompanying delegation comprising Deputy Head of the Secretary General's office Senyo Agbohlah, Director Media and Public Relations Prof. Barnie Choudhury, Political Officer Asia/Europe Regions Jonathan Cheng, and Assistant Communications Officer Snober Abbasi at the ministry.

The Secretary General provided an overview of the trade and development initiatives being undertaken by the Commonwealth Secretariat and discussed avenues for Sri Lanka to engage. She discussed the opportunities for growing intra-Commonwealth trade and investment and encouraging more trade between member countries. She also invited Sri Lanka to showcase innovative Sri Lankan entrepreneurs on the new 'Innovation Hub' section of the Commonwealth Secretariat's website. She remarked, "We are looking for innovation champions. It would be great for Sri Lanka to be an innovation champion featured on this page, with a focus on a particular area."

The Commonwealth Secretariat continues to provide useful technical assistance to Sri Lanka. Analytical inputs were provided during the formulation of the recently launched National Export Strategy (NES), to identify new products and new markets for Sri Lankan exports. Technical assistance has also been given on how improving Export Development Finance in the country, to support growth of enterprises in NES sectors in particular, and exports in general.

The meeting was attended by Secretary to the Ministry Chandani Wijewardene, Adviser Eng. Mangala Yapa and Adviser Anushka Wijesinha – Ministry of Development Strategies and International Trade, Export Development Board Chairperson Indira Malwatte, Board of Investment Director General Duminda Aryasinghe and a representative of the Ministry of Foreign Affairs.