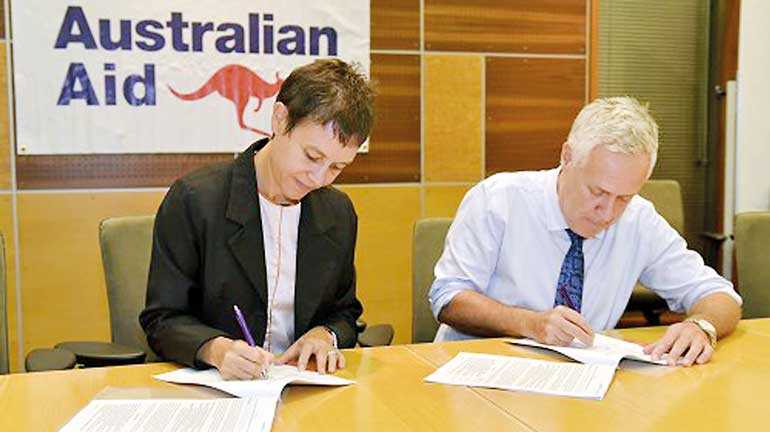 The Government of Australia, the United Nations World Food Program (WFP) and UNICEF have launched a partnership to help communities in Sri Lanka prepare for and respond to natural disasters.

According to the UN agencies, 96% of disasters in Sri Lanka are caused by climate, such as flooding, landslides, extreme winds and drought. Sri Lanka was ranked the fourth most climate change affected country in 2016, according to the Global Climate Risk Index, 2018.

The annual cycle of floods and drought is causing severe household economic and social stress in Sri Lanka. This cyclical pattern gradually decreases the coping strategies of families, and the possibility to return to normalcy in the long run.

Heavy rainfall during the southwest monsoon period in 2016 and 2017 simultaneously caused widespread floods and landslides in the Southern and Western regions. Over 500 people were killed (including 191 people still reported as 'missing' in official documents) and over 1.3 million people were affected during these two years. The high number of deaths is attributed to inadequate emergency preparedness measures.

In response, the Australian Government, WFP and UNICEF have signed a 3-year partnership (2018-2020) with a funding of AUD 750,000 (around Rs. 89 million), to ensure stronger preparedness and faster, more integrated responses to natural disaster emergencies in the country.

"The Australian Government has supported Sri Lanka in disaster management and emergency response since the 2004 tsunami. We are pleased to now join forces with two of the leading UN humanitarian partners in Sri Lanka, to deliver a program with the dual focus of helping Sri Lanka be better prepared to handle natural disasters and respond to emergencies," said Australian High Commission Development Cooperation Head Victoria Coakley.

The project targets the most vulnerable districts which are adversely affected by recurrent disasters, particularly the annual monsoons, including Ratnapura, Kalutara, Galle, Matara, Kurunegala, Puttalam, Anuradhapura, Mullaitivu and Batticaloa.

"Investments to enhance emergency preparedness and response capacities are critical to mitigate the impact of shocks. In periods when emergency response is required, 25,000 severely affected people will receive assistance through UNICEF and WFP, with a main focus on children, adolescents and pregnant and lactating mothers. The assistance will include food security and nutrition, and child protection," said WFP Deputy Country Director Nguyen Duc Hoang.

"Children, particularly the most vulnerable children, are at the heart of UNICEF's work in Sri Lanka. Initiatives such as this are vital to help build resilience and reduce the impact of disasters on the lives of the most vulnerable children and their families," said UNICEF Representative Tim Sutton.