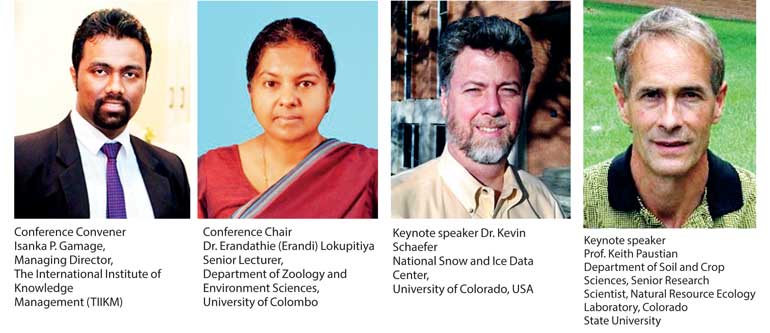 On successful completion of the International Conference on Climate Change (ICCC 2017) that witnessed a participation of in excess of 100 represented by academicians, researchers, corporates and policy makers from over 15 countries across the world, The International Institute of Knowledge Management (TIIKM) takes immense pleasure in welcoming you to the 2nd International Conference on Climate Change (ICCC 2018) scheduled to be held on 15-16 February 2018, at Hotel Taj Samudra Colombo, Sri Lanka. The Conference is hosted by the University of Colombo in collaboration with the Colorado State University, USA as the Academic partner of the Conference. The Climate Change Secretariat, the Ministry of Mahaweli Development and Environment, Sri Lanka is the supporting ministry of the Conference.

"ICCC 2018" will address a range of critically important areas in relation to Climate Change under the theme "Climate Change and Global Sustainability: Action for Bridging the Gap" and create a great platform to discuss and find solutions to climate change-related issues in achieving Global Sustainability. Popular topics to be discussed will be Climate Change and Food Security, Climate Change and Green initiatives, the role of Renewable Energy sources and Social issues in relation to adverse Climate Changes, etc.

The Conference is chaired by Dr. Erandathie Lokupitiya, Senior Lecturer, Department of Zoology and Environment Sciences, University of Colombo, Sri Lanka. The keynote forum will be represented by eminent personalities in the field of Climate Change study, Prof. Keith Paustian from the Department of Soil and Crop Sciences; he is also Senior Research Scientist at the Natural Resource Ecology Laboratory from Colorado State University, USA. He will be joined by Dr. Kevin Schaefer from the National Snow and Ice Data Center, University of Colorado, USA. The Conference will host networking sessions, workshops, key discussion sessions and a networking dinner with a Cultural show.

The ICCC 2018 Conference comprises of internationally peer reviewed journals that provides opportunities for the researchers of the Conference to publish their papers in line with TIIKM's mission statement of constructing the careers of the research fraternity. The main objective of the Conferences organised by TIIKM is to create a platform that is of significant importance for researchers and practitioners in relation to the respective subject to present their researches and expertise with the view of constructing a future nurtured with useful knowledge leading towards the emergence of solutions to global issues.

For more information please contact Aadhavan on 0755408371, aadhavan@tiikm.com.