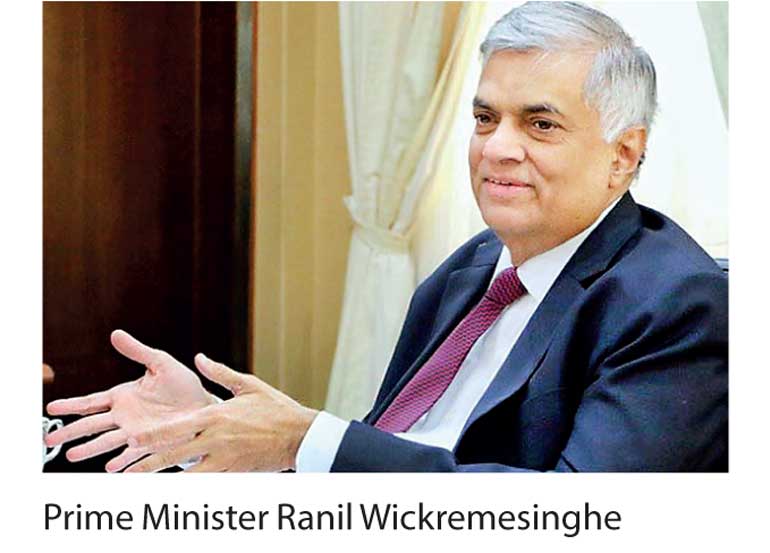 Ruwan Fernando in his article on 21 June (Daily FT) took Prime Minister Ranil Wickremesinghe to task on his recent visits abroad. He went on a scathing attack on the PM for undertaking foreign visits particularly during the last three months, when extreme weather had calamitous effects on the country.

To quote Fernando, he went on to say "Prime Minister Ranil Wickremesinghe is the master of the game, spending most of his days overseas averaging three to four trips a month. Although we are a small irrelevant country with an insignificant economy, our PM has many things to discuss with the indulgent global leaders."

It would have been more ethical if Ruwan Fernando cared to verify facts and acquaint himself with the purposes and aims of the visits undertaken by the Prime Minister.
Japan and Viet Nam


Wickremesinghe visited Japan from 11 to 13 April, Viet Nam from 16 to 18 April and India from 25 to 27 April, all in response to official invitations by the respective Governments where official engagements were scheduled well before the visits after the necessary protocols have been finalised.

In Japan, three important notes covering Japanese aid to fund Kaluganga Water Supply Expansion Project, Rural Infrastructure Development Project that will develop rural road networks and irrigation and community water supply schemes in emerging regions and the Trincomalee Port Development Project to enhance safety and navigation needs of the port, totaling Japanese Yen 45.7 billion or Rs. 61.3 billion.

Fernando in a somewhat derogatory manner says, "When the floods hit us, Ranil was in Vietnam. Now, a country like Viet Nam is not Ranil's cup of tea." The PM visited Viet Nam from 16 to 18 April also on an official invitation during which important agreements were reached to enhance commercial transactions between the two countries with a target of reaching $ 1 billion in trade within a few years, explore mutual investments and tourism by the business communities of the two states, opening the skies to airlines and youth and cultural exchange programs.

A significant understanding reached was the exchange of strategic knowledge between the Viet Nam Defence Academy and the Kotelawala Defence Academy with added impetus on security of the Indian Ocean and freedom of navigation.

By this time the devastating flood disaster was not even in the Met Department's radar and was nearly a month away. The collapse of the garbage mound in Meetotamulla was just beginning on 13 April and developed into a major landfill slide burying houses in the vicinity including people living in them by 15 April.

Though it is partly a result of heavy rains experienced during the preceding week, the cause was really unrestrained dumping of garbage over the past 10 to 15 years. The person in authority over urban development during the period was obsessed with beautifying the city and adding an aesthetic look to please the upper class ladies when they took their morning strolls or 'walking work outs' to reduce fat in their midriffs.

He did not bother to find solutions to tackle the gradually-accumulating garbage in the cities in Colombo District or providing decent housing to the poor on whose vote his sibling depended heavily to get elected to the highest office. So Fernando's mischievous inference that Ranil was in Viet Nam when the floods hit us is factually incorrect.
Mexico
He laments that the Minister in charge of Disaster Management was in Mexico when extreme bad weather hit Sri Lanka with devastating floods and landslides, intensified by the influence of severe depression in the Bay of Bengal. If Fernando cared to keep his eyes and ears open, he would have observed that the Disaster Management Ministry had already activated the contingency procedures, hats off to the Grama Niladharis, Divisional and District Secretaries, heads and staff of involved departments, and more importantly the Police and Defence Forces who commenced rescue efforts at the first signs of disaster.

When a procedure is in place, there is no need for the Prime Minister or the Minister in charge to be physically present to direct the personnel to implement the actual disaster recovery plans because, here Fernando should also understand, the vast communication facilities and IT infrastructure available internationally makes it possible for anyone to be in touch with his office and give instructions instantly to officials on any developing situation.

Besides, the key officials and personnel who have been provided with the necessary skills training relevant to the subject and with the facilities at hand, why cannot they perform without the 'boss'?
India and China
His other visit in April was to India from 25 to 27 again in response to an invitation from Indian Prime Minister Narendra Modi. During this visit, reviewing of progress in agreed areas of cooperation was carried out and a MOU which encompasses further assistance in the fields of LNG, solar power, developing Trincomalee City and port economic zone (Japan too is a partner in the tri nation development program on this project), road development and railway services, agriculture and livestock development plus water management. Wickremesinghe also met Sonia Gandhi, Leader of the Congress Party and Dr. Manmohan Singh, former Indian PM during the visit.

From 13 to 17 May, he visited China to participate in the 'One Belt Road Forum' held in Beijing where he met the Chinese President and other key political leaders. Strangely, Fernando omitted to mention this in his article.

So it is patently clear that such visits cannot be easily cancelled or curtailed in view of the elaborate arrangements and protocols established unless an unforeseen calamity like the tsunami that caused havoc in the country with nearly 45,000 deaths in 2004 occurs again.

Talking of tsunami, it is not easy to forget that the then Prime Minister diverted funds sent from abroad to assist the victims and for rehabilitation of displaced persons, in this instance the 'despicable yakkos' of the country (to borrow a term from Fernando), into a personal account and when this was brought up in courts, the then Chief Justice let him go scot-free who shamelessly admitted his mistake and publicly apologised.
US visit
He goes on to find fault with the Prime Minister for undertaking a ' pre-planned personal visit ' to the United States which according to Fernando's sardonic observation is just a jaunt which Wickremesinghe is fond of indulging in quite often.

Fernando says the PM entered a 'plush' hospital for two days and got a complete bill of good health. Fernando, who touches on many issues, surely should know that an appointment at a hospital in the US requires prior reservation unless it is a serious medical condition and therefore PM would have got the appointment obviously well before the floods hit Sri Lanka.

He goes on to say that the PM booked this hospital because of two Royalists working there. It is common knowledge in our country that when a person enters a hospital even for a check-up, it is a comforting factor to have a known person, either a doctor (not GMOA types) or an employee working in the institution. So what's wrong with Wickremesinghe's choice? He did not admit to luxury hospitals to have cosmetic treatment at State expense like before.

Fernando mentions a few names of Royalists in a cynical way. His derogatory comments on the VIPs and officials Wickremesinghe met during his US visit and the matters discussed as mentioned by Fernando, do not merit any comment since it is obvious that he is averse to whatever the PM does and displays extreme dislike for him as evidenced by his comment, "First class tickets, VIP treatment, posh hotels, these are things that thrill the man."

Fernando says the PM is in the country for short breaks and is mostly in foreign lands. I suggest that Fernando should keep vigil at Temple Trees and Cambridge Place to check when the PM is in Sri Lanka. Wickremesinghe as Prime Minister or when he was Leader of the Opposition is entitled to travel business class, stay in respectable hotels and VIP treatment, which no one should grudge.

The writer should compare these small luxuries Wickremesinghe is entitled to against the manner in which the leader of the previous regime who blatantly abused all Government facilities including aircraft of the national carrier to fly to countries which are ruled by obnoxious dictators, with plane loads of his friends and cronies on joy rides at State expense and loss of revenue to the National Carrier.

We haven't heard any economic benefits that Sri Lanka derived from such visits unlike what was gained from Wickremesinghe's visits abroad. As UNP Leader in the past, he certainly undertook many visits but at his own expense. But it does not mean that he craves to visit countries.

Though Fernando makes a passing comment on the Rajapaksas in his article, the main purpose of this article seems to be to ridicule the Prime Minister who certainly would not be deterred by such petty criticisms. Fernando derides our country by stating: "We are a small irrelevant country with an insignificant economy." It would do well for the likes of Fernando to verify facts or at least read the newspapers before embarking on writing vituperative comments or observations on any person or for that matter our beloved country, especially to a prestigious newspaper like the Daily FT.

T. Mallawatantri