By Frances Bulathsinhala
Dr. Zambry Abdul Kadir, Chief Minister of the State of Perak - the fourth largest state in Malaysia - and a representative of the United Malays National Organisation (UMNO), the leading political party in the ruling Barisan Nasional (BN) coalition, spoke to Daily FT on the sidelines of the Sri Lanka Human Capital Summit 2016 last week.

Emphasising that far-thinking policies shaped to usher in political autonomy and equality for all citizens of a nation were vital for human capital development, Dr. Kadir shared his opinions on inclusivity, sustainable development and social mobility through educational structures, based on the Malaysian experience. Following are excerpts of the interview:
Q: In your address at the Human Capital Summit in Sri Lanka you spoke of having a conscious strategy of workforce transformation. Could you speak of the Malaysian experience in this process?

A: Malaysia is currently focusing on the objective of getting our workforce into the highly-skilled labour category. Our identification of national key economic areas to identify the important drivers of economic activities that contribute towards Malaysian Economic Growth, measurable by the National Gross Income (GNI) indicator, was a key step taken in this regard.

Malaysia is now leveraging its competitive advantages by prioritising investment and policy support behind an identified 12 main economic areas which include the Greater Kuala Lampur/ Klang Valley, oil, gas and energy, palm oil and rubber, wholesale and retail, financial services, tourism, electronics and electrical, business and communications content and infrastructure.

The Eleventh Malaysia Plan, 2016-2020, is in the final stage towards realising the objective of becoming a fully-developed country and making the Malaysian workforce highly-skilled.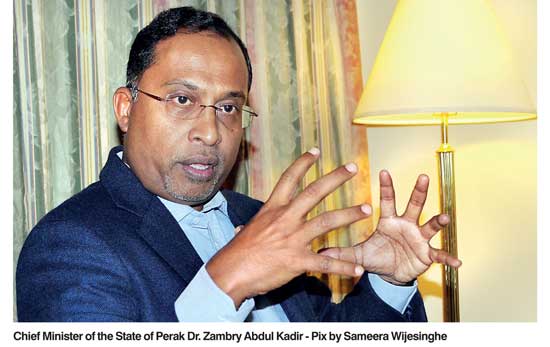 Vision 2020, as we call it, was launched in 1991, envisioning a Malaysia as a holistically fully-developed country including not only economic aspects but also socio-political, spiritual, psychological and progressive cultural dimensions. Malaysia currently has a 28 % highly-skilled workforce and we hope to increase this to at least 50% by 2020. I speak for myself as an individual and as a member of Government when I say that for any significant and progressive policymaking we must be consistent. We cannot make random politically-motivated statements about goals and then forget about them thereafter. Also importantly, we have to emphasise inclusivity for the common good of all communities of a nation. The key challenge in effective policymaking is in dealing with and engaging opposing political forces. It is natural universally for opposition parties to object to governmental plans. The challenge is to engage your political opponents for the common good envisaged for the country towards economic growth.

The Eleventh Plan, guided by the Malaysian National Development Strategy, is based on a progressive and united Malaysia that shares a common commitment towards building a better Malaysia for all Malaysians and the policies of Perak is within these lines.


Q: British educationist Sir Ken Robinson, one of the world's most influential voices on the transformation of the concept of education, raises over and over again the global question of whether we kill the vibrancy of minds through our institutional education structures. How do you see the challenge of moulding a formal and informal education structure that will be based on creativity, inquiry and innovation in order to maximise human capital development and produce job creators, especially in Asia?

A: We have to keep on challenging the concept of education as we proceed with our goals towards the betterment of our countries. The struggle is always between the theory and the practice and between the conceptual and the practical. If our education structures are outdated then the brightest depart from formal education or underperform.

In Malaysia, although education is the responsibility of the federal government, each state and federal territory has an education department to coordinate educational matters in that particular territory. By law, primary education is compulsory and our intention is to look at education as a stimulating process for both the teacher and the student. Federal governments of Malaysia do this at a policy level and we encourage individuals and institutions to play an active role in suggestions and initiatives that will bring creative changes in the formal as well as informal education framework.

At the core of all our policymaking towards workforce transformation is the leveraging of education as one of the main units of social transformation. Having being born into a humble family of a fisherman and having worked as a child with my father to supplement the family income, I am a product of my country's goals towards using education for social mobility. Education is the sharpest weapon against poverty.

I obtained my early education in Pangkor Island and secondary schools in Sitiawan before continuing my upper secondary education at Sekolah Menengah Bukit Gantang, Parit Buntar, Perak, a high school located in the mainland, and subsequently obtaining a BA Honors in Economics and an MA in Islamic Thought at the International Islamic University in Malaysia. It is the opportunity for education that I received in my country irrespective of social class that enabled me to proceed to do an MA in Political Philosophy and Comparative Religion and a PhD. in Political Thought from Temple University in the United States.


Q: How does Malaysia include technical and vocational training in its goals of becoming a fully-developed country?

A: Technical and vocational training we recognise as a key harbinger of our developmental goals. Malaysia strongly recognises the pivotal role that technical and vocational training plays in providing the skilled workforce required for the country's envisaged economic transformation.

The challenge that we are working towards is overcoming the general perception that technical and vocational educational training cater to the less academically qualified. To enable the full potential of the national technical and vocational system in Malaysia and to revitalise it we are in the process of raising its profile through publicity and strategic partnerships with the private sector to scale up skills training.

The Economic Transformation Program introduced in 2010 is projected to create 3.3 million new jobs by 2020. Of these jobs at least 40% are expected to require technical and vocational education and training qualifications. We are working on the conceptual definition of vocational training so that it cuts across the post-primary, secondary and tertiary educational levels. We recognise that it is integrated into all sectors including formal or school-based, enterprise-based, informal or even apprenticeship. In my state of Perak we give high priority to tertiary level and advanced level technical training specifically targeting school dropouts. We have a special development centre in Perak that looks at the issue of dropouts and addresses the maximising of their fullest human potential according to their interests and talents.

Private sector involvement is vital and Perak at all times seeks to show the private sector that it has a Government that is conducive towards it and thereby encourages it to be involved in the policy implementation stage, especially with employment-based skill development.


Q: You spoke earlier in the interview of the importance of a country following a policy of inclusivity. Sri Lanka, as a multiethnic, multi-religious country recovering from a long-drawn conflict is currently working on this aspect. Could you share some insights?

A: Inclusivity is the cornerstone of policies made with wisdom in seeking to avoid conflict. A lack of inclusivity creates unrest, suspicion and threatens the unity of a nation and threatens its socioeconomic fabric.

I believe strongly in the fundamental principal of engagement and examining criticism constructively. This has helped me to be open-minded about criticism about my administrative decisions. I believe that inclusivity begins when you insist on engaging your political opponents, critics and representatives of diverse communities in order to involve them in your projects.

A key strategy to usher inclusivity is provincial autonomy and constitutional and implemented guarantees for cultural and religious respect for all people that make up the nation. We strive towards this goal in Malaysia.

Malaysia is a multiethnic, multi-religious country where 61.3% of the population practices Islam, around 19.8% practices Buddhism, 9.2% Christianity, 6.3% Hinduism and 1.3% traditional Chinese religions while the balance population practices other diverse belief systems. It is challenging for multiethnic countries to achieve ethnic and religious unity through policymaking that allows each person, irrespective of their cultural and religious identity, to identify themselves as patriots of their country. But if a country values its stability and economic progress this is essential.

The constitution makes Malaysia a secular country and guarantees freedom of religion, while recognising Islam as the religion of the Federation and symbolising its importance to Malaysian society.

As a federation that consists of thirteen states and three federal territories, it is the aim of Malaysia to see that these territories are empowered through autonomy and democracy.

It is important that the Chief Ministers of these states are given freedom and are empowered to conduct its own affairs within the context of the in-country policies. For the state of Perak, which is the 4th largest state in the country, a priority that I pursue as Chief Minister is racial harmony, equitable development and the reaching of economic development to all classes of communities as well as by taking specific policy steps to support disadvantaged groups.


Q: Could you speak of specific growth-based advantages of Perak, keeping in mind its infrastructure and natural resources?

A: Perak is situated in a geographically desirable area with easy access to Klang Valley and Penang which are Malaysia's two key economic hubs. We are working on capitalising on tourism. Travel to Perak is fast and has access through road and rail options via the Electric Train Service and the state of Perak is expected, in around 2019, to open its new highway - the West Coast Expressway - which will enhance connectivity significantly. The state has access to two major seaports, the Penang Port and Port Klang and has its own seaports – Lumut Maritime Terminal and the Lekir Bulk Terminal.

The state also has the Sultan Azlan Shah Airport, an airport based in Ipoh, Perak's capital, which supports both domestic flights and flights to Singapore on a daily basis.

Having an abundance of natural resources, mainly non-metallic minerals, Perak is the country's major producer of limestone products, tin, kaolin, clay and mica and we welcome investors to develop related industries.

Several multinational companies in the minerals industry, such as Lafarge, Sibelco and Hume Cement, have a presence in Perak. We have a strong policy of projecting an investor-friendly image and welcoming multinational companies to reap the benefit of the state's favourable business environment. Likewise I have strongly encouraged a policy of providing investors with a background for easy operations allowing them flexibility to grow.

Sustainability is another key dimension of developmental policy. We are talking of policies that include environment sustainability that is enduring and futuristic enough to serve future generations.

Perak's entire development policy is based on sustainable development. Perak's Amanjaya Development Plan is based the two key themes of inclusivity and sustainability.

Aman-Jaya means peace and prosperity and this is what we are reflecting in Perak in all our administrative and project based decisions.