Says self-sufficiency would help war-affected people in North and East
Observes that COVID-19 pandemic has taught people the need to become self-sufficient 
Says 40% of the people in North and East are farmers but some unable to do farming in their own traditional areas
---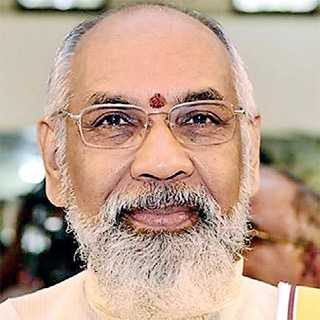 C.V. Wigneswaran
---
TMTK Jaffna District MP C.V. Wigneswaran told Parliament on Wednesday that the journey towards self-sufficiency would help the war-affected people in the north and the country faced with innumerable economic setbacks.

Speaking during the debate on Nine Orders under the Excise (Special Provisions) Act and 10 Notifications under the Excise Ordinance (Chapter 52), Wigneswaran said the Government was proposing to give fillip to inland production partly by its taxation scheme and welcomed the initiative.

"My party, the Thamizh Makkal Thesiya Kootani, has enthroned self-government politically, self-sufficiency economically and self-reliance individually and socially as its party goals. To work towards self-sufficiency in our production and economic sectors is the need of the hour. With so much of foreign debt to be serviced we need to work towards self-sufficiency. We need to conserve our foreign exchange," he said.

He said that the recent COVID-19 pandemic had taught people the need to become self-sufficient in our food requirements and said that the country must produce more than merely to make itself sufficient and export the excess.

"It is the Government's duty to facilitate considerable production granting as many subsidies and relevant production auxiliaries and requirements and also advice towards value addition and help to export our products," he said.

He noted that more people in the north were now growing at least some of their daily requirement of vegetables in their home gardens.

"Giving fillip to inland production would also generate employment to our people. Unemployment in our war-affected areas have exceeded 10% while the national average proportion of unemployment is less than 6%. We need to take immediate steps to reduce unemployment in the war affected areas."

"Increasing production after due planning would ensure decrease in unemployment and give impetus to development. We must ensure at least one person in every family has employment. This would in turn reduce the number of families living under the poverty line," he said.

He said that in the north and east, agriculture was the mainstay of the economy with around 40% of the people being farmers but some of them had been unable to do farming in their own traditional areas in recent times.

He referred to the incident recently where a Ven. Bhikku member of the Eastern Archaeological Task Force had prevented farmers from entering nearly 1,000 acres coming under the Trinco-Kuchchaveli Pradeshiya Sabha Division in Thiriyayi, stating that certain paddy lands were archaeological sites.

"Are we interested in rallying all communities and taking the Country forward towards economic regeneration or are we interested in subjugating one community under the pretext of archaeological sites at the expense of economic production and regeneration?"

"We have not even identified the so called archaeological sites as to whether they belong to the time when those areas were occupied by Tamil Buddhists or Sinhala Buddhists. If those so-called sites were Buddhist remains from the time of Demala Baudhayos, the decision to preserve those areas must come from the Tamils of those areas not from a pan-Sinhala Task Force," he noted.

Wigneswaran said that the Trinco-Kuchchaveli people who have been prevented from cultivating their lands should be allowed to continue with their agricultural activities and requested that the Prime Minister take necessary steps in this regard.