Rapid development under a robust growth-oriented regime is the new mantra resonating with a nation fed up with retarded progress and developmental prospects compromised by rampant crony capitalism. However, maybe the erstwhile champions of systemic reform did some perhaps nobler ideals (see article) a great disservice with their arrogant approach to protecting and investing the social capital entrusted to them in the larger longer-term national interest?
---
It was a famous victory. A shadow of a doubt persists after an election commission member spoke up recently, after the event, about an alleged irregularity somewhere in the voting system works. But this would be churlish, buffoonish and academic to talk about that 'freeness' or 'fairness' now. What matters more is how government in general, the country at large, and opposition in particular will seek to become stakeholders in the Great Development Project at hand.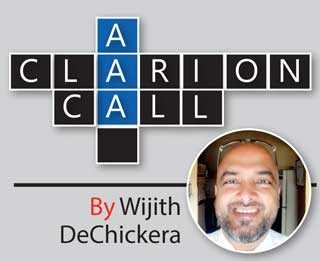 If Growth! Development! Progress! – the all-new GDP mantra – has become the rallying cry of business, professionals and academics alike, it is at the cost of what used to be called the 'reforms agenda'. Now, demonstrably, that concept is taboo. There is little merit in moot ideas such as national reconciliation. This is so in a milieu where majoritarianism rules by a people's mandate as much as a mandarin's purposeful will. Just roll up that transitional justice map and shelve it because it may not be needed for a while yet.
Look around with 'hope'
Instead, examine with care and due consideration the turn that the nation at large has taken. On the political front, a determined president and a powerful prime minister could work very well together indeed to bring back a semblance of safety, security and surety for a majority of their people. That mindset is reflected admirably in many socio-cultural movements taking the state by storm, such as graffiti to give licence to artistic youth. One can only hope that if this regime proves more prohibitive than permissive, the opportunity afforded won't end with only oppression being offered and street art going underground to become a subaltern voice.

Internationally, Sri Lanka is sitting pretty – not only because 'we' are Mrs. World 2020, but also the best warm-weather destination on the planet, and dominating India on home ground in the South Asian Games to say nothing of Pakistan at cricket after a hiatus of ten years. Moreover, the globe will soon be (if not already) beating a path to our door. Feels like we have the savvy to strategise a multi-aligned foreign policy that will farm out our favours with greater discretion to the US, China and India, and Japan as well as other suitors?
Look back with 'anger'
However, a persistent niggle may be that not all stakeholders have been suitably recruited on the forward march. The demographics that did not vote for that famous victory may feel left out, marginalised, and maybe even persecuted. Whether this will be by design or default depends on the largesse and bigger picture of the more discerning elements in the monolithic administration – no coalition partners to palaver! Pray that it will not be a case of those who are not for us are against us. Or that the ugly must be made to go away. It is not recognised nearly often enough that you can't preach progress to the poor or happiness to those with bodily hunger in their eyes. Neither unity to those not included nor charity to the chastised.

Another concern is that the political opposition, which could or should safeguard minority rights and be a voice for the voiceless, is in chaos. There is no gainsaying that the UNP deserves the pretty pass that they've come to as a party. But the very civil society which defended its democratic rights at the time of that abortive coup doesn't deserve the shambles that the state of the nation is in at present, especially as regards critical engagement and freedom to dissent. It is also a rich irony that the man who once stood as a figurehead of the reforms movement is a fallen idol now, and is most in need of reformation for himself and his machine. That he has divided the offices of party and opposition leader to appease baying hounds snapping at his feet is no solution in the long run when we are all dead including him.

In the short term, the greens must grow a pair in parliament if they hope to serve the nation in a 'united' 'national' manner as of old. In the medium term, the hopes of the minorities lie with them if and when the worm turns. In the long term – well… you know the rest of it!
Look forward with 'anxiety'
Surely, though, we can also examine with some concern the turn that the nation has taken. On the political front, the stability of a president with a proven track record in getting things done and an experienced prime minister could be the winning formula to rescue a lackadaisical polity from its growth-retarded doldrums. Yes. But.

That mood can be clouded over if feudalism or dynastic politics come to be privileged over the dynamism and fortitude for which 6.9 million trustworthy stalwarts voted – and hopefully, fifteen million more can still be persuaded or co-opted to vote for with their feet. Not everyone who didn't vote for the present powers that be is a traitor to the national interest or one iota less patriotic than those who claim to love their country more.

One must not be too anxious in this brave new world that has such people in it. And actions speak louder than words when alleged victims become perpetrators and those who disagree are not simply dissenters but dissidents and die-hard anarchists. One has to work hard to trust that the DNA of a crooked political culture will not corrupt the present government all over again. The signs – such as a clarion call to end corruption – alleviate some measure of anxiety at the shape of things to come. But we have miles to go before we sleep and many, many promises to keep.

(Journalist | Editor-at-Large of LMD | Writer | Son of a small island. Scion of a larger destiny)