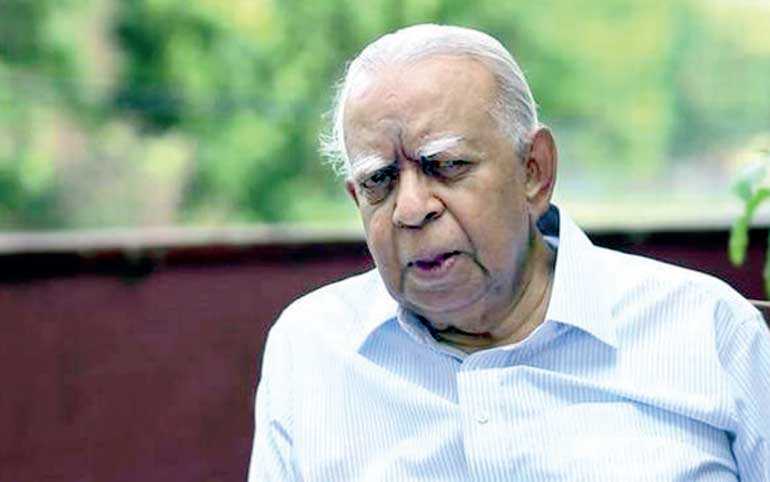 R. Sampanthan
---
By Meera Srinivasan

The Hindu: People's democratic choices must be accepted, says the senior Tamil leader.

It is unfair to attribute a "racist" dimension to the Tamil vote in Sri Lanka's Presidential Election, according to senior Tamil leader R. Sampanthan.

His remark comes a day after the results of the country's biggest election were declared. The winner — newly-elected President Gotabaya Rajapaksa — garnered his 52.25% vote share almost entirely from areas where the majority Sinhalese community is concentrated.

On the other hand, Sajith Premadasa — who was defeated — drew huge support in the north, east and central parts of the country that his home to Tamils and Muslims.

All the same, the question of a vote on "racial lines" does not arise, said Sampanthan, who leads the Tamil National Alliance that endorsed Premadasa this election. "Both Gotabaya and Sajith are Sinhala-Buddhists. On economic matters, they are probably on the same page, but in regard to minority issues, Sajith was more forthcoming in this campaign," he said.

Since the time Sri Lanka's poll outcome emerged on Sunday, many social media users shared a map of the island, colour-coded to distinguish the regions that voted for Rajapaksa and Premadasa. Some commentators pointed to an "ethnic divide" in the mandate, or called it a "polarised verdict".

Others went a step further and accused the Tamils of having voted on "racial lines" by rejecting popular candidate Rajapaksa. Their narrative sparked a heated debate online, even as some users voiced concern about a spike in racist posts on their timelines and feeds.

"If the Tamil people had wanted to vote on racial lines, wouldn't they have voted for Tamil candidate M.K. Shivajilingam who, it may be argued, had racist overtones in his manifesto? Instead, they voted in large numbers for Sajith Premadasa."

Days ahead of the election, some backers of Gotabaya accused Premadasa of having entered a "deal" with the TNA, when the Tamil party announced its position. But many of the policies pertaining to the national question in Premadasa's manifesto — which TNA was willing to engage with — were not very different from the commitments made by President Mahinda Rajapaksa when he was in power, Sampanthan noted. "What Sajith was promising was not altogether unheard of."
Southern vote

It is also important not to reduce Gotabaya's mandate to a vote on racist lines, Sampanthan argued. "Many people who voted for him have done so because of their disappointment with the performance of this Government. The non-delivery on various fundamental issues like costs of living, corruption, fertiliser [subsidy], and employment," he said, emphasising there were "various factors".

For many voters, national security too was a key factor — since the Easter attacks — for seeking a "strong leader" in this election, political analysts here have observed.

"People are entitled to make their democratic choice and as long as their vote has been validly cast, it must be accepted," said Sampanthan.