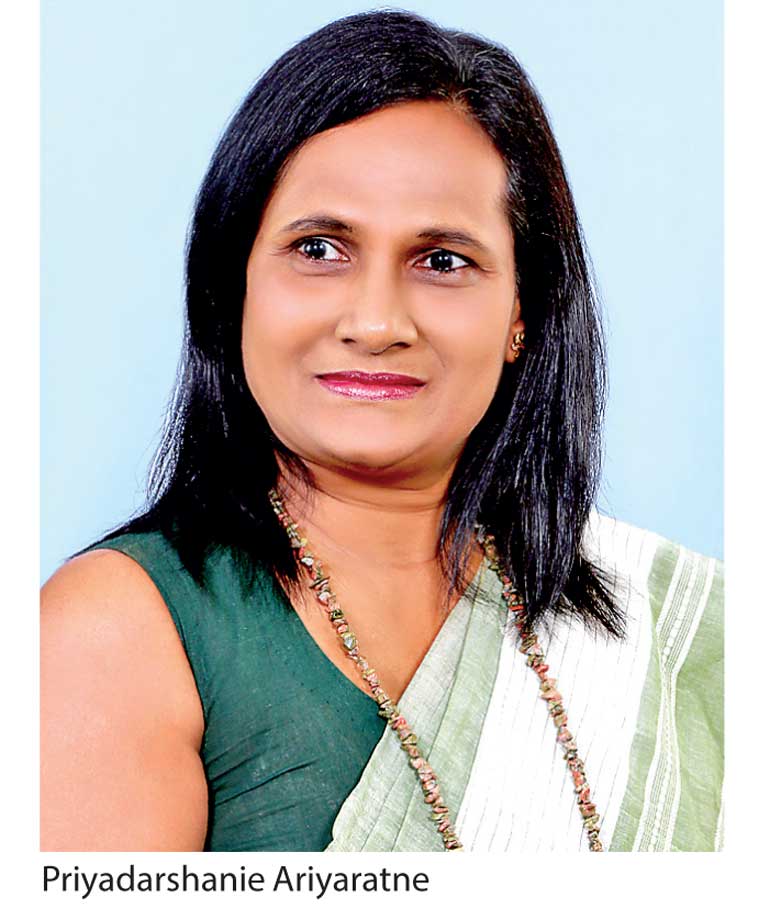 By punishing corrupt politicians and supporters in the party, the United National Party will become more popular, the UNP candidate for Baddagana contesting the election for the Kotte Municipal Council, Priyadarshanie Ariyaratne, said. Aspiring to transform Kotte, which has unique historical and environmental value, Priyadarshanie said the UNP wanted to turn Kotte into a green city. She said that the UNP was the best option among the rotten lot to rule the country.

Following are the excerpts of the interview:
By Shanika Sriyananda
Q: What is your vision as a new candidate?
A: As a person with principles, I see things through a gender lens. Being a committed citizen of this country I believe I can contribute a lot to the Kotte Municipal Council in the male-dominated political makeup. In addition to the party views, I want to do things differently to contribute my all to make Kotte a green city. Our campaign vision is to make the Kotte Municipal Council an exemplary people-friendly new municipal council
Q: Can you say something about yourself since this is your first appearance in politics?
A: I am a mother of five grownup children. I was born in Colombo and raised in Horana. I am now living in Kotte. I retired prematurely from my teaching career and became an activists while working. I pursued my higher studies at the University of Colombo and the Open University. I worked at the Institute for Constitutional Studies. I am chiefly a human rights and women rights activists and I would like to be called a civil and political rights activist too.

I am one of the pioneer members of the Movement for a Just Society initiated by the late Ven. Sobitha Thera in 2011.
Q: The quota for women to contest in the elections has increased. What are your comments about this new move?
A: We the activists have been working for about four to five decades to get this quota and this is a good move as lots of women, including professionals, academics and activists, are contesting these local government polls.

I believe that female politicians, when compare to their male counterparts, are educated and have clean track records. This will bring a change to the present political culture, which most people don't have faith in. Most of them are fresh politicians who have no prior experience of dealing in fraud and corruption. They are looking forward to do their best for the people whom they represent in their respective areas.

But I believe this trend will continue if a genuine set of women gets elected. Why I say this is there are some female politicians who have close connections with corrupt politicians and they were being controlled by those politicians in the previous municipal council. These shadow female politicians will not make any difference as they are being controlled by those politicians to get their corrupt deals done.

However, I am happy and hope female politicians who are genuine can make a difference together.
Q: Why did you want to contest from the UNP?
A: During the last decade almost all parties, including the JVP, invited me to join them to contest elections. I helped them in their programs and gave my views on various subjects while maintaining my principles. I even helped Minister Mano Ganeshan's party and was in an initiative called the Civil Monitoring Committee.

I have decided to contest from the UNP mainly because of Dr. Harsha de Silva, who is a genuine politician and professional. In 2015, I coordinated President Sirisena's women's campaign. Later, he also asked me to join him but I couldn't as it was against my principles.

There are a handful of politicians who maintain their principles and Dr. de Silva is one of them. Apart from that I possess a multi-ethnic and multi-religious stance and the UNP is the only major political party which has representatives from all the ethnic and religious groups in this country.

I am also a person who is against racism and religious extremism. The UNP is a little closer to my views and it is the best among the rotten lot.
Q: Don't you think the bond scam allegations will affect your vote base in Kotte?
A: Before joining the party, we lobbied against corruption and since I am now in the party I can see how the UNP is taking action against fraud and corruption.

The scam has been revealed and is before the courts. We all believe that the culprits should be punished. If anyone from the UNP is proven to have had a hand in the bond scam he should be punished irrespective of his party affiliation.

By punishing corrupt politicians or supporters in the party, the UNP will become more popular and it is a way to clean the party and also to show its transparency. If they have robbed the Government's money it should be recovered from their wealth.
Q: If you are elected, what are your plans for the Kotte Municipal Council?
A: We want to turn the Kotte Municipal Council into an exemplary and people friendly municipal council. Since nowadays 'people friendly' and 'child friendly' are just beautiful words restricted to documents, we want to work towards implementing the true meaning of a people friendly municipal council.

With over 3,000 dengue cases and 11 deaths, eradication of the mosquito menace tops our task list.

Designing a special drainage system for Kotte to control floodwater due to the rains and introducing regulations for auditing and accounting to have a proper procurement system to maintain transparency are also a part of our ambitious plan for the Kotte Municipal Council.

Unlike other local government areas, Kotte is unique with its natural beauty, important wetlands and archaeological and historical importance. We have drawn up plans for environmental conversation while preserving the archaeological and historical sites in the city in our master plan to make the city a green city for its more than 70,000 residents.

We are to look into the housing problem as well as the drug menace due to a high number of school dropouts.
Q: What are the challenges you have faced in the campaign?
A: The main challenge comes from male candidates representing the SLFP and Pohottuwa, who are trying to stop me contesting by claiming that I do not belong to the area which I am contesting, which is Baddagana 5522 A Pitakotte East Ward with 2,665 voters in 830 households. This is mainly because I am living in the area adjoining the one I am contesting. But I have a clean record and I'm capable of networking and overcoming any challenge to win over my voters.

Another challenge is that I have to represent a gated community with over 150 houses, whom I tried hard to talk to. But even in the fourth round of my door-to-door campaign I have failed to talk to them as there was no one at home.

Bringing people to the polling booths is also a big challenge as I have found that most family members are abroad and have also not registered.

I don't spend much on my campaign and my entire campaign is run on a budget of Rs. 300,000 as I don't have posters. I go door to door.
Q: Kotte is also known for thugs and members of the criminal underworld. Does the UNP have plans to change this image?
A: Compared to other parties, the UNP has fielded genuine candidates who don't face corruption charges. They comprise new and previous members of the municipal council who have good records.

The UNP didn't have power for the last 10 years. The municipal council during the previous regime was like another miniature structure of the Rajapaksa regime. Corruption was high and thuggery played a key role in its administrative structure.

We have found that over 400 employees of the municipal council had abused their freedom and were working outside as trishaw drivers, gardeners or were engaged in other jobs after punching in at work in the morning. They got their monthly salary and had the support and blessing of the previous Mayor Janaka Ranawaka. Unfortunately, now he is the organiser of the SLFP. He once drove a three-wheeler, owned a motorcycle and lived in a simple three-bedroom house. But today he drives the latest V8 and lives in a four-storeyed mansion.

To gain a good name for the Kotte Municipal Council, we need to get rid of these highly corrupt politicians by not electing them again. All the voters are sick of these corrupt politicians and when we are conducting our campaigns, people don't open their doors and scold us saying they don't want to vote for any politicians.

This is due to the bad reputation of the previous politicians who ran the Kotte Municipal Council. Voters say they are thugs and rogues. I request the voters to cast their votes for politicians with clean records to send the corrupt members home.
Q: If the UNP gains control of the Kotte Municipal Council, will you conduct an inquiry against corrupt individuals such as Ranawaka?
A: We don't need to as everything has been revealed in an auditor general's report, in which Ranawaka has been accused of mass corruption. He is the seventh accused and the law of this country will punish him soon.
Q: Being a mother of five and a busy professional, what is your message to young women who aspire to become politicians in the future?
A: Remember, females have the ability to multitask and it is in their genes. Since the Stone Age they have been multitasking. While males went hunting, women did everything at home while also raising the children.

Every morning I plan my day and find time for lots of things. I don't have maids and I do everything by myself. I also believe in equality and maintain gender equality within my family. With the ability to multitask, women can do a lot. I am a good planner.