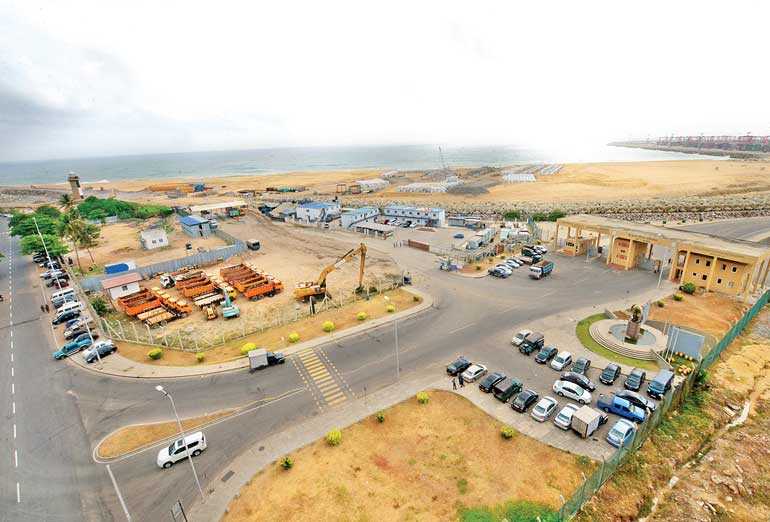 With the successful implementation of the Colombo Port City expected employment generation will be approximately 87,000. Most of these employments will be in the fields which requires high calibre and high skilled human resources – Pic by Shehan Gunasekara
By Luxman Siriwardena

Sri Lanka is now heading for a Presidential Election to be followed in a few months down the line for a General Election. Therefore, it is safe to assume that there will be a new leadership with a new sense of direction with, hopefully, strong commitment for achieving much faster rate of economic growth than we have experienced since 2015.

The election manifestos of the leading candidates, of course, are a mix of prudent as well as not so prudent policies. Within the election manifestos outside in public platforms, some candidates seem to be making promises of virtually free lunches and dinners which will be home delivered.

Nevertheless, I believe that the intelligent, and even not-so-intelligent, electorate of Sri Lankans are well aware that poor Sri Lanka with a heavy external and domestic debt burden, unsustainable budget deficit and stagnant economy, all these 'Free for All' election promises if implemented, will be just like digging the grave of our own economy.

When a new leadership is elected leaving such dream promises aside there will be urgency to implement series of programs and projects which will generate tangible benefits to the economy and people of Sri Lanka.

Seasoned politicians and their advisors should be well aware that within the 'honeymoon period' of a new Government, which is increasingly becoming shorter, should embark on development program with long, medium and short-term initiatives and projects in which return on investment is faster and assured.

The voters who now gather around and cheering the leading candidates will have little patience to wait for at least the signs of speedy recovery of the business confidence, economy in general and increase in their standard of living.
The voters who now gather around and cheering the leading candidates will have little patience to wait for at least the signs of speedy recovery of the business confidence, economy in general and increase in their standard of living
In the above context the urgent requirement of any newly elected President, Prime Minister or Cabinet of Ministers is to identify projects with early return on investment. The investment here could be either public investment or local or foreign private investments.
For cash strapped Sri Lankan Government investing its own public funds for projects which has the potential to generate early returns is not a likely option. Therefore, immediate attention should for the promoting and facilitating projects which has the potential to attract private investment and get off the ground in the short run.

Fortunately for newly elected leaders in the next few days and months, there are many commercially viable projects for which foreign and local investment have been already lined up. These commercial ventures have been in the drawing board for the past five to six years awaiting clearances from the government leaders as well as line ministries and institutions.

For these projects due to indecisiveness at the highest levels or bureaucratic hurdles the essential conditions for implementation have not been fulfilled. Various committees have been formed, studies have been undertaken, environmental and other clearances have been obtained but most fundamentals conditions for these projects to take off the ground are yet to be met.

Such indecisiveness on the part of the powers have resulted in the loss of opportunities of the country and have deprived Sri Lankans of many opportunities. However, loss opportunity in the past will be an opportunity waiting for newly elected leaders. They will only have to incur minimum public investment. These projects which will have transformative impact on Sri Lanka's economic lands scape can be taken off the ground simply by establishing necessary regulatory and incentive framework.

What are the projects awaiting Government action and providing necessary clearances, regulatory framework and incentives?
1. Colombo Port City project

This is the largest or at least one of the largest foreign (Chinese) direct investment project which has already performed a civil engineering marvel in this part of the world. This project is involved with the reclamation of Indian Ocean adjacent to the Galle Face.

This has added 269 hectares of new land mass to Sri Lanka changing the map of the country and creating a space for diverse secondary investments. The project envisages in the highest level of International Standard infrastructure such as modern convention and exhibition centres, hotels, commercial buildings, offices, serviced apartments, beach-front villas and high-end residences.

Another interesting proposal is to promote a marina which can attract high end tourists to Sri Lanka. In addition to that it will create the first most modern international shopping mall, making Sri Lanka one of the most internationally-oriented and stylish venues for leisure and shopping. In addition, schools, kindergartens, medical stations, playgrounds, cultural centres and other attendant facilities have been made part of the plan for Colombo Port City.

The total envisaged investment of the secondary investors or enterprises to be established within the reclaimed land will exceed $ 14 billion over period of 20 years.

With the successful implementation of the Colombo Port City expected employment generation will be approximately 87,000. Most of these employments will be in the fields which requires high calibre and high skilled human resources. Also associated with the Colombo Port City, there will be sustainable urban city space that adapts local climate, creates a comfortable micro-climate and make efficient use of energy resources.
2. Hambantota Economic Zone/Industrial Zone

While the Colombo Port City project will have a transformational impact on the Western Province and beyond, the Hambantota Logistic and Industrial Zone will have a similar impact on the Southern Province spreading over Matara, Hambantota and Monaragala Districts.

This project has been in pipeline for over four years awaiting clearance from the Government including a competitive incentive scheme for attracting Chinese and other foreign investors. This project is expected to generate approximately 100,000 employment opportunities while at full capacity foreign investment exceed $ 5 billion.

Generation of employment of this magnitude in a relatively rural environment will bring in a considerable change to the local economy upgrading the living standards of ordinary people. Project implementation company as well as the Government will be well advised to implement programs to upgrade the technical skills of the youth of the Hambantota and adjacent districts to meet the requirements of the industries to be relocated in the Hambantota Logistic and Industrial Zone.
3. Colombo Port Expansion Project

Another business opportunity that has been neglected during the past years is the Colombo Port Expansion Project. According to the publicly available information, East Container Terminal of the Colombo Port consists of a quay wall with a length of 450 m. The maximum-sized vessel that could be accommodated, after development to the capacity, is 18,000 TEU.

The Government and the Sri Lanka Ports Authority has once called for expression of interest from the international and local port builders and operators. We can safely assume that if the project was implemented with international or local firm enterprises with proven track record, by now the project would have generated substantial revenue to the Government and many other benefits to the economy.

These include generation of employment and foreign exchange earnings while further strengthening hub position of Colombo Port.

It is therefore mandatory for new leadership to end to the indecisiveness, lethargy and lack of political will to embark upon the Colombo Port Expansion by building Colombo East Terminal. From the outset it appears that there are many options such as:

a.Development by the Sri Lanka Ports Authority provided it has the financial, technological and marketing expertise

b.To offer the project to operators of adjoining terminals i.e. South Asia Gateway Terminal and/or China International Container Terminal operators

c.Finalise negotiations with the Indian/Japanese partners to expedite the project implementation
Power and energy sector

The country's accelerated development initiatives will soon create a demand for power and energy, and if not addressed this process will be a constrained. Taking this into consideration immediate implementation of a few more large-scale power generation projects based on coal or LNG or preferably renewable resources, can no longer be delayed.

Therefore, it is mandatory for new leadership to get the projects off the ground with foreign or local investment to meet the expected rise in the demand for power.
Right policies, incentive framework and leadership

Prudent macroeconomic and sectoral policies, right incentives structures are essential requirement for the success of all projects and programs intended to accelerate the growth and development of the country.

However, as demonstrated in the history of almost all developed countries of the world, especially those in Asia the critically important factor is the leadership. A leadership that can lead the country, his team that is capable of taking decisions without moving back and forward is a crucial factor that has not lacking in the past few years.