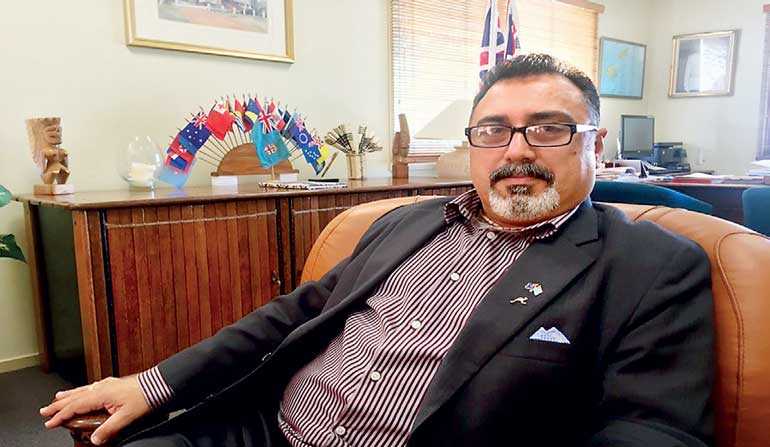 Fiji non-resident High Commissioner to Sri Lanka Yogesh Punja
By Chathuri Dissanayake

Fiji non-resident High Commissioner to Sri Lanka Yogesh Punja puts forward ambitious proposals for greater partnership between the two countries to reap benefits from each other's strategic positioning and expertise.

In an interview with Daily FT, Punja spoke of possible tie ups with Sri Lanka's Coconut Board to develop the industry and benefit through Fiji's location and relations with Australia and New Zealand to gain market access.

"I am accredited to Sri Lanka as well, and I think it is important that we establish ties here. I have already had meetings with the Chamber of Commerce in Sri Lanka, Coconut Board on the Coconut industry. We have also had meetings with Aitken Spence, because one of the projects we have got in our mind is a logistical hub for Fiji, as it is strategically located. Currently it's got the network of distribution for the Pacific, but it is also a link to Asia on one side and the US on the other side so we are right in the middle, so we have that advantage of clipping the ticket both ways," he said.

Following are excerpts from the interview.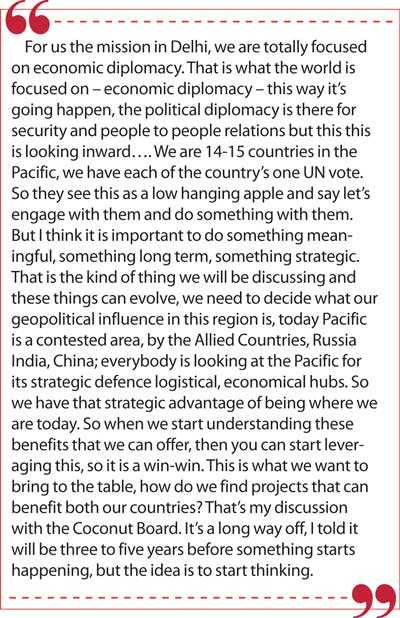 Q: Many professional Sri Lankans have rendered their service and expertise to your country, how would you describe the relationship between the two countries?

A: Probably a lot of the people here don't realise that we have a strong relationship because we have a lot of judges and magistrates, accountants from Sri Lanka, people of the service sector including the garment sector all are using Fiji. We have a strong relationship for a long time. The reverse side is that we have had many rugby players in Sri Lanka.

To build on this kind of people-to-people relationship, we need to start doing some real bilateral agreements. It's just that we need to understand each other's aspirations and the moment we understand that we can start designing our engagement accordingly.


Q: How are you engaging with the Ministry of Foreign affairs and the Sri Lankan Government?

A: Right now we are trying to get to know each other, we have to understand Sri Lanka's needs and strengths. Then we can examine what Fiji strengths and how we can start bilateral engagements. To be honest Sri Lanka has had a few elections and a few issues and so it's rather unfortunate that we have to reengage when something like that happens and bring back to the table our relationship issues.

My intention this time is to sit back and discuss many options as possible and the presence of Colombo Plan here is a huge advantage for Sri Lanka, many of the programs are Sri Lanka-centric, that way the Government side we have identified few important engagements, this is again few preliminary thoughts.

We are a small island, Sri Lanka a big one, but as an island we are surrounded by water so fisheries is an issue that we would like to explore. We are also affected by climate change, in fact it is more prevalent in the Pacific, in the sense it is more visible and tangible.

Whereas for Sri Lanka, it's a bigger place the impact is not that visible, but that is also on the agenda. Being a third-world country, Fiji has got aspiration and we have been engaging with China on that matter on infrastructure development and we are learning from the mistakes of others in this engagement, to understand what best thing to do, how best to get the best results in this engagement and not get caught in a debt trap. That has been our way with many people who have burnt their hands with China specially.

But I think it is entirely up to each individual country on how they manage their affairs with China, but for us, China is very good, we don't have an issue. But then there is this simple saying that you should bite only what you can chew, so for a small country our bites are small, for a bigger country, the bites are bigger. So we are learning by observing how others have tackled the problem.


Q: Are you looking at further enhancing trade relations with Sri Lanka and if you are, what are the incentives you offer?

A: For starters, we need to understand what we bring to the table, Sri Lanka brings in the experience of logistics, shipping, you have a school here. There is already a tie-up with the Maritime School In Fiji. In the way of Sri Lankan investments to Fiji, right now Sri Lankan companies are managing our ports for us, you are taking up our Government printery, that is another venture.

Our engagement with Aitkens Spence in the Hospitality sector is another. The sector is something we can learn from each other, because Sri Lanka has a fairly large tourism industry, so does Fiji. In way of products – trading – we currently by a lot of tea from Sri Lanka and we also buy spices, and we are looking at a collaboration with Coconut Board, that is something that's on the table.

The meeting with the Coconut Board was around the fact that we would like to get serious about possibly signing a MoU on how to exchange technical information and share our IPs, we have certain strengths and Sri Lanka has certain strengths, so at that level, this could mean a lot for us, small steps at a time.

I know you have a strong industry in growing cashew, although the market is not very big in Fiji, it is a definite potential. So how we do that and when we do that is entirely up to how we get on our engagement. We have to understand, what is the potential, what are the strengths, how do your pricing compare to world market pricing that sort of thing. So we would like to explore these opportunities.


Q: Your ties with Australia, New Zealand and Pacific is a lot stronger, what will this offer for Sri Lankan investors in Fiji?

A: That is something we bring to the table, our regional trade agreement. At the moment we are in the final stages of the agreements called Pacific Agreement on Closer Economic Relations (PACER) Plus. That agreement once signed will give us access to not only to Australia and New Zealand but also the region.

So that is on the table, so we have preferential access and this is what our discussion for Coconut Board was about 'why don't you use Fiji as a point of manufacturing', because yes you are looking at employment opportunities and to develop the coconut industry, but you need the money to develop that, you need the technology and the market.

For Sri Lanka, Australia and New Zealand is far away, it is in the Southern Hemisphere, your challenges are to understand who are playing in that market, so people like Philippines are playing the market. So how do you compete with them, proximity-wise they are closer, the idea would be to leverage our island as a launch pad so you can still be in the game – not be totally out, and at the same time share the profits with the Pacific.

Sri Lanka can use the Pacific coconuts but its Sri Lankan brand, market and market share. At the end of the day Sri Lanka will be making money that can be invested in the sector, sometimes it is difficult for the governments to see that kind of logic in an engagement like that, but I am trying to table this.

I am private sector and I think different, for us in the mission in Delhi, we are totally focused on economic diplomacy. That is what the world is focused on – economic diplomacy – this way it's going happen, the political diplomacy is there for security and people to people relations but this this is looking inward.

Previously there were big boys and they would look after the small ones in the region but today even the small boys have clout. We are 14-15 countries in the Pacific, we have each of the country's one UN vote. So they see this as a low hanging apple and say let's engage with them and do something with them.

But I think it is important to do something meaningful, something long term, something strategic. That is the kind of thing we will be discussing and these things can evolve, we need to decide what our geopolitical influence in this region is, today Pacific is a contested area, by the Allied Countries, Russia India, China; everybody is looking at the Pacific for its strategic defence logistical, economical hubs.

So we have that strategic advantage of being where we are today. So when we start understanding these benefits that we can offer, then you can start leveraging this, so it is a win-win. This is what we want to bring to the table, how do we find projects that can benefit both our countries? That's my discussion with the Coconut Board. It's a long way off, I told it will be three to five years before something starts happening, but the idea is to start thinking.


Q: Sri Lanka is in the centre of the Indian Ocean, and Fiji has the same type of advantage, how do you see collaborations to use this to the advantage?

A: See now Fiji is in the expansion phase, Sri Lankan companies are managing our ports for us efficiently. Expansion of the port is also on the cards, the expansion of our shipping industry is also in the pipeline, so these opportunities are in the market for any company to come and get involved.

I am not sure whether it is going to be Sri Lanka-centric, but at the moment we are looking at developing a logistical hub for Australia, New Zealand and the US from Fiji. See for Bilateral agreements, you have to always keep long term measures, short term gains are there for private sector but for Government to Government measures it has to be long term, like the Belt and Road initiative by China. We are islands, so we have to import everything and process and export, so predominantly island nations are net importers.


Q: Is Fiji interested in Private sector driven investments or G-to-G engagement?

A: Investments are generally with the private sector, the Government is for policy and establishing rules and regulations. One thing we are seriously taking up with the Government is the issue of double taxation. That is 'low hanging apples', as soon as we have a bilateral agreements we bring these sort of things up.

Obviously right now Fiji is in a phase of developing its infrastructure, so there could be some government-to-government type initiative in this area, but I still suspect that as today the governments are subcontracting to private sector, doing road construction and all, that's how it's going to happen.