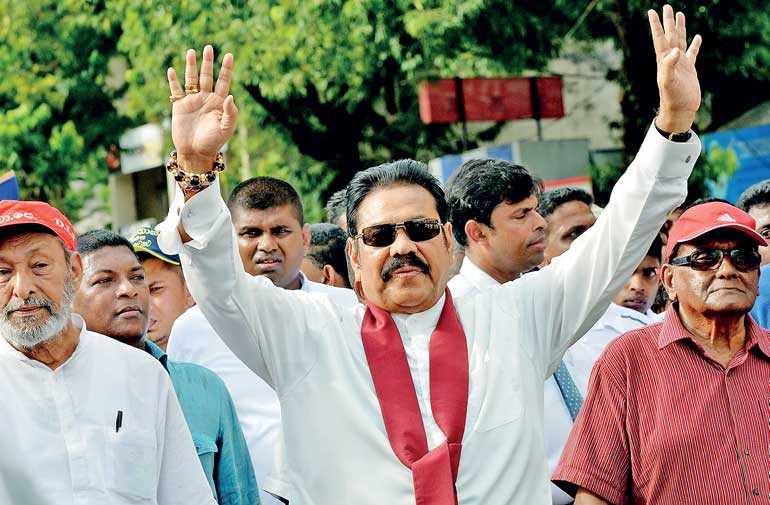 It's impossible to forget how bad Rajapaksa was for the country – with brazen authoritarianism and widespread human rights violations. There was the clear anti-Tamil and then anti-Muslim agenda. There was fear, the brutal suppression of dissent and much more
– Pic by Shehan Gunasekara
---
By Taylor Dibbert
Sri Lanka's political crisis continues. The attempted coup is a huge mess. No one knows how the imbroglio will end, although the coup has been failing. Of course, that doesn't necessarily mean that the project to illegally put Mahinda Rajapaksa in the prime minister's post will fail. But the fact that coup has been failing is notable and, perhaps, mildly encouraging.

On Monday via Twitter, I was reminded about the role that misinformation, intimidation and dishonesty play in Sri Lanka's ongoing political crisis. I guess I didn't need any reminders because the signs are consistently there for everyone to see.

Rajapaksa and his allies continue to use dishonest, deceptive and authoritarian tactics to promote their agenda. For example, they claim that a parliamentary vote must be held without delay. Part of democracy involves voting, yes. But democracy obviously doesn't mean that arbitrary votes can take place whenever.

Rajapaksa's claim to the prime minister's position has been revealed – on numerous occasions – to be completely illegitimate and yet he still hasn't given up.

Let's turn to Namal Rajapaksa. Monday was Human Rights Day. Of course, he uses the opportunity to take a clear stand against the country's constitution and the basic principles of democracy.
Rajapaksa and his allies continue to use dishonest, deceptive and authoritarian tactics to promote their agenda. For example, they claim that a parliamentary vote must be held without delay. Part of democracy involves voting, yes. But democracy obviously doesn't mean that arbitrary votes can take place whenever. Rajapaksa's claim to the prime minister's position has been revealed – on numerous occasions – to be completely illegitimate and yet he still hasn't given up



---



Notwithstanding all the chaos, Sri Lanka's institutions have mostly held up (thus far). The Supreme Court. The Court of Appeal. Parliament. Civil society. Protests. Public demonstrations against the coup. Bravery and resilience in the face of lawlessness, bullying and lies. There's no substitute for this type of bravery and resilience. Irrespective of how the crisis ends, it seems like those sorts of actions – that resistance – will become ever more important


Then there's the longstanding tactic of (baselessly) accusing people of being "paid agents" for the Tamil Tigers. Along with many others over the years, I've purportedly been part of some huge conspiracy. I've been actively working to revive the Tigers; been bankrolled by the Tigers; anti-Sri Lanka; a Tiger stooge; a separatist; an interventionist; an imperialist; and a bunch of other things.

Coup supporters have relied upon illegality and dishonesty to try to put Mahinda Rajapaksa in the prime minister's post. These are masters of thuggery and sophistry.

Let's hope they don't succeed. Rajapaksa's return to power would be disastrous – particularly for ethnic and religious minorities.

When I lived in Sri Lanka from 2011 to 2014, I spent most of my time in Colombo and Jaffna. I had access to a lot of information. Getting a sense of what life was like for people in the Northern Province, for example, was extremely powerful.

There were places that I couldn't go in the north because it would attract too much attention. While travelling by car with colleagues, there were times when I had to hide so that military personnel would not see me at checkpoints. My colleagues didn't want unwanted questions or additional attention. For a host of reasons, daily life in the north was very difficult and most of that hasn't changed. It's impossible to forget how bad Rajapaksa was for the country – with brazen authoritarianism and widespread human rights violations. There was the clear anti-Tamil and then anti-Muslim agenda. There was fear, the brutal suppression of dissent and much more.

The Coalition Government has been terrible. It's been so bad that it seems like some people may be forgetting about how much worse Rajapaksa's reign was, and how horrible – how much worse – his return to power would be.

Notwithstanding all the chaos, Sri Lanka's institutions have mostly held up (thus far). The Supreme Court. The Court of Appeal. Parliament. Civil society. Protests. Public demonstrations against the coup. Bravery and resilience in the face of lawlessness, bullying and lies.

There's no substitute for this type of bravery and resilience. Irrespective of how the crisis ends, it seems like those sorts of actions – that resistance – will become ever more important.

(Taylor Dibbert is a writer and consultant based in Washington, D.C. Follow him on Twitter @taylordibbert.)