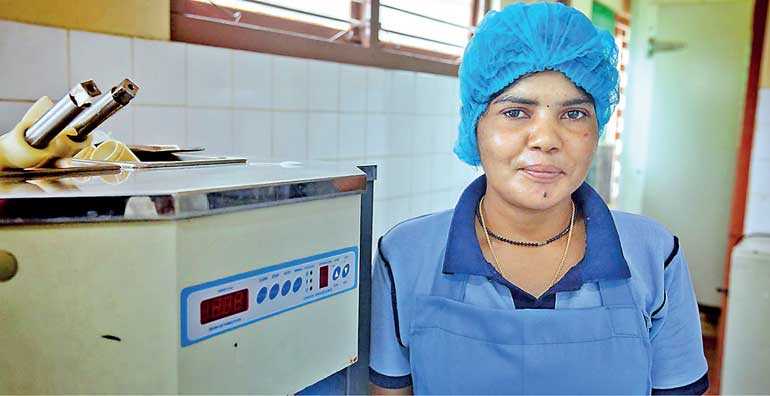 Rathinam Jenaka
---
Today, 17 October, is International Day for the Eradication of Poverty
---
When Rathinam Jenaka first began working at YARLCO, she was only allowed to boil the milk. As she stood stirring the pot, she would glance over to the other women on the factory floor. "Some girls were doing skilled work, and people would come and praise them for how tasty the products they made were. That become my motivation to improve my own skills."

Ten years later, Jenaka is one of YARLCO's most experienced employees – she knows how to make every product in their line. And it's a mouth-watering array – icy, sweet milk lollies in neon colours; fresh yoghurt, curd and paneer made without any preservatives; golden bottles of ghee, simple cups of hot milk and squares of crumbling, brown milk toffee make for brisk sales and happy customers.
Long history

YARLCO's long history dates back to 1963, when the Milk Producers and Consumers Cooperative Society was established with the motto 'development should commence from the grassroot'. It took another name change before YARLCO was registered in 1985, and popularised.



It was a small outfit to begin with – just 50 members and four employees. With a war raging, members were confronting serious challenges including the loss of the livelihoods, displacement and even militarisation, which led to the small building that belonged to the society coming under army control.

The United Nations Development Programme (UNDP) began working with YARCLO in 2002, when it first provided support for establishing a milk processing and value addition unit. Funding was also allocated for a livestock feed producing plant – from here cattle feed was supplied to most of northern Sri Lanka. Further assistance would be provided between 2006-2008 in the form of machines for milk value-addition and training in the technical aspects of production as well as business management.
The struggle after the end of the war

While the economic barriers in place during the conflict made it hard for producers to access goods and services from other parts of the country, it also meant they did not have competition. This changed with the end of the war in 2009. YARLCO began to struggle in the face of more established producers and companies from the north.

They were given a fighting chance in 2015, when YARCLO was chosen to benefit from UNDP's Agro-Economic Development Project (ADP). Funded by the Government of Canada, ADP would improve livelihood opportunities for vulnerable communities, with a special focus on ensuring the greater role and engagement of women and youth as members and decision-makers within producer groups in the districts of Jaffna, Kilinochchi and Mullaitivu.

As part of the effort, YALRCO was given the support they needed to develop a business strategy that explored how they could overcome their production and marketing limitations and respond to other challenges in a rapidly evolving marketplace. Included in the comprehensive business plan was the redesign and development of YARLCO's brand name and logo as well as upgrading of product labelling and packaging. A new product barcode was developed. Provision of transportation trucks also made possible better marketing of YARLCO products. With each new development, members have prospered.

Dayaani Pushparaja, the General Manager at YARCLO, first joined the organisation in 1994. Working as a bookkeeper, she was responsible for helping establishing some of the welfare schemes the organisation offers its members.

"They had just saving one rupee from every litre a member sold to the society," she says, explaining that though the sum seemed small, she saw how it multiplied over time. She also helped establish scholarship assistance for members' children as well as soft and instant loan facilities.
Thriving business

As YARLCO thrived, membership expanded dramatically to over 6,000 local farmers, of whom 3,000 were regular suppliers of milk. Income grew accordingly, with average fees growing from Rs. 4,200 to Rs. 48,000 per month. YARLCO could now afford more employees as well, increasing their labour force from 4 to 67. Monthly milk collection exceeded 148,000 litres, of which 26% underwent value addition. These new products were sold at 27 new outlets.

"Since I joined in 1994, I can see the difference we have made in our members lives," says Dayaani. "Our members used to live in cadjan huts, but now they have built big houses. They are able to send their children to be educated, and to work."
YARLCO: A great place to work

For her part, Jenaka loves working here. As an employee she has expanded her skills, attending nine training programs in total. She has also been able to travel to visit other producers and share her knowledge.

She also takes home a share of YARLCO's profits. As a member, she has accessed financial assistance, taking a loan from the cooperative and also benefiting from the revolving fund.

"In the beginning I had many challenges," she says, explaining that both her parents were daily wage labourers on a farm. Theirs is a big, close family and Jenaka has two sisters and three brothers. The income she has earned has helped transform her family's future. She is supporting her sister who is studying computer science, and she has been able to buy cattle for her parents, and has even rented land for them to farm themselves.

"For me my family is the most important thing," says Jenaka. "Going forward, I want to save something for them and continue to support my parents."