By Shenali de Silva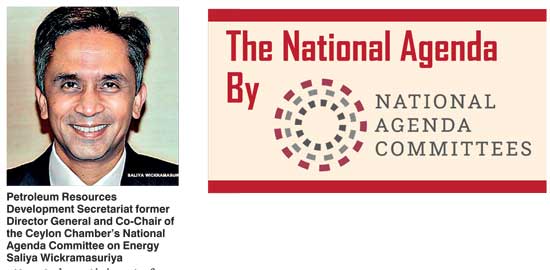 With the growing demand for energy and the increasing cost of supplying quality and reliable power, Sri Lanka is in need of identifying all available sources of energy that would be sustainable in the future.

Speaking to the Ceylon Chamber's National Agenda Committee (NAC) on Energy, Saliya Wickramasuriya, former Director General of the Petroleum Resources Development Secretariat (PRDS), and current Co-Chair of the NAC on Energy, shares his views on Sri Lanka's oil and gas potential and the urgent need to facilitate further exploration.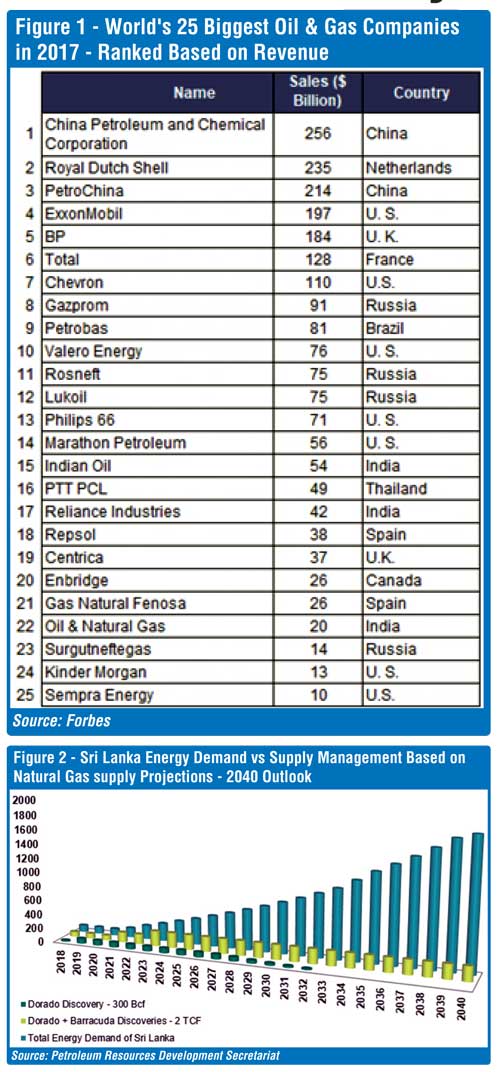 Sri Lanka's oil and gas resources – Identified yet untapped

The presence of oil and gas deposits in Sri Lanka have long been speculated given Sri Lanka's position at the core of the African Rift System in pre-historic times. Geologically, the Mannar Basin sedimentary history is found to be contiguous with that of Mozambique during the Jurassic Age, thereby indicating the likelihood of similar oil and gas deposits being present in the basin.

Mozambique has been recognised for possessing one of the key gas resources in the African continent, with the largest discoveries of the 21st century being made in 2011. The country has attracted large oil and gas companies such as Shell, Exxon Mobil, Eni, Total and Petronas, all making significant investment for exploration in the region.

The speculation that oil and gas deposits of similar potential may exist in Sri Lanka was confirmed by the discovery of gas by Cairn Lanka (Pvt) Limited in two exploration wells. Two events substantially de-risked Sri Lanka as a potential oil and gas province – the end of the war in 2009 and the discovery of multiple hydrocarbon systems in the Mannar basin in 2011


Interest from investors and growing competition from India

Following the discovery of oil and gas in the Mannar Basin, the Petroleum Resources Development Secretariat in 2013 hosted the 'Sri Lanka Upstream Conference 2013', which also attracted participants from large oil and gas companies such as CAIRN, Eni, Exxon Mobil, Shell, ONGC, and Total. Interestingly, almost all of these companies had previously invested in oil and gas exploration in Mozambique.

Commenting on this, Saliya states: "The presence of these super-majors is no coincidence. If Sri Lanka does have Mozambique potential, the proximity of high demand importers could transform the Mannar basin into a deep water oil and gas hub."

While Sri Lanka has maintained continuous dialogue with the original attendees of the 2013 conference several other companies have also indicated interest in investing in Sri Lanka for exploration of oil and gas since then, thus indicating that these companies view Sri Lanka as having a favourable risk-potential balance. Such large oil and gas companies are some of the largest in the world (see Figure 1) with significant capital bases and global footprint.

"There has been some speculation, on the possible motives for some of the interest Sri Lanka has drawn in the sector. Suffice to say that these are mostly misconceptions, and the sole interest of at least the international oil and gas companies is commercial."

Meanwhile India has been at the forefront of attracting oil and gas companies for exploration in the region, having launched nine rounds of competitive bids for oil and gas exploration since, the New Exploration Licensing Policy (NELP) commenced in 1997.India aims to provide a level playing field to both Public and Private sector companies in the exploration and production of hydrocarbons, with the Directorate General of Hydrocarbons (DGH) being the Regulator for the sector.

The commitment of the Government of India to attract significant foreign direct investment through liberalisation of the oil and gas industry with open competitive bidding processes and further measures, are aimed at making India more competitive.

"This initiative should be of some concern to Sri Lanka, as oil and gas companies are unlikely to take duplicate risks in one basin, and since we share the Mannar and Cauvery basins with India, we should be taking similar steps to attract quality partners. We should take note of the fact that the super-majors in discussion subsequent to our 2013 Licensing Round do not operate in India, and the one that does, is not pursuing opportunities in Sri Lanka," says Saliya.


Meeting the needs of Sri Lanka's energy demand and supply

Following a year-and-a-half's worth of modelling by the PRDS, looking at multiple sectors, Sri Lanka's potential appetite for natural gas was finally constructed, based on four different scenarios of penetration.

According to a 25-year growth forecast, Saliya predicts: "We would need six times more energy 25 years from now. This is the base case. Aggressive and clear policy may increase that significantly by enabling lower cost power to be made available to energy-intensive industries that have long since become uncompetitive in Sri Lanka."

Accordingly, Saliya states that the current discoveries of gas by CAIRN will be insufficient for the future as indicated in Figure 2.

Therefore, urging swift action, Saliya states: "The interesting thing about this simple chart is that it shows that our principle of energy planning based on today's cost as opposed to tomorrow's economic value is outdated and quite damaging. We need to recognise the impact delay has on opportunity cost."


Way forward

The way forward for Sri Lanka appears to be in taking ensuring that we do not delay facilitating the exploration of oil and gas in the country as "delay has a cost and a little extra expenditure in the early days is not going to compromise the integrity of the long-term economics".

"Investment in data acquisition for identification of further oil and gas resources is of paramount importance as we need to ensure that there will be a steady supply going forward. While these resources are not strictly renewable, and their impact on the environment and climate will need to be managed, they are indigenous, and therefore of great importance in the search for energy security," says Saliya.

With competition from India, Sri Lanka needs to make a conscious effort towards formulating a policy that facilitates exploration and production. Amendments to the existing Petroleum Bill would be necessary to address concerns of investment protection in exploration and monetisation of reserves by such investors, along with a clear Natural Gas Policy that provides market options for them.