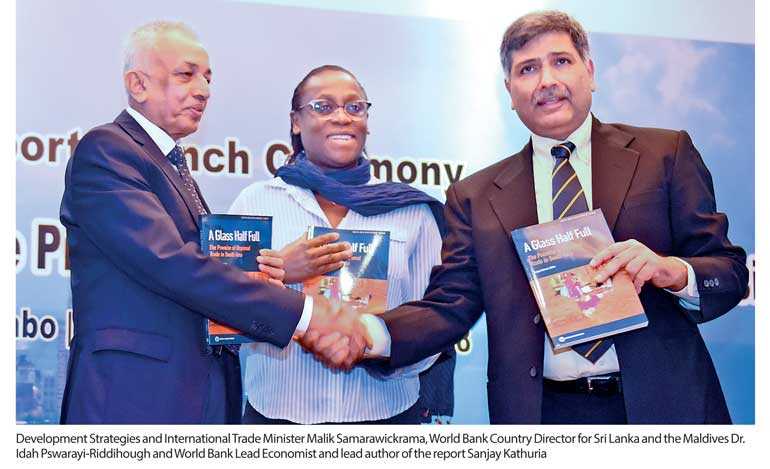 Minister of Development Strategies and International Trade Malik Samarawickrama attended the launch of the World Bank South Asia Regional Flagship Report on 8 October. Following is the address he delivered:
I am very happy to join you this morning at the launch of this South Asia Flagship Report, which has a collection of insightful findings and recommendations for Sri Lanka and other economies in this region.

I want to firstly congratulate the World Bank – Sanjay and his team especially – for putting together such a formidable piece of work. At this launch, I also hope that we spend a moment remembering one of South Asia's most respected economists – Dr. Saman Kelegama – who himself was a strong advocate of, and a great believer in, closer South Asian regional integration, and did a lot of work to forge ahead this agenda – the South Asia Poverty Commission, the South Asia Economic Journal, and the South Asia Economic Summit, to name a few.

Let me get straight to some reflections, having glanced through the Report.



One of the findings that struck me is that Sri Lanka has the potential to grow its exports to South Asia by more than two times, if the right ingredients are worked on. While our current exports to the region are $ 1.2 billion, the potential is nearly $ 3 billion. Going by last year's export numbers, this is 20% of our total exports – not an insignificant number – and it will be double what it is now. This is particularly important as part of our economic strategy is the diversification of our trade partners and products. With the growing South Asian market at our doorstep, growing our exports to this region should certainly become a top priority.

Of course, realising this potential export growth to the region won't happen automatically. We have to work hard, we have to support our enterprises to seek out and exploit the opportunities. For this, we already have several initiatives underway

The 'Market Access Support Program' and the 'Enterprise Innovation Program' being led by my Ministry is providing matching grants for Sri Lankan enterprises to become more competitive by undertaking market studies, improving quality and compliance standards, deploying new technology, and developing new and innovative products and services. The Enterprise Sri Lanka concessionary loan schemes are helping new and existing entrepreneurs get access to cheaper capital in order to expand and modernise. The new 'Innovation and Entrepreneurship Strategy' that went to Cabinet this week, and was in fact developed with technical support from the World Bank, will spur a whole new era of innovative businesses in our country and add a fresh growth impetus to our private sector.

On the trade facilitation side, we are making it easier for businesses to trade with the world. The Trade Information Portal was launched a couple of months ago, and provides up to date information on procedures, institutions, and market data. The National Single Window project is underway and will connect dozens of agencies responsible for trade together in a single digital platform.

These are just a snapshot of the many initiatives underway to enable Sri Lankan enterprises to be more competitive, more productive, and more innovative, and to take advantage of the South Asian market potential. Within South Asia, we have to keep our eye on the big prize, which is India. The Indian middle-class consumer market alone is forecast to soon be 10 times larger than Sri Lanka's whole population – 200 million. Even if we tap into a small slice of that, it would be a game-changer for our exporters. Of course, we all know that the Indian market isn't easy. The Government is aware of what needs to change, and on top of that list is non-tariff measures. It is also on top of our list of things we are working on in the ongoing ETCA negotiations. We are pushing strongly on this agenda, and we hope to have some breakthroughs in the coming months. Already, we are working with the Food Safety and Standard Authority India (FSSAI) to accredit Sri Lankan labs so that our food and beverage exports to India don't face difficulties like in the past. The Committee on Sanitary and Phytosanitary and Technical Barriers to Trade (SPS – TBT), established by our Ministry, is now working on further measures like this.

But, resolving these issues are in some way a passive or defensive stance. We must go beyond that and take a more proactive stance and encourage more Sri Lankan businesses to break into and succeed in India. For this very purpose, I recently appointed the 'Break into India' Strategy Committee, comprising leaders from top Sri Lankan enterprises who have succeeded in the Indian market. They are helping us to distil the key lessons learnt and formulate a strategy to help Sri Lankan firms export to and invest in India.

We are also focussing on attracting more trade-oriented FDI to Sri Lanka – FDI that sees Sri Lanka as a springboard to South Asia. Post-war FDI inflows have largely been in the domestic market seeking projects. We are now focused on changing that; getting more investment into the tradable sector, and from a diversity of countries. We just returned from an investment promotion mission to Germany, and prior to that, we were in Japan. There is a lot of interest among companies in these countries to invest in Sri Lanka as their gateway into the South Asian market, given our great location, our FTAs with the region's two largest economies – India and Pakistan – and our relatively easily navigable business climate.

Sri Lanka has to see itself as a collaborator alongside the other regional economies, rather than a competitor in the narrowest sense. This is the only way to grow the pie for everyone. A good example of this is air services liberalisation. As a result of air services liberalisation between India and Sri Lanka in 2003, Sri Lankan Airlines became the top carrier into India. Connectivity improved, passenger numbers grew, ticket prices came down, and air cargo volumes increase. More of this kind of connectivity liberalisation must be pursued by other economies in South Asia. I am happy to inform you that the Coastal Shipping Agreement between Bangladesh and Sri Lanka will be signed very soon after receiving Cabinet approval. This will also permit third country port usage which means that Ports in the East Coast of India can be used under this agreement.

In conclusion, let me re-emphasise some of the key messages of the Report being launched today, which I find very timely.

At a time when there is a lot of uncertainty around global trade integration, we have much to gain from greater regional integration. Trade barriers within the South Asian region have hindered Sri Lanka from fully reaping the benefits of proximity to regional markets, and this is an agenda all our countries have to work on collectively and make some real progress – whether it is through the SAFTA, or bilaterally, like what we are doing with India.

More broadly, we must tackle the obstacles that have hindered our overall international trade performance for many decades now. On top of that list is our high rates of tariff and para-tariff protection that have gone unchecked for too long and have made the economy more inward looking. This has already begun, as announced by the Finance Minister, and it will continue in a phased manner.

Alongside the planned tariff rationalisation, we have formulated a Trade Adjustment Program (TAP) in consultation with a wide range of industry stakeholders and has received positive comments from the Cabinet of Ministers as well. TAP will have a Trade and Productivity Commission, where industry can make justifiable representations relating to tariff rationalisation matters and obtain a meaningful and sensible level of adjustment assistance from the Government.

The TAP will be launched soon upon receiving final Cabinet approval.

Our vision is that, with this mix of policy reforms underway – many of which had been delayed by the previous Government – that Sri Lanka will be a more prosperous country, where more young people have better jobs than they do today, and Sri Lanka is a respected and dynamic trade and innovation-oriented economy in South Asia and in the Indian Ocean region. Many of the reforms we are doing are tough, they won't bring gains overnight, but they must be done. We should see them in a positive and optimistic light – just like the title of the Report – as a 'Glass half full'.

Thank you, and I wish you an interesting session and a good week ahead.