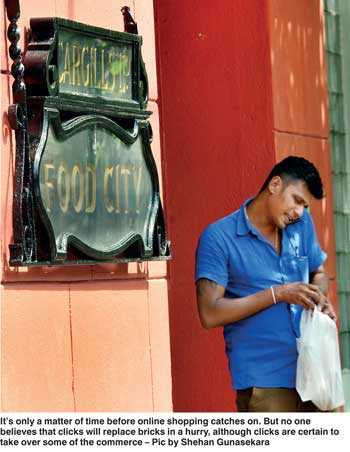 By Upali Ratnayake

Those who went to school in the '50s remember the paan kaaraya with a large round basket on his head bringing home the tastiest buns and bread. There were others too who came with him – the fish monger with his pingo, the milkman and the vegetable seller, not to mention the cloth-man and the bangle-man who attracted all the women. These people have not disappeared. They are alive but in different forms. The fishmonger has a motor bicycle and the paan kaaraya a converted three-wheeler.

An enormous change has also taken place in the kitchen. Less and less mothers turn on the cooker and more and more of them buy food outside. There is so much available at such decent prices that it is not worth the cooking effort. Families go out for a meal more often now or bring home food more often. Conversely they buy less grocery and vegetables.

The entrance of the supermarket into the high street in Sri Lanka with Cornel›s in the '70s was enthusiastically taken. It succeeded, not so much for Cornel Perera as for Cargills and Keells that were to come a little later in providing a good model of how a supermarket should not be run. By the '90s both these established a large number of stores with Arpico, another model with household items, and LAUGFS following. Both Keells and Cargills have gone to the source of products by encouraging farmers to grow fruit and vegetables.

The success of these stores impacted the way we buy. We found it nice to shop for all our needs in one place which was neat and air-conditioned. The staff are ever-ready to assist. You can touch the products – more so than in the corner kade. More shoppers are served at one time than there. At times the prices are better too. Yet the shoppers have not abandoned the grocery store.

Online shopping

Enter the digital age and online shopping, a relatively new phenomenon. Online shopping is a form of e-commerce which allows consumers to go to the internet to buy and sell. Almost everything is sold on the internet these days. Grocery shopping is no exception. However this phenomenon has not yet come to Sri Lanka except for online advertising, even though sites such as Ali Baba, eBay and Amazon are such huge successes. However we have Kapruka making speedy progress in delivery. They do not own stores but deliver on orders.

In India online shopping is led by Bigbasket and a study by Assocham and Grant Thornten shows that online shopping in India has increased to 40 million shoppers with an annual value of $8.5 billion. With 460 million internet users, online grocery shopping is expected to rise exponentially.

The latest in the local market is Spar, an international shopping experience which made a successful entry just before the New Year. Two smart thoughts seem to have jogged them on. They opened the store just before the new year and they opened it not in the heart of Colombo but in Thalawathugoda, a very fast developing area.

The store has wide aisles, and is well-stocked and is spacious. Unlike other stores, it has a ready-to-eat food counter and prices are very attractive. The sales staff is well trained and delivery of sales is perfect. It is apparent they will take the supermarket concept further. What they have to look out for is efficiency in logistics and inventory management. Since they must work on low margins, they must squeeze the max out of efficiency. No doubt they will have more stores coming because volume will enable them competitive pricing.
---
Facebook statistics of supermarket fans

1 Keells 191,657

2 Cargills 158,802

3 Arpico 64,212

4 LAUGFS 21,260
---


A matter of time

It's only a matter of time before online shopping catches on. There are six million internet users in Sri Lanka and this number will increase, thus providing a critical mass for online sales.

Patrick Dodd of Neilson says: «The connected commerce era has arrived. Consumers are no longer shopping online or offline, rather they are taking a blended approach, using whatever channel best suits their needs. The most successful retailers and manufacturers will be at the intersection of the physical and virtual worlds, leveraging technology to satisfy shoppers however, wherever, and whenever they want to shop.»

Thus the future store has to examine both worlds. No one believes that clicks will replace bricks in a hurry although clicks are certain to take over some of the commerce. In the increasingly overloaded world, a father who has to do groceries on his way home will be relieved if he can do it online and have delivery in office or home.

In Cranfield I saw a busy professor ordering groceries online and the store delivering. That would be in a rush but a family would like to go to the store on a Sunday and see the display of food and vegetables, smell them, and choose what is needed. Humans need that interaction and perhaps impulse buying.

"While the majority will continue to shop for the bulk of their grocery purchases in store, retailers need to ensure the experience is pleasant, efficient and relevant to keep shoppers coming back," continues Dodd. "Infusing technology in the in-store experience will be an important enabler in this process, helping retailers address shoppers' biggest frustrations. But make no mistake, technology will never be a substitute for the basic elements of a great shopping experience, including innovative store design, ample selection, executional excellence and exceptional service."

Loyalty as we knew is long gone. What drives shoppers today is price, product quality, convenience and special promotions. All supermarket brands seems to have these at the moment but in varying degrees.

However they could differentiate their service through online sales and delivery. This service no doubt will be available soon. Consider the hype in construction activity, the resultant high-end populace and the need for online services.

Home delivery is bound to begin. This time round it is not one or two products such as the paan kaaraya that will come home but the entire range of food and household items.