Pathfinder Foundation, in association with the Embassy of the Islamic Republic of Iran, and in collaboration with the Strategic Council for Foreign Relations, held a round-table conference on the theme 'Iran and the Indian Ocean in the 21st Century'. The round-table, recently held in Colombo, included Dr. Abdolreza Faraji Rad, Director General of Strategic Council on Foreign Relations, Islamic Republic of Iran. He is an Associate Professor of Geopolitics, Faculty of International Relations of Ministry of Foreign Affairs, an author of over 100 scientific and research articles in geography and geopolitics, author of 30 books, and an analyst for political and international issues in Iranian media. Following are excerpts of a brief discussion with him about the Iran-Sri Lanka economic relationship:
By Rajitha Jagoda Arachchi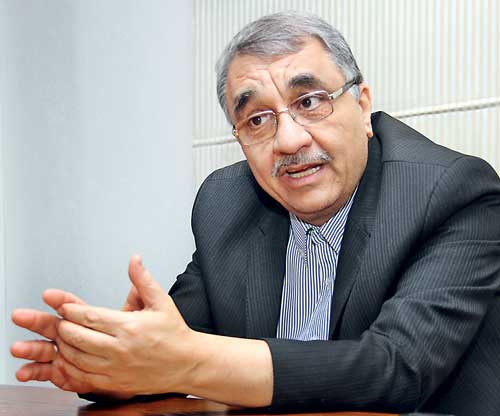 Q: Iranian and Sri Lankan friendship or trade relations dates back to a thousand years ago, to a time that when Iran was Persia. How do you understand the relationship between both countries at present?

A: As you mentioned, we have a historical relationship. Many years ago, Iranian traders came to Sri Lanka and also to Maldives. Even some similarities between the two languages could be seen. When we look at the relationship between both countries, it was good all the time. But we must admit that there were some ups and downs. Especially when it comes down, it's not because of internal problems. It was because of international problems. For an instance, the sanctions on Iran affected the relationship between our countries.


Q: We saw a deep relationship in both countries in both previous regimes of our countries. Don't you think that internal factors are also important for Iran-Sri Lanka ties?

A: I do not think that's so. Our relationship has not decreased by government changes. If the relation is decreased, the reason is the sanction. Banking system has brought some limitations to both countries. I was an ambassador here 30 years ago. I left Sri Lanka in 1991. At that time, it was a very good atmosphere for cooperation between the two countries. Economical relationship was increasing. At that time Sri Lanka-Iran trade volume was $ 240 million. Iran-Sweden trade volume was around $ 70 million. It's mainly because of Ceylon tea. Iranians call it 'Seylan tea'. They don't drink tea from Kenya, not from other countries. We should use this atmosphere in order to develop future relationship.


Q: There are many UAE tourists visiting Sri Lanka annually. But we don't find many Iranian tourists among the travellers from Middle East. Why is that?

A: Iranians usually like warm weather; places with sea; places which are greener. Millions and millions of Iranians go to northern areas of Iran. Because only there can you find greenery in the entire country. Therefore Sri Lanka is an attractive destination for Iranian people.

Last year alone, nine million Iranians travelled other countries. Out of this two million went to Turkey. Why we can't attract some of these to Sri Lanka? This problem comes back to the tourism sector of Sri Lanka. And also Iranian tour operators also should consider about this. As I believe the main reason for them not coming down to Sri Lanka is, they are not aware about the country. Even though they drink Ceylon Tea every day, every hour, they don't know that Sri Lanka is the country that produces Ceylon tea.

When I describe Sri Lanka to Iranian people, their initial thoughts about Sri Lanka is not that positive. They look at Sri Lanka as which is similar to a backward African country. We should show that there are lots of things in Sri Lanka. We should let them know that they drink tea from Sri Lanka and recommend them to visit Nuwara Eliya or some places and see how tea is produced.


Q: What steps can be taken to attract Iranian travellers to Sri Lanka?

A: More importantly, we should open ways to Sri Lanka. For that, we must start direct flights between Tehran and Colombo. For an instance, Iranians, those who visit Moscow, don't have to come to Tehran and get a flight. There are direct flights to Moscow or Turkey or Dubai from many provincial airports from Iran. Easiness of access is crucial in the development of tourism industry. Not only SriLankan Airlines, but also Iranian private airlines can start direct flights to Sri Lanka. If this happened, I'm very sure Sri Lanka can attract thousands and thousands Iranian tourists. Iranian tourists are keen on spending lavishly in their destinations. They purchase everything that they think which is not available in their country. Hence attracting Iranian tourists is quite vital for Sri Lanka.


Q: Sri Lanka is promoting itself through trade fairs in Germany, Dubai and some special promotional activities in London. Do you think that the Sri Lankan Government has identified the potential of Iranian tourists and taken necessary steps?

A: Sri Lanka being a warm weather nation must be thinking that Europeans in cold weather would be a good niche market. But you shouldn't think that only people in cold areas can visit here. Some people would like to see the greenery here. Iranians are like that. At the same time Iranian doesn't know about Sri Lanka very well. They can come here even without visa. Also Sri Lanka can cooperate with tour operators in Iran to promote Sri Lanka in Iran.


Q: Except tea and tourism, what are the other industries in Sri Lanka that can be benefitted through the relation with Iran?

A: We have expertise in construction. Iran has some of the world renowned construction companies. Iranian construction is very famous for dam building. Already some Iranian companies are engaged in construction work here. Sri Lanka can yield the latest technology in construction from Iran. Also we are good at producing electricity. Iran is an electricity-independent country. Also Iran can grow tea here with labours from Sri Lanka and export to Iran, as well as Iran is quite famous for locally manufactured cars. We export our cars to Iraq, Syria and Belarus. Even Sri Lanka has the opportunity of setting up an Iranian car plant in Sri Lanka.


Q: Uma Oya project which was initiated on Iranian funds now has become a catastrophe to the residents of that area. Is Iran aware of that?

A: No, I'm personally not aware about that. But as I said, earlier sanctions on Iran affected many things. I think even for this issue, those sanctions might have affected. So we will look forward to resolve this issue.

Pic by Sumudu Hewapathirana