It's worth looking at what needs to be learnt from the election and main parties and characters
---
By Denzil Indrajith Perera
---
Sri Lankan political arena was taken by storm with the results obtained by SLPP at the election held last week. It has taught many lessons for the business community and also to the politicians equally. It's worth looking at what needs to be learnt from the election and main parties and characters.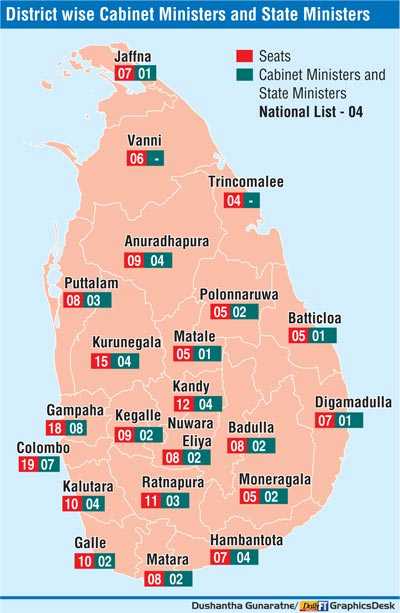 What to learn from Prime Minister Mahinda Rajapaksa:

Purpose – Alliances made with a purpose is good. But Alliances should be made for bigger purposes than mere election win. In order to get the mandate of 2/3rd SLPP had to join hands with a party which has synergy. SLFP was chosen as the partner in the game as both parties share similar values such as national security, national sovereignty, etc.

Process – Election candidates were chosen in such a way there are new faces as well as familiar faces. It's more about identifying the needs of the country and need of the hour. Giving opportunities for new faces keep the political power growing than getting stagnant. On contrary, this is where RW of UNP went wrong in his strategy.

People – Love people truly and honestly. People's love is the greatest asset one can earn within the life span. Earn people make you feel empowered, and energetic. People of Sri Lanka are matured now to think of the future of their kids with the lessons learned in the past.


What to be learned from Basil Rajapaksa:

Though he is not in the lime light, those who have worked with him know how strategic BR is.

Information – He takes decisions based on information. He knew the results of both the presidential election and the general election prior to the election date. In other words he was able to make a close prediction of the results. How was it possible? He kept his ears and eyes open to the ground level. He was constantly going through information on a screen in front of him in strategising the election campaign.

Benchmarking – He also benchmarks against industry best. If the local standards are not enough he would go to the extent of bringing down better know-how from overseas. Think-local but act global is one of the key strategies to learn from BR.

Respect – He respects everyone in terms of their opinions and also their views. He listens to many and decides what can work for his strategy.


What to be learned from President Gotabaya Rajapaksa:

Strategic direction – once the strategic direction is set always stand by your stance. Never change it as long as it's correct.

In his swearing-in as the president he said he is committed to safeguard this country and also to give due place to Buddhism which is the religion Sri Lanka is known for and majority of the Sri Lankans follow. He went on the same direction asking for a 2/3rd Mandate to serve his purpose better and his request was well-heard and responded by the majority of the Sri Lankans well.

Core competencies – identifying your core-competencies and trying to make use of them in your task in hand will always give better results. Security, development and process streamlining are his core competencies or forte. He stressed on them in his mandate and kept stressing on them in all his meetings and asked only for 2/3rd mandate to rebuild the country.

Humility – though he is the president, he could bow down before his elder brother when Mahinda Rajapaksa was swearing-in as the Prime Minister before him. More than anything else, as the leader of the country, he sets an excellent example to the whole nation. Also during the election campaign time, he had patience to listen to people from all walks of life.

Discipline – Pre-election, during the election and post-election no responsible government officials or candidates or winners could act irresponsibly.

There was no chance for anyone to play around with him. Not only that but also he has sent out a message stating that his MPs should perform their duties that if in case he gets complaints from people due to inefficiencies, the respective MP of the areas will be held responsible.


Lessons to learn from Sajith Premadasa:

Go for it – When you know you deserve it and you know you can win, stop wondering around with the thought of it. Go for it. If you don't get what you deserve at the place where you are, go out and find your way. It's 100 times better than mourning about it every morning, noon and night.


Lessons to learn from the defeat of JVP:

Be grounded firmly – Having fans to listen to your fairly-tales doesn't mean that you can you are going to win. Don't be overly confident and don't look down upon people. Always remember there are better people out there than you.

Stop hypocrisy – Good deeds of others should be appreciated even if you are not a part of it. Passing a credit to someone's good work will make you feel happy and in return people will love you for being humble enough to appreciate your opponent.

Stand by your policy – Don't be stuck in the middle – As Michel Porter said, strategy is all about deliberately choosing to be different by selecting one direction. Supporting capitalism whilst praising socialism and pretending to be socialists while depending from capitalists wouldn't make a strong case. Daring to be different is fine as long as it's the right thing that you stand for.

Understand the impact of culture – In the absence of a clear cut understanding of the culture of any country, wouldn't help anyone to achieve results. You may have the best strategy in mind but when you don't understand the culture of the people, it pushes you away or keeps you away from people. Criticising the people who worship Buddha whilst lighting candles for Lenin and the party leaders who are no more alive wouldn't make you radical. Calling press conferences and weeping like a in a drama wouldn't make you a good leader.

More than anything else looking down upon your own people and the society that you belong is not something which can take you a long way. Futile radical statements and movements won't make you a strong leader.
---
(The writer is a brand marketing strategist in diverse sectors in Sri Lanka with over 15 years' experience.)
---