The Center for Global and Strategic Studies (CGSS) organised an interactive session on 'Strategic Environment of South Asia/Indian Ocean Region: Sri Lankan Perspective'. Admiral Dr. Jayanath Colombage, Director of the Center for Indo-Lanka relations of the Pathfinder Foundation, addressed the session. The following is the full text of his speech.
President, Centre for Global and Strategic Studies, General Khalid Amir Jaffery, distinguished gentlemen. At the outset I would like to thank you for inviting me to speak at this distinguished forum. I am honoured and glad to represent the Pathfinder Foundation here.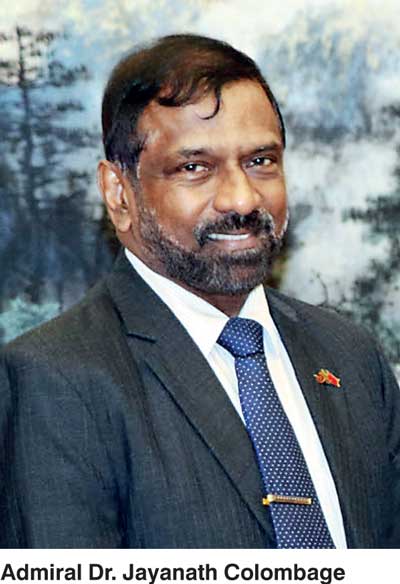 The Pathfinder Foundation is one of the leading think tanks and a research center in Sri Lanka. Today, I will focus on the strategic environment of South Asia and the Indian Ocean Region from a Sri Lankan perspective. The strategic environment in South Asia can be described or explained in six words: as strategic competition; strategic alliances; and strategic dilemma. Let me elucidate on the above.

When considering Strategic Competition, it is a bygone conclusion that the Indian Ocean is geo-strategically, geopolitically and geo-economically important in the current global security landscape, with a contest for power and influence among major powers in the region and beyond. In this situation there are strategic convergences of some major powers against others. This has resulted in a strategic dilemma for smaller, less powerful countries as they are often forced to choose between major powers. The most important occurrence in the Indian Ocean Region at present is the rise of China as a major power. It is significant that China is the second strongest economy in the world in terms of GDP. The International Monetary Fund's prediction for 2040 is for China's GDP to reach $ 45 trillion while the USA's $ 39 trillion, India $ 16 trillion, South Korea, Germany, Japan and the UK's GDP between $ 4-7 Trillion and Pakistan, Bangladesh, Indonesia to be within the top 20.

Historically, in the 19th and 20th centuries, the Atlantic and Pacific oceans were the key oceans as world wars, the Industrial Revolution and the Cold War took place in its waters. The Indian Ocean then played a background role whereas in the 21st Century, it is fast becoming the key ocean together with the Pacific Ocean.
India and China

The uni-polar world led by the USA is changing and it is changing fast. We can see China rising as a major power as is India and these two will dominate the Indian Ocean. As their wealth and power expand, they increasingly come into contact with each other and this is happening in the Indian Ocean, more specifically in and around South Asia. Here we can draw reference to the Thucydides Trap, the possibility of war and conflict between an existing super power and an emerging one.

There have been several instances where strategic competition between China and India has been evident. The Sino-Indian war in 1962; the two border disputes to-date and the Doklam standoff between the Indian armed forces and the PLA army are a few occasions this strategic competition came close to a physical battle. The entry of China's Navy into the Indian Ocean occurred around 2009, mainly to counter piracy. Piracy in the horn of Africa, which took the world merchant marine fleet to ransom, is near zero at present but the navies are still present and so is the People's Liberation Army Navy (PLAN). China has two 'all-weather friends' in South Asia for different reasons. They are Pakistan and Sri Lanka. The Chinese involvement in Sri Lanka during the long-drawn-out violent conflict is noteworthy. Although India, Pakistan, the US, Israel, Russia and Ukraine supported the Government of Sri Lanka in its battle against the most ruthless terrorist organisation - the LTTE - the major contribution came from China. China provided weapons when many other nations shied away citing human right considerations. China even established a bonded warehouse for arms and ammunition that was required to fight the war in Sri Lanka. The post-conflict period also witnessed the west and other powers staying away from Sri Lanka's development programs. China became the number one development partner and biggest Foreign Direct Investor in Sri Lanka, mainly focusing on much-needed infrastructure projects such as highways, ports, airports and power generation sectors.



China maintains that they do not have any strategic and military objectives in investing in these projects but that they are purely of an economic nature. India's contribution, mainly due to the pressure from Tamil Nadu, was of a non-lethal nature and the post-conflict rebuilding assistance was also centered around Tamil majority areas.

The Chinese influence in Pakistan can be seen in the construction of the contested China-Pakistan Economic Corridor (CPEC) which controversially runs through the conflict-ridden region of Kashmir making it a concern of India.

Consequently, India, USA and Japan realised that the Chinese involvement and influence was seen everywhere in the Indian Ocean Region and especially in South Asia. Chinese maritime infrastructure projects were taking place not only in Sri Lanka but also in Myanmar, Bangladesh, Pakistan and the Maldives. Thus, the major powers that are strategic partners of India preferred to see Sri Lanka move away from Chinese influence. When that did not occur, they considered the next option and supported a regime change in 2015. However, this resulted in a predicament as for nearly two years no nation came forward to help Sri Lanka's economic development after the 2015 presidential and general elections. Following this, Sri Lanka had to reconnect with China in a position of weakness. During this period our economy suffered and now it has fallen to sixth place among SAARC countries. This is a result of major strategic competition in the Indian Ocean.

It is important to note that this region is heavily militarised and nuclearised. An example of this militarisation is evident from the number of warships that belong to different countries visiting Sri Lankan ports. From 2009-2017 a total of 398 war ships have visited Sri Lankan ports. A breakdown of this is as follows: India - 82; Pakistan - 24; Japan - 67; Bangladesh - 23; China - 31; USA - 18; and Russia - 26.
Strategic alliances

Now we move to strategic alliances in the Indian Ocean Region. Here, I like to mention three key events or speeches which took place this October.

Chinese President Xi Jinping's speech at the Chinese Communist party's 19th congress, Japanese Prime Minister Shinzo Abe winning a landslide election and the US Secretary of State Rex Tillerson's speech in Washington D.C. The Chinese President clearly stated that China aspires to be a great power with a modernised military by 2035. However, President Xi stated that China does not have any hegemonic intentions.

Prime Minister Abe in Japan has won a two-thirds majority in recent elections. This can be seen as strengthening Japan's focus on a Free and Open Indo-Pacific Oceans policy and a more effective role for Japanese Maritime Self Defence Forces in the Indian Ocean. Mr. Tillerson's speech clearly stated that China is now seen as the common adversary of USA and India. He argued that both India and USA are two great democracies and thus should have two great militaries. Mr. Tillerson also spoke of developing a 100-year strategic partnership between India and the USA. India also has its Neighbourhood First and Look East policy which favours the India-Japan nexus.

India has also embarked on the ambitious multimillion-dollar Sagar Mala Development Project to develop its ports along the eastern and western coasts consistent with the name of the project which is Security and Growth for All in the Region (SAGAR).

India and Japan together have commenced the Asia-Africa Growth Corridor (AAGC), an economic cooperation agreement between the governments of India and Japan to connect Asia with Africa by using Japanese technology and Indian influence in that region. The USA is also rebalancing its strategy in the Indo-Asia-Pacific and envisions that soon it will be called the Indo-Pacific.

These strategies could be seen as mainly to counter China's Belt and Road Initiative and the China Pakistan Economic Corridor. Then there is the Afghanistan-India-Iran nexus as Pakistan's uneasy relations with India, Iran and Afghanistan hold back military and economic cooperation which has led to obstacles in development of the region.

Meanwhile, India is building two Advanced Off-shore Patrol Vessels (AOPV) to strengthen the Sri Lanka Navy and has gifted an additional OPV. Japan has indicated that they too will gift two 30-metre patrol craft to the Sri Lanka coast guard and will build three 85-metre OPVs in collaboration with Colombo Dockyard Private Ltd. in Colombo. Meanwhile, the US also announced that it will gift another coast guard cutter to boost the naval capabilities in Sri Lanka. Thus, all this attention on Sri Lanka is mainly due to the Chinese influence in the country.

It is evident that regional cooperation in the form of SAARC is not moving forward as anticipated, mainly due to the rivalry between India and Pakistan. Even the 19th SAARC Summit planned in Islamabad could not be held.

A more recent development is the contest of SAARC vs. BIMSTEC as regional organisations. South Asia can be called the least integrated region due to rivalries among its nations. However, BIMSTEC has now been given a new lease of life. Its primary focus is on connectivity, economic development and even maritime security. It is significant that India and Japan are keen that BIMSTEC moves forward, focusing more on the Bay of Bengal Region as it is relatively peaceful and also as a connector between the Indian and Western Pacific Oceans. Meanwhile, the Western Indian Ocean is a flash point region with many conflict-prone regions such as Afghanistan, India-Pakistan, Yemen, Somalia, Iran and even Iraq and Syria.

Lastly, the above dynamics have resulted in a strategic dilemma in the region. Major power rivalry has led to an 'Undeclared Maritime Cold War' in the Indian Ocean which is heavily militarised and nuclearised.

The smaller, less powerful states are compelled to choose between major players and some states try to benefit from both sides or all players in the equation. Some even hedge one against the other which ends up by hampering economic progress and development in the region. As a result, the South Asian region rates low in human indexes.It is important to note that smaller, less-powerful states cannot make decisions based on economics and need to take into account strategic considerations of major powers.

In planning the way forward there have to be certain measures that need to be taken in order to create stability and security in the Indian Ocean region. Thus, there is a need to create trust between states and overcome the 'trust deficiency'.

In recent times, the Prime Minister of Sri Lanka has spoken of a "New Indian Ocean Order" where there is no hegemony but all are equal partners. In this all-inclusive approach, there may be a code of conduct for a rule-based maritime order. There is also the question as to whether the Indian Ocean Rim Association or Indian Ocean Naval Symposium can be the engine to foster cooperation and collaboration in the Indian Ocean. As to what rules should be followed, the most prudent would be to follow international rules that are established and work towards the common good of the region and its people.