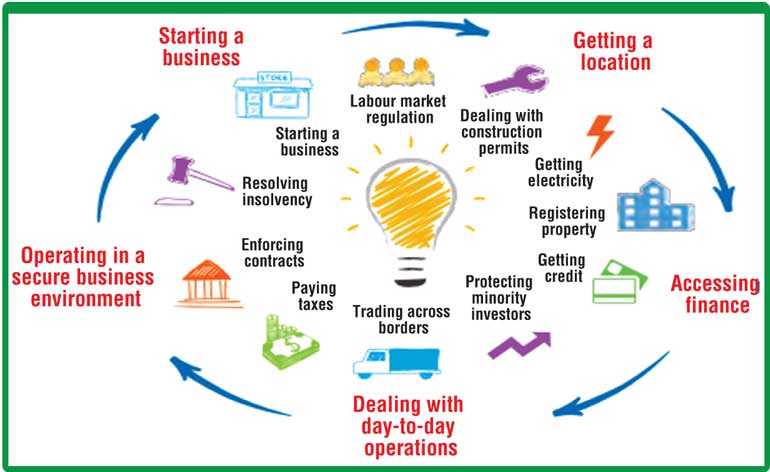 Reducing regulatory complexity and strengthening legal institutions in the Ease of Doing Business through digitisation – Sri Lanka's performance
By Aquilah Latiff

The Doing Business rankings is a World Bank initiative that measures and tracks changes in regulations affecting 11 areas in the life cycle of a business across 190 economies around the world and has now become the global benchmark for measuring a country's capacity to attract investment.

Economies are ranked on their ease of doing business, from 1 to 190. The indexes measure complex regulatory processes by zeroing in on their quantitative components which can be compared over time and across economies helping governments investigate and diagnose issues in administrative and legislative procedures and ultimately, reform them.

A more appealing Ease of Doing Business ranking relates to a regulatory environment that is more conducive to the starting and operation of a domestic firm and the development of a business climate that drives inclusive sustainable economic growth.

The top 10 economies in the ease of doing business ranking share common features of regulatory efficiency and quality, including mandatory inspections during construction, automated tools used by distribution utilities to restore service during power outages, strong safeguards available to creditors in insolvency proceedings and automated specialised commercial courts.

Sri Lanka aims to settle in the 70th position in the Ease of Doing Business (EODB) index by 2020, where Vietnam presently resides. Neighbouring nations of ASEAN Singapore and Malaysia currently occupy the 2nd and 15th spots in the ranking respectively. The country saw an improvement from last year's ranking at 111, moving up 11 notches to secure a 2019 ranking of 100 among the 190 economies. The country's rating averaged 100 from 2008 to 2018 reaching an all-time low of 113 in 2004 and a record high of 83 in 2012.

The recent year has seen a peak in reform activity worldwide with Sri Lanka implementing a total of five reforms in 2018/2019. The Government and relevant specialised task forces, consisting of key members from both the public and private sector, have identified reform actions under eight of the parameters which are starting a business, dealing with construction permits, registering property, getting credit, protecting minority investors, trading across borders, enforcing contracts and resolving insolvency.

The creation of task forces was critical to oversee the enormous task of fostering an enabling environment for entrepreneurs and SMEs in the private sector and dictating effective rules to guarantee regulatory quality and efficiency in each category. Sri Lanka's recent regulation agenda demonstrated a carefully designed approach to reform that focused primarily on implementing unified platforms and applications, streamlining the business start-up processes through digitisation. By digitising connection, review and registration applications and simplifying documentation requirement, processing time and compliance costs significantly reduced.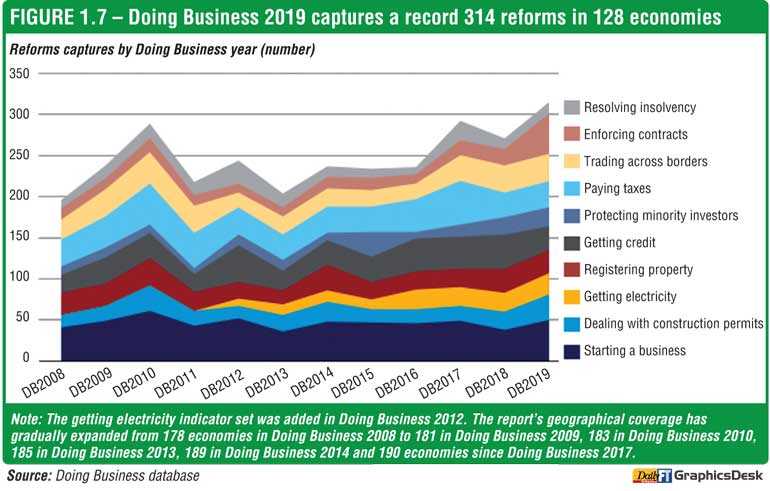 Previously, registering a company took up to 14 days but can now be done online within 24 hours through an application, installed by starting a business task force, of a single window concept and the automation of the online company registration process at the Department of Registrar of Companies committed under the iteration of the eROC project. Registration will be through a web based online application process where the application is submitted online and the business registration number received electronically within a few hours.

The single window for business registration is the introduction of a single application for the company registration, TIN registration and EPF registration. The eROC system will capture the additional information required for TIN registration and EPF registration, at the point of company registration and transfer the necessary data to the Department of Inland Revenue and Department of Labour for its registration through the System.

In 2018 the task force on dealing with construction permits and the Urban Development Authority (UDA) installed an online application receiving system through which the public can directly submit all types of applications for approval of their intended development activities. Issuing construction permits has been segregated among UDA and CMC.

An application receiving counter and help desk has been set up at UDA for manual submission of application and a single application receiving desk is established at CMC as well for ownership certificate, street line certificate and non-vesting certificate. The application processing system has been expedited and includes site inspection at UDA. A smart communication system via email and SMS has commenced while amendments are being made to the existing building construction regulations.

The two major initiatives by the task force dealing with trade across borders are the National Single Window and the Trade Information Portal. The blueprint for implementation and operation of National Single Window was completed by July 2018 and consists of classic web applications for traders for regulatory requirements (including single submission of documents and data). The platforms facilitate electronic data interchange between Government Agencies (GAs) and interchange among traders, GAs and port operators for better coordination of their activities.

The Trade Information Portal, launched on 20 July 2018 is the latest government initiative to expand access to information relating to cross-border trade and will house existing trade regulations and procedures such as laws, administrative procedures, guidance notes, relevant application forms, licenses, permits, and applicable fees in the three official languages of Sri Lanka. The portal is expected to improve the predictability and transparency of the country's business environment by providing foreign and domestic business community and investors with timely access to trade rules and regulations.

The task force on enforcing contracts is the entity in charge of implementing reforms relating to effective commercial dispute resolution as it reflects the rules of the market and protects economic rights through an efficient and transparent courts system. So far the pretrial conferences introduced in Civil Procedure amendments in 2017 to expedite legal proceedings and reduce time consumed in adjudication, awaits full implementation. In addition the authorisation of E-mail to Attorneys and Electronic Transaction (Amendment) Act of 2017 has permitted automation to be introduced by courts without additional legislation facilitating electronic filings of all documents within the courts.

Focused digitisation and the improvement in online management have played a substantial role in facilitating business activity, domestically and internationally, through the streamlining and centralisation of certain business processes. The reduction in regulatory complexity through a continuous and corroborated reform agenda enabled by State and private compliance, ensures competitiveness and dynamism in the domestic economy, increasing the prospects of foreign investment in the country.
[The writer is an Intern at the Economic Reforms Analytics Unit of the Ministry of Economic Reforms and Public Distribution. She holds a BSc (Hons) Economics degree from the University of London.]