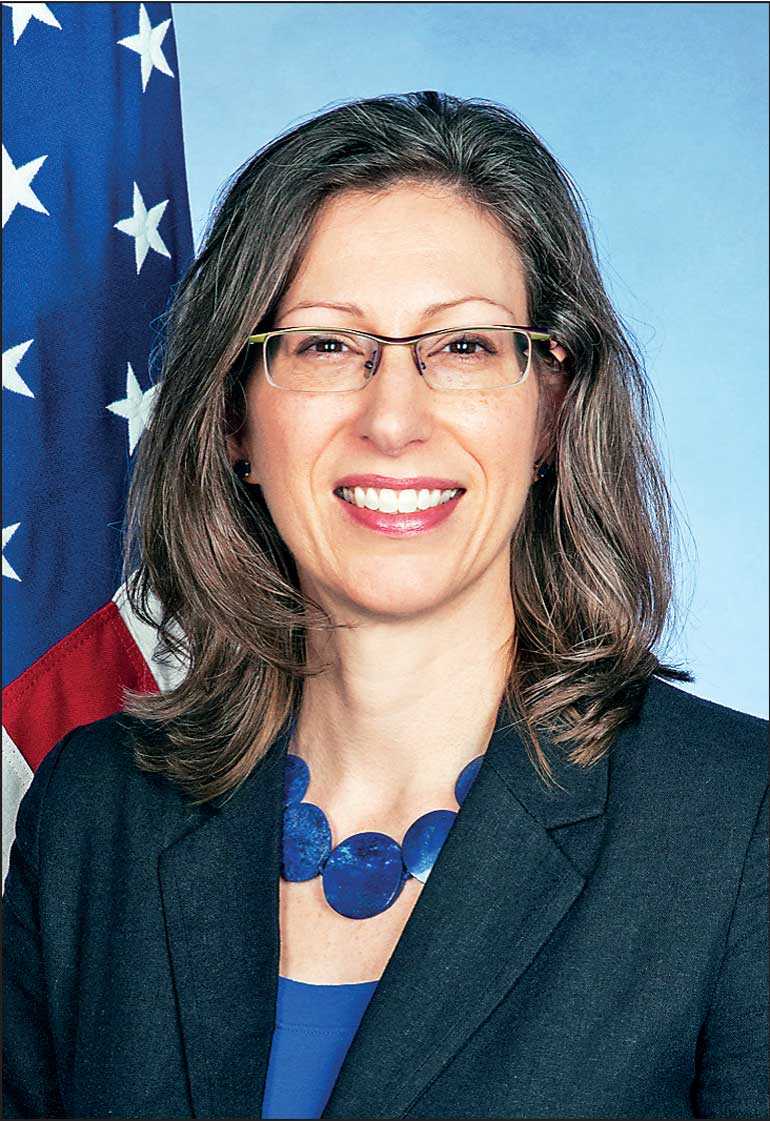 US Ambassador to Sri Lanka and Maldives Alaina B. Teplitz
---
By Dinesh Weerakkody

The straight-talking US Ambassador to Sri Lanka and Maldives Alaina B. Teplitz says: "Unfortunately, there has been a lot of misinformation surrounding our engagement and several of our programs in recent times, but none of our programs infringe upon Sri Lanka's sovereignty and we are very transparent in their design and implementation."

Over the last few years, US has provided Sri Lanka more than U$26 million for health and U$2 billion in aid. Ambassador Teplitz is a senior member of the US Foreign Service, she joined the State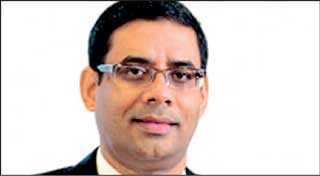 Department in 1991 and is the recipient of numerous Awards. She has also served as US Ambassador to Nepal from 2015-2018.
Q: Given the COVID-19 global pandemic and the challenging economic backdrop, what do you see as the key priorities for US-SL relations in 2020 and in 2021?
Sri Lankans have done a tremendous job managing the COVID-19 pandemic. As the country continues to take measures to prevent community transmission, it must also consider the economic recovery from the pandemic. The combination of economic shocks that have impacted the country in deep ways over the past two years are cumulative. It's challenging, and of course the US supports a strong and sustainable recovery for Sri Lanka.

We remain a steadfast partner to Sri Lanka, contributing over US$5.8 million to Sri Lanka's COVID-19 management efforts. That's on top of the US$26 million over the last couple decades devoted solely to health. And we anticipate we'll be strong partners not only around this particular crisis but around many issues to come in the future.

We look forward to continuing to work together to bolster the bilateral relationship and address regional and global issues.
Q: The US committed US$ 5.8 million in COVID-19 assistance to Sri Lanka reinforcing its long tradition of support for Sri Lanka's security and sovereignty. Could you shed some light on which development areas, services and programs these funds have been channelled into?
The US$5.8 million in assistance to Sri Lanka was channelled through USAID to partners such as UNICEF to directly address the needs of the Sri Lankan people. It includes US$2 million to increase social services for areas and populations most impacted by the crisis, and support for activities that build social cohesion. Another US$2 million will strengthen small and medium enterprises and increase women's economic participation. As part of the newly-announced assistance, the US is also providing US$590,000 in humanitarian assistance through the International Red Cross that will support vulnerable people during the pandemic.

This assistance builds on the US$1.3 million in health assistance the US Embassy announced in April, which is helping the government prepare laboratory systems, activate case-finding and event-based surveillance, and support technical experts for response and preparedness. US assistance is also enabling Sri Lanka to conduct communicate more effectively about the risk of infection and prevent and control infectious diseases in health facilities.

As part of this US$5.8 million, Deputy Chief of Mission Martin Kelly recently joined with UNICEF to hand over US-funded medical equipment to the Ministry of Health. These supplies will equip four COVID-19 isolation and treatment units specialised in maternal and neonatal care.

In addition to this US$5.8 million, we recently provided PPE to eight health care facilities across Sri Lanka and we are gifting Sri Lanka 200 brand-new ventilators in the coming days. Over the years, we've provided Sri Lanka more than US$26 million for health and US$2 billion in aid.
Q: US influence in Sri Lanka has been hotly debated in recent times on matters ranging from military co-operation to development to wider assertions that the US is seeking to undermine Sri Lanka's sovereignty. What will the future look like?
The strongest partnerships are those that respect and protect one another's sovereignty. Unfortunately, there has been a lot of misinformation surrounding our engagement and several of our programs in recent times, but none of our programs infringe upon Sri Lanka's sovereignty and we are very transparent in their design and implementation.

Our two countries share a strong and resilient relationship. We will continue to work with the Sri Lankan government to promote Sri Lanka's prosperity and uphold its sovereignty.
Q: What do you see as Sri Lanka's medium-term opportunities in terms of bilateral, political and economic co-operation?
COVID-19 could really be a game changer in terms of both opportunities and challenges in the short and medium term. We don't yet know the extent of the damage to the global economy or what the road to recovery will look like. The pandemic underscored how susceptible we are to global problems beyond our control and how we work more effectively in solving those problems when we work together.

Strong international cooperation was required in addressing the crisis and it will be imperative in working towards recovery. Countries that adhere to democratic values, that respect rule of law, that have open and honest communications and provide credible information to protect their citizens will recover faster and be well staged to seize opportunities as they arise.

The challenge for Sri Lanka will be continuing to provide the assistance your citizens require while you jump start your economy, attract foreign investment and repair the economic damage caused by the pandemic. But by relying on your long history of democracy and continuing to bolster your democratic institutions, you can speed your recovery and be a leader in the region.
Q: What are your thoughts on the current investment environment in Sri Lanka? Has the ease of doing business improved?
The government needs to consider comprehensive policy reforms to improve the ease of doing business if it's going to be in a position to attract foreign investment and take advantage of some of the supply chain changes that are going to come as many countries and companies seek to diversify their investments from China.

Companies are actively looking to ensure they have some diversification in location and redundancy in that supply chain. So it's an opportune moment for Sri Lanka. Major US firms such as Microsoft, Oracle, IBM, Virtusa, Dell, and others are here and looking to develop and invest in the IT sector. An investment climate that is predictable and transparent will attract top international firms to invest in the country, not just in IT but other sectors as well.

Additionally, continuing to build strong intellectual property rights protections will make Sri Lanka a competitively attractive destination in the region for IT investment.
Q: What do you see as the biggest opportunities for US investors in Sri Lanka? Which sectors? And, what more needs to be done on the regulatory front to attract investment?
The pandemic has forced US manufacturers to reevaluate their supply chains and figure out how to diversify suppliers to avoid disruptions. Sri Lanka is well positioned to benefit from this.

For US buyers looking at potential suppliers from any country, including Sri Lanka, the key factors are quality, price, and the ability to deliver on time. So is predictability, as well as fair and transparent bidding opportunities and contract enforcement. Apparel is a prime example: US buyers associate a Sri Lankan product with high quality and dependable product delivery.

Tea is another product that has gained the confidence of US consumers. Sri Lankan products generally are viewed as manufactured under conditions that adhere to international labour regulations and proper quality standards.
Q: What is your take on geopolitics within the Indian Subcontinent, given the rapid growth in Chinese economic influence?
Our vision for the Indo-Pacific region excludes no nation. No country has benefited more than China over the past decades from the free and open order fostered by the United States in the Indo-Pacific. The United States will continue to seek to cooperate with China. As Secretary Pompeo said, «We are hopeful. We want the Chinese people to be successful."

We do, however, have concerns about the Chinese Communist Party's (CCP) decision to eviscerate Hong Kong's freedoms with its recent legislation. We are also concerned about the CCP's State-Owned Enterprises such as the China Communications Construction Corporation for their involvement in large-scale reclamation and construction, or militarisation of disputed outposts in the region.

The dredging and construction of the CCP's artificial islands has had negative effects on the marine environment and regional stability. For example, environmental experts deemed the dredging in one of their artificial islands in the South China Sea, has had a devastating impact on the environment, as most plant and animal life were destroyed by the dredging dumped atop the coral.

Besides this, Beijing now violates the sovereign and exclusive economic zones of Southeast Asian states from these artificial islands.
Q: President Donald Trump is seen as a key promoter for protectionism and to only buy made in America products. How would you justify some of the trade measures introduced by the Trump administration, in the context of recommending greater inter-regional trade within South Asia?
The US is the number one destination for Sri Lankan exports. Bilateral trade is heavily weighted in Sri Lanka's favour: the United States imports around US$2.9 billion worth of products from Sri Lanka and only exports around US$390 million.

Sri Lankan companies have benefited from friendly US trade policies, such as the General System of Preferences (GSP), that encourage fair and competitive trade. In these difficult times, our trade relationship has only grown stronger to our mutual benefit, as Sri Lanka has stepped up to manufacture masks for the US, production that has kept factories running and workers in jobs.

The GSP program promotes economic growth in the developing world by providing duty-free entry to the US market for goods imported from specific developing countries. As a GSP beneficiary, Sri Lanka may export more than 3,500 different products to the US duty-free.

This is in addition to the 3,800 products that are duty-free for all countries. In the Indo-Pacific region, the US remains deeply engaged and committed to its prosperity. With US$1.9 trillion in two-way trade, our futures are intertwined.
Q: Given that you are a very seasoned diplomat with good connections to the Trump Administration, what are your aspirations for United States-Sri Lanka relations during your tenure?
The US and Sri Lanka share common goals as fellow democracies working to promote and protect human rights and the rule of law. We continue to urge the government of Sri Lanka to take concrete steps to respond to the concerns of all its people. The US is also Sri Lanka's single largest export market and Sri Lanka's largest trading partner.

In 2017, Sri Lanka exported over US$2.9 billion of goods to the US, US$2.1 billion of which were ready-made garments. The US also views Sri Lanka as a great customer for American-made goods. The US exports into many sectors of the Sri Lankan economy from advanced machinery to agricultural products. Building upon these powerful economic ties, we aspire for expanded growth and prosperity for the citizens of Sri Lanka and the US.