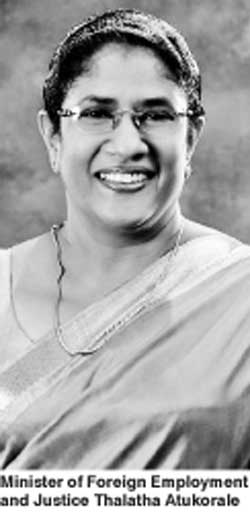 Minister of Foreign Employment and Justice Thalatha Atukorale yesterday issued a special statement to the media. The full text of the statement is as follows:

Ever since the introduction of the executive presidency in 1978, Sri Lanka has been governed under single-party rule. Presidents Jayawardena, Premadasa, Wijetunge and Kumaratunge each presided over strong parliamentary majorities and cabinets dominated by their own party. Then, for almost a decade, "single-party" rule was replaced with "single-family" rule and we endured violent horror and economic ruin like our country had never seen.

I was elected to Parliament shortly before Mahinda Rajapaksa took office under the dark cloud of his "Helping Hambantota" heist. I watched as our president politicised the civil service, degraded his predecessor, and smiled innocently at journalists and political opponents cowering in the shadow of the dreaded white vans. I grieved at the funeral of a hero who was slaughtered on the street after exposing the high crimes of the first family.

After ten years of this tyranny, the UNP united patriots of the SLFP and minorities of every stripe, to overthrow single-party rule and replace it with a truly "national" government. Our leader Ranil Wickremasinghe sacrificed his chance to seek election as president. He prioritised national unity over his own ambition to the presidency. Maithripala Sirisena, in an exemplary show of courage, risked his life by openly defying and challenging the Rajapaksa family.

Under President Sirisena and Premier Wickremasinghe, Sri Lanka has matured beyond "single party" and "single family" rule, to a united coalition representing both the UNP and the SLFP. This coalition, which I am proud to call "yahapalanaya", has shown more political courage in the last three years than all governments combined have in the 30 years before it.

By fighting for the 19th amendment to the Constitution and expediting the appointment of the Constitutional Council and independent commissions, we removed the cloud of political influence from the public service, police and other areas of government. We did so on the eve of a general election campaign, when previous governments had galvanised the machinery of the state to capture votes.

We restored a culture of accountability and rule-of-law to the justice system in this country. The so-called "Joint Opposition" and the Podujana Peramuna have barely a single leader not facing serious charges for crimes against the State that were blessed by the ruling family. In contrast, several UNP Cabinet Ministers have stepped down over the mere appearance of impropriety. That is the political culture that our citizens deserve. This Government supported the justice system that convicted a Deputy Inspector General for contract killing. Two other senior Deputy Inspectors Generals were arrested on allegations of assisting murderers.

The last Government responded to defeat at the 2015 presidential election by trying to usurp power under the cover of darkness with trumped up civil-unrest and emergency powers. This government toppled the tradition of staggered local government elections – which benefit politicians in power – and for the first time called these elections on a single day nationwide.

The election campaign itself has been conducted unlike any local government elections in the past. Journalists, no matter how viciously or unfairly critical they are of the Government, know when they kiss their children goodbye in the morning that they will come home alive. Coverage is not manipulated by death threats. State institutions are not being mobilised by their political masters to canvas for Government-backed candidates.

Those who are opposed to the UNP and the SLFP at this election are opposed to the very ideals and culture of social justice that the UNP for and our Government represent. They are terrified that if the State apparatus keeps racing towards transparency, accountability and independence, they would no longer have a place in such a system that puts citizens before politicians.

It is this vision rooted in UNP ideology that ensured that at least a quarter of all candidates for your vote will be women. We believe in our bones that the empowerment, education and equality of women are key to the advancement of our nation. Increasing representation of women at every level of government and civil society is critical to that goal.

This Government recognised the suffering of so many Sri Lankans from heart disease and took steps to radically cut down the prices of medications and allow stents to be given to any Sri Lankan free of charge. We guaranteed medical insurance for every school child. We passed laws that enshrine the rights of victims of crime. We ensured victims and witnesses protection from the State when they come forward to bring criminals to justice. We enshrined a right to information for every Sri Lankan, empowering citizens and the media to probe into the inner workings of government, and foster transparency and accountability.

The UNP has accomplished all of this because we stand united for a Sri Lanka defined by the values of a transparent, secular and liberal democracy. Ranil Wickremasinghe is one of only two Prime Ministers in our history to have graduated from a local university. He served under Presidents Jayawardena, Premadasa and Wijetunge, consistently holding these values above the political interests of the party. Despite being one of the media's favourite targets for caricature and ridicule, it was Ranil Wickremasinghe who abolished the charge of criminal defamation from Sri Lanka's statute books, ensuring that no journalist could be prosecuted by the police for what they report. It is a testament to his success that most private media organisations today are so overtly hyper-critical of the Government's every action. A single ill-advised public utterance by a Minister today will garner more airtime and newsprint than did any of the several overt death threats received by journalists a decade ago.

On 10 February, we face a crossroads. I ask that every Sri Lankan reflect on the last three years. Cast your vote in support of bringing the values of accountable and open government that the UNP stands for to your own municipality. It is only by fostering this culture across the country that we can bring good governance and rapid development you deserve to every village and town in Sri Lanka.