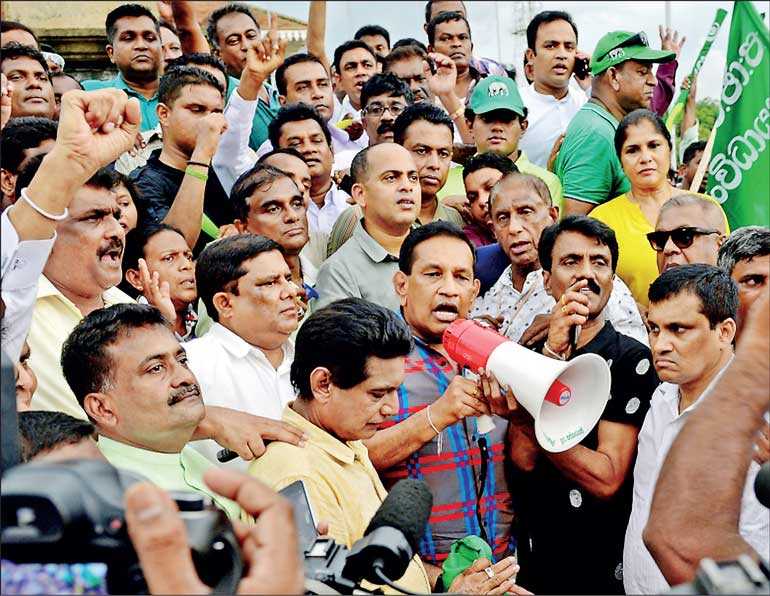 Several constitutional experts have said that President Maithripala Sirisena did not have the authority to oust Ranil Wickremesinghe from his position as Prime Minister
---
By Malvika Singh
Sri Lankan democracy has recently been burdened by a presidential coup. President Sirisena has overstepped his constitutional limits to sack the sitting Prime Minister and unilaterally appoint a new one. Instead of seeking Parliament's approval, he dissolved the House and announced snap elections for January 2019.
The political scenario
Sri Lanka is currently a nation embroiled in crisis. In a constitutional coup, President Maithripala Sirisena sacked the sitting Prime Minister Ranil Wickremesinghe, dissolved Cabinet, suspended Parliament and ordered snap elections from 5 January 2019. His justification in doing so rests on strained relations with the ousted PM.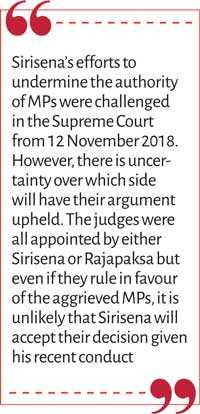 In another contentious decision, he unilaterally appointed Mahinda Rajapaksa, the man he defeated in the 2015 presidential elections, as the new PM. Sri Lanka is the oldest democracy in Asia — it held its first general elections with adult universal suffrage in 1931. Therefore, the actions of the President are worrisome and constitute an aberration from the trend of democratic transfer of power within the country.

Sirisena argues Wickremesinghe was an inept leader, unable to take important policy decisions concerning corruption and economic reforms. The hemmed-in PM, on the other hand, has stated the root of the problem lies in the President's illegitimate actions of removing him from office. However, the underlying reasons are politically motivated. Sirisena was elected in 2015 with the support of Wickremesinghe's United National Party yet he would be unable to win in 2019 without Rajapaksa's endorsement. This is because Sirisena's domestic support has continually eroded, while Rajapaksa remains largely admired.

It is highly likely that Rajapaksa will outpoll Wickremesinghe during the January elections because he is a popular leader whose advocacy for Sinhalese Buddhist nationalism resonates with the majority of the country that is both Sinhalese and Buddhist. Therefore, Sirisena's next presidential term depends on eliminating Rajapaksa as a competitor and instead appointing him as an ally in a prime ministerial capacity.
Is this constitutional?
The foremost question remains whether the sacking of Wickremesinghe is a legal move. A number of constitutional experts have stated it is illegal under the Constitution, owing to a 2015 amendment. The President does not have the authority to remove the Prime Minister. This 19th Amendment greatly diluted executive powers and now only the Parliament can legally remove a sitting PM. Thus, Sirisena's argument that the Constitution allows him to appoint Rajapaksa is invalid.

Wickremesinghe has not vacated the official PM's house, claiming he remains in power till a majority is mustered against him in Parliament. This is because the individual who commands the confidence of the democratically elected House will become leader, which in this case remains Wickremesinghe. Also, the Speaker refused to acknowledge a change in the country's leadership without a floor test. Thus, the dissolution of Parliament is widely viewed as the new PM's inability to prove his majority in the House. The President calculated that despite offers of millions of dollars to MPs, the new PM, would fail to assemble 113 votes (out of 225) to prove a majority since his own party members are unwilling to accept this situation. Nonetheless, the President's address to the country stated he dissolved Parliament to prevent violence and perhaps even death.

While the threat of violence is possible, his justification is considered exaggerated and his actions amount to usurping democratic power. Speaker Jayasuriya has issued a statement urging all public servants and legislators not to carry out any illegal orders issued by the President. This is an unprecedented split between the Executive and Legislature.

Sirisena's efforts to undermine the authority of MPs were challenged in the Supreme Court from 12 November 2018. However, there is uncertainty over which side will have their argument upheld. The judges were all appointed by either Sirisena or Rajapaksa but even if they rule in favour of the aggrieved MPs, it is unlikely that Sirisena will accept their decision given his recent conduct.
Social risks of escalation
Sri Lanka has been overcoming the socioeconomic losses of a long-drawn and brutal civil war between the Government and the Liberation Tigers of Tamil Eelam (LTTE), who demanded a separate state for Tamil speakers. Rajapaksa led the country between 2005 and 2015 as President, and oversaw the end of a war which killed an estimated 100,000 people. He lost the 2015 presidential elections to Sirisena because of allegations of mounting corruption and nepotism. This makes the political U-turn taken by Sirisena to back his former competitor all the more surprising.

Rajapaksa's leadership in the past was almost authoritarian and stifled dissent from the media and civil society. Dozens of journalists were killed, tortured and abducted under his rule which put him on the list of worst press freedom offenders globally. His return to power is highly unfavourable towards the media and activists. Another especially vulnerable group are the Tamil minorities, who were previously targeted, killed and suppressed. These human rights violations attracted major criticism from the international community. While Rajapaksa remains widely popular among the rural masses and poor, his return to power is a worrisome situation. It signals that Sri Lanka is returning to an era of ethnic tension and violence, where democratic freedoms are curbed.
The economic situation and China
During his preceding tenure, he signed many substantial loan agreements with China amounting to over $ 15 billion. This included the $ 1.3 billion Hambantota Port which was subsequently caught in a Chinese debt trap. The port was underutilised and incurred major losses. The Government was unable to repay loans. A Chinese state-controlled company then took over majority interest in 2017 in exchange for a debt write-off. In addition to the port, Sri Lanka also gave up 15,000 acres of land around it on a 99-year lease to China.

These unsustainable agreements have sparked fears of erosion of sovereignty but should Rajapaksa hold onto the country's leadership, it is highly likely that China's presence in the island nation will continue. This further raises geopolitical risks for the region.

The new Sirisena-Wickremesinghe alliance in 2015 pledged to revisit and revise deals of the previous administration since they isolated Sri Lanka from India and the United States. The country found itself compromised on economic situations and wanted to have more avenues of investment to dilute Chinese prominence. They were successful in improving ties with the US that were strained because of large-scale human rights violations under Rajapaksa and re-establishing strong relations with India.
Traditional partners
However, Rajapaksa's return rings alarm bells for India again. New Delhi has been competing with Beijing for influence in the Indian Ocean region. In recent years, India's first-responder position has been overtaken by China in Sri Lanka, the Maldives and Nepal, among other countries. Therefore, losing a more pro-India ally in Wickremesinghe has raised geopolitical risks since India fears China's military and navy will exploit Sri Lanka's proximity to the south Indian coast.

Furthermore, Japan and the United States, along with the other countries, have suspended aid to Sri Lanka amounting to more than $ 2 billion over this recent predicament. Many fear that the fragilely restored economy could collapse again owing to these short-to-medium-term economic shocks. This can set the trend for mostly western countries being wary of investing and trading with Colombo if it continues to abandon democratic institutions.

UN Chief António Guterres has also expressed concern over the rule of law suppression. Sri Lanka runs the risk of becoming an international pariah if a peaceful solution to this current crisis is not found.
(The writer holds an MSc in Comparative Politics with a specialisation in Political Economy from the London School of Economics and a BA Honours in Politics from the University of Nottingham. The original article appears on https://globalriskinsights.com/2018/12/sri-lanka-economic-political-fragility. Source: https://frontera.net/news/asia/sri-lanka-how-an-unconstitutional-coup-is-becoming-an-unprecedented-threat-to-asias-oldest-democracy/)