---
Humanitarian. Corporate leader. Entrepreneur. Agriculturist. Raconteur. Citroen aficionado. Historian. Classical musicophile. Art collector. Consummate host. Explorer. Gentleman. Friend. These are a few of the words that are synonymous with the name Scott Dirckze to many even though he will first always be Uncle Scott to me.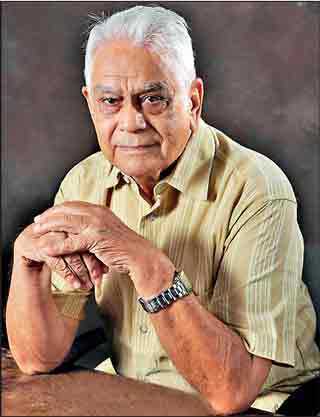 Scott Dirckze


My first memory of Uncle Scott was when I was a very young tyke, probably around early 1970. We had gone on a family vacation and visited him and his father Dr. Herbert Dirckze at their farm in Anuradhapura. Since that early memory, Uncle Scott was a constant in my life over the next five decades. He was a dear, dear friend to my parents (he was the best man at their wedding in April 1963) and I cannot think of a time when he was not an integral part of our lives.

My brother and I used to love accompanying our parents when they regularly visited Uncle Scott and Uncle Herbert at Park Road and at the various George Stuart bungalows they lived in. After my parents passed and he retired from George Steuarts, my exchanges with him only intensified not only because he represented a living connection to my parents but also because it was such an education. In all the decades that I knew Uncle Scott, I always came away from a conversation with him having learned something new or fascinating.

When I thought about writing about Uncle Scott, I realised that such an endeavor could reach Tolstoyian proportions very quickly. So, I decided to focus briefly on just three aspects of his personality that I respected tremendously and found most endearing. First, his role as a humanitarian, following faithfully, the Scriptures as outlined in Matthew: assisting those in need without drawing any attention to himself.

From a very young age, I realised that despite all the material and professional success Uncle Scott enjoyed, he had a strong sense of social justice and the fact that it was imperative that those in his position look out for those in need, not in a paternalistic or condescending manner but with a sincere desire to offer an outstretched hand to boost someone up the economic and social ladder. Compassion and kindness were paramount in Uncle Scott's personality.

Second, his prowess as a raconteur, a humorist, in fact, a Sri Lankan Mark Twain to me. How many of us came away from a conversation with him doubled up in laughter? Ever since I remember being around Uncle Scott, I absolutely loved his sense of humor and his ability to relate hilarious stories.

Even in one of his darkest periods, earlier on this year at Nawaloka Hospital, when I asked him how he was doing, he replied: "Well, given that I was recently subjected to medieval torture techniques, pretty good." He had just completed a therapy session with his physiotherapist. Regardless of the health issues he was enduring, he still approached life with a twinkle in his eye, a mischievous smile and that inimitable sense of humor.

Third, his extensive knowledge of a vast array of topics and subjects, buttressed by his remarkable memory of people, events and places going back decades. When going on trips out of Colombo with Uncle Scott, I used to be constantly amazed at his exceptional memory of how to get from place to place in the most expeditious manner. It was almost like he had a Google Maps system in his brain long before Google was even invented!

I do know not many other individuals with the unquenchable thirst for knowledge that Uncle Scott had; he was constantly seeking new information and trying to educate himself on emerging topics. For instance, how many octogenarians out there learn how to use a computer, pick up the intricacies of an internet search system and then go on YouTube to learn interesting recipes? Or how many octogenarians out there retain an instructor to learn a new language (Tamil)? Not many.

At the outset, I enumerated the attributes that came to my mind when I thought of Uncle Scott. The range of those qualities clearly exemplify that he was a man of wide interests and many areas of expertise, a polymath, a Renaissance man.

But above all those qualities, what was really appealing about Uncle Scott was his humanity, his empathy and considerateness for those he encountered on life's journey. He made us all smarter, kinder and more tender-hearted; thank you, Uncle Scott for your friendship and the inspiring way you lived your life. A wise man once said "Try and leave this world a little better than you found it." Uncle Scott did that and more.

"Well done, good and faithful servant."

Sujit C.