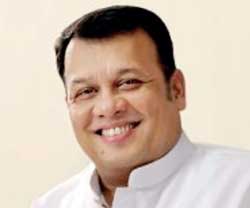 By Analyst

Sources from the export-import industry said that they never expected that a so-called educated Minister would come on television and criticise a long overdue Government policy to make Sri Lanka a maritime and logistics hub. The irony is that the Minister insultingly called foreign shipowners who bring ships to this country, along with transshipment cargo, providing massive revenue to terminals, "white people" (Suddas). It seems like that he has gotten an injection of Mahinda Rajapaksa's Joint Opposition phobia and talk of nationalism to protect two to three companies acting like a mafia in their own self-interest at the cost of the country.

The Minister seems to be producing the same figures that these agents are talking about without any factual evidence. He talks about $ 800 million. Sadly, the Minister doesn't know that this is the freight bill of this country and it is paid by exporters and importers and the transshipment freight is brought by overseas exporters and importers and the respective shipping lines of "Suddas".

It seems that this national list member, who was made a Minister by the President, is now turning against 'yahapalana' policies and has become a sudden hero of a money-throwing agency mafia. He has completely forgotten that local industrialists are entrepreneurs who manufacture, export and service the consumer with imports. Sitting between these industries are the age-old agency business which is disappearing around the world.

The Minister must understand that a decade ago airline tickets were handled by agents. Today that is a dead industry unless you add value. People go online and purchase air tickets. The industry asked whether the Minster wanted such an industry to survive, placing a cost on the end consumer.

It is sad that the educated Member of Parliament, who has been educated in Australia, is protecting protectionists and telling them how to disrupt like with SAITM, without understanding the nitty-gritty of such a policy. He is complaining that he was not consulted. In no Budget are all MPs and Cabinet ministers consulted for policy as it then becomes an open document of the Finance Minister. If he was displeased he should have sorted out matters internally without becoming the mouthpiece of elite protectionists at the cost of the country. If the Minister feels comfortable with the commission agents it's a sad story for this country's maritime industry. He must see whether he has proper advisors around him, whom he should have taken the initiative to talk to on this subject without being surrounded by agents. He must be thinking that the trading community is not part of shipping and he is misguided and not the Finance Minister!

All sectors of the rational business community, 64% of which voted for liberalisation in 2016 at the Ceylon Chamber Economic Summit survey, have no other response than to express shock and request the President not to get caught up in nationalism and sell the SLFP name to protect a few individuals.