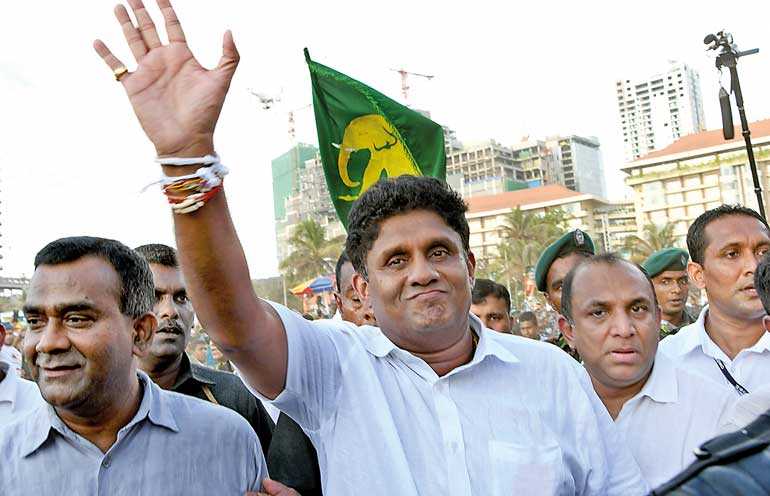 New Democratic Front Presidential Candidate Sajith Premadasa – Pic by Shehan Gunasekara
New Democratic Front Presidential Candidate Sajith Premadasa believes he can be the leader to create meaningful change that will strengthen democracy, implement inclusive policies and deliver the expectations of the public. Here he shares his vision and plans with the Daily FT. Given below are excerpts of the interview:


Q: With a few days to go, how confident are you of winning the Presidential Election?

A: Absolutely confident! I have no doubt whatsoever! And nor do I have any doubt that the vast majority of rationally thinking, truly patriotic people of this country, who dream for a better future for their children, who want economic prosperity of the country and the results of such prosperity to be equitably shared among everybody, who want the democratic values and freedoms of our society to be protected and nourished, and peaceful coexistence of all sections of our society to be guaranteed, rather than suppressed, are highly confident of this inevitable victory, simply because they have already made up their minds to make the right choice for them and for their country. So, it is a near certainty, and perhaps a foregone conclusion!

And I am sure that many who can feel the pulse of the masses must have already judged for themselves, by now, of this inevitable outcome on 16 November.
Q: What factors have contributed to your optimism?

A: Quite a few, indeed. But before highlighting them, let me just remind you of a very famous quote from one of the legendary Presidents of the United States. The name of this great man is Abraham Lincoln. And this famous quote of his goes as, "You can fool all the people some of the time and some of the people all the time, but you cannot fool all the people all the time."

Now the simple question here is whether any rational man would have reason to imagine that the proportion of people described by Lincoln as 'some of the people who can be fooled all the time' could at all comprise the majority of our electorate that will go to polls on 16 November.

The answer is 'absolutely no'! Not even in one's wildest dreams! I believe even to imagine so would be an insult to the intelligent people of this beloved motherland of you and I, where we have been enjoying the reputation of having intelligently and effectively exercised universal suffrage for the longest history in Asia.

Any rational Sri Lankan citizen will understand this reality. And I don't think, even an American citizen or a dual citizen, for that matter, will have any major difficulty in understanding this stark reality.

Now let me come to the specifics. At the ground level, we have been witnessing a steady increase in the numbers who are turning out to ensure my victory, right since my nomination, partly because they are fearful of the fate that would befall the democratic values of our body politic, peaceful coexistence of our society, and our national economy, which needs to be managed based on the principles of scientific governance rather than on the whims and fancies of a family club and a band of cronies, at the cost of disastrous long-term outcomes to the country and its people.

On the other hand, even the opinion polls, the unbiased ones in particular, have been consistently reflecting the sway of public opinion increasingly in our favour as the days pass by. And I see the increasingly great expectations and aspirations in the eyes of the people who are increasingly turning out in their tens of thousands to hundreds of thousands at the many public rallies where we address them.

It is not difficult for any seasoned politician to make a judgement on what all of this would finally translate into on 16 November. So I clearly have more than my fair share of justification to be optimistic about my impending victory.
Q: In your view what distinguishes you with the most competitive candidate?

A: I believe what you mean by the most competitive candidate is who is likely to end up my closest competitor. I am clearly distinguishable in a number of key aspects. Firstly the depth of my understanding of my own policy statement, and the confidence that I have in it, as evident from my publicly-proclaimed readiness to be openly challenged on its prudence and efficacy at any intellectual or professional forum, particularly by whom you choose to call the most competitive candidate, and secondly the consistency with which I have been publicly stating my policy regardless of whether I am talking to the people from the south or the north, to the rich or the poor, to the professionals and intellectuals or to the ordinary citizens, do distinguish me clearly enough, I believe.

And then, the team that I have pledged to choose in its implementation – a team of honest, intelligent, pragmatic, efficient, competent and hardworking individuals, chosen on the basis of the fundamental principle of meritocracy, distinguishes me.

Above all, the integrity demonstrated by me in my unblemished record in public office does profile me distinctively. My hands are clean. No ill-earned wealth, no blood in them, and no amount of power placed in them could corrupt them.

Also, the fact that I don't have a family club suspected of, or potential of, evolving into a family dynasty, is something that clearly distinguishes me. I simply have emerged from amongst the people, I will live amongst and work with them in their service, in the service of the nation. I will have no clinging to shed in handing back to the most deserving from amongst them the role that I have been playing, when it is time to leave. I believe this is ample distinction of myself as a candidate to the discerning public.
Q: Why should people vote for you?

A: Why do people vote at a Presidential Election in the first place? They vote because they want to make a choice – a choice of the future that they, and their future generations, would wish to live. So, what are the choices available to them at this particular Presidential Election?

They will have to choose between the prospects of a society where the democratic values and freedoms are guaranteed and, on the other hand, a regimented society where such liberties are suppressed. They will have to make a choice between a society where all communities live and work in harmony for the shared prosperity of the country that they share, and a society that will remain deeply divided along its communal fault lines, inhibiting its progress as a nation and instead making them fight with one another consequent to the communal emotions traded in for political mileage.

Moreover, do you want to revert to an era where the country is brought to the brink of bankruptcy by indiscriminate irresponsible borrowing of foreign commercial debt and investing them in wasteful personal interest projects with absolutely no capacity to payback, thereby trapping the country in a dreadful vicious debt cycle for generations to come?

Take the colossal frauds. Look at the security forces headquarters project. Think of the Avant-Garde deal. Think of the MiG deal. And just think of who was at the centre of all of those corrupt deals of unprecedented and unimaginable magnitude.

Next, look at the history of management of public enterprises. The National Carrier SriLankan went nose-diving into virtually beyond the point of no return in terms of financials.

The initiative to build another airline called Mihin Lanka at a cost of Rs. 6 billion finally ended up with Rs. 56,000 worth of furniture remaining as the only assets. Find out for yourself who are directly responsible.

Do you think the people of this country would ever make a choice to return to such a regime?

So the people will make the right choice, the natural choice, to make Sajith Premadasa the president.
Q: What would be your priorities if elected president?

A: Obviously the first and foremost priority will be accorded to sovereignty, the territorial integrity and the unitary status of the country. I have clearly identified my priorities in the areas of national security, national economy, society and environment.

In the area of national security I will ensure that all matters pertaining national security will be informed and guided by a comprehensive national security policy, rather than by ad hoc reactive responses. The other priorities in national security will involve establishing a unified, independent and completely depoliticised national intelligence network, infusion of state-of-the-art technology into security operations, and expansion of our naval capabilities to comprehensively safeguard our national interests in our territorial waters as well as the exclusive economic zone.

Administration of justice is another important priority. I have identified three imminent was to be fought. War against violent religious extremism and fundamentalism, war against corruption and the war against the drug mafia.

In the area of economy, I have clearly pledged that transformation of our national economy into a knowledge-based, innovation-driven, advanced technology-led economy would be our grand strategy in marching towards the status of a high income country. Strategies in this regard will be designed to reap the optimum benefits of our major comparative advantages as a nation, namely our strategic geographic location in this 21st century Indian Ocean region on the one hand and our human resource with a high human development index on the other.

In the area of social development and empowerment, I will ensure the equitable distribution of the benefits of development among all sections of society.

And having remained firmly committed to the principle of sustainability in development, the environment will also certainly remain one of my key priorities.
Q: You often refer to a youthful team you would choose; does that mean the old guard of the UNP is going to be excluded from your cabinet?

A: I have made it quite clear that a capable individual commanding a majority confidence in Parliament would be appointed as the prime minister. This simple and concise statement has been given numerous interpretations by a myriad of narrow-minded individuals who seek only to bring back into power the godfathers of corruption who instilled a culture of fear in this country. I would like to ask such individuals who are having a reverie, what moral right do you possess to question a pledge which has been given to the people of this country? Perhaps they expect Sajith Premadasa to renege on his promises as they have amply demonstrated in the past. However, I would like to tell these acolytes of the 'old republic' that I am Sajith, Sajith Premadasa, and not a turncoat who will betray the trust placed in me by millions.
Q: You've said no one even with an allegation of corruption would be in your cabinet but there are such charges against many in UNP top members. Can you actually keep to this pledge?

A: I would kindly like to request of the people of this country to preclude from judging me based on the unpleasant and deceitful experiences they've had with some of the politicians who ran the administration of this country in the past. I represent the future of this country, a future which will not be sullied by corrupt politicians or their cronies. I have laid down a democratic, transparent and cohesive administration policy for governance. Stakeholders of this government would solely consist of unsullied public representatives.
Q: You have personally maintained a good rapport with President Sirisena. Is there a role for him in your administration?

A: Despite our political divergences, outgoing President Sirisena and I have maintained a good relationship. His counsel in pertinent matters would be most welcome. However, I personally believe and know for a fact that the President is very keen on his retirement and has no intention of retaining himself in mainstream politics any more.
Q: One main allegation against the 'Yahapalanaya' Government is that they did not punish those in Rajapaksa regime who were corrupt and involved in other crimes. How are you going to take these investigations forward?

A: These investigations would not only be taken forward, but would also be fast-tracked through a transparent and democratic legal framework. Moreover, not only those responsible of committing crimes under the Rajapaksa regime, but those who have been accused of misconduct since the assumption of government since 2015 would also be brought to book, irrespective of their political allegiances or stature. My government will not bargain with criminals, nor sympathise with their cohorts.
Q: How do you envision that your father's legacy as a former president of this country is going to impact this election?

A: My father the late Ranasinghe Premadasa is remembered as the 'Leader of the Poor'. The trust placed in him as a crusader who waged a war on poverty in Sri Lanka still stands large to this day. His benevolent empathy preceded him, even amongst the country's affluent. R. Premadasa in essence was more of a leader as opposed to a statesman. As his son, I do not hope to dwell and reminisce in the gilded halls of his legacy, but hope to further the vision which he had for this country as a visionary leader who transcended his time.
Q: What is your message to voters/Sri Lankans?

A: Vote for Sajith Premadasa. And, together as Sri Lankans, let us build the future we dream of.