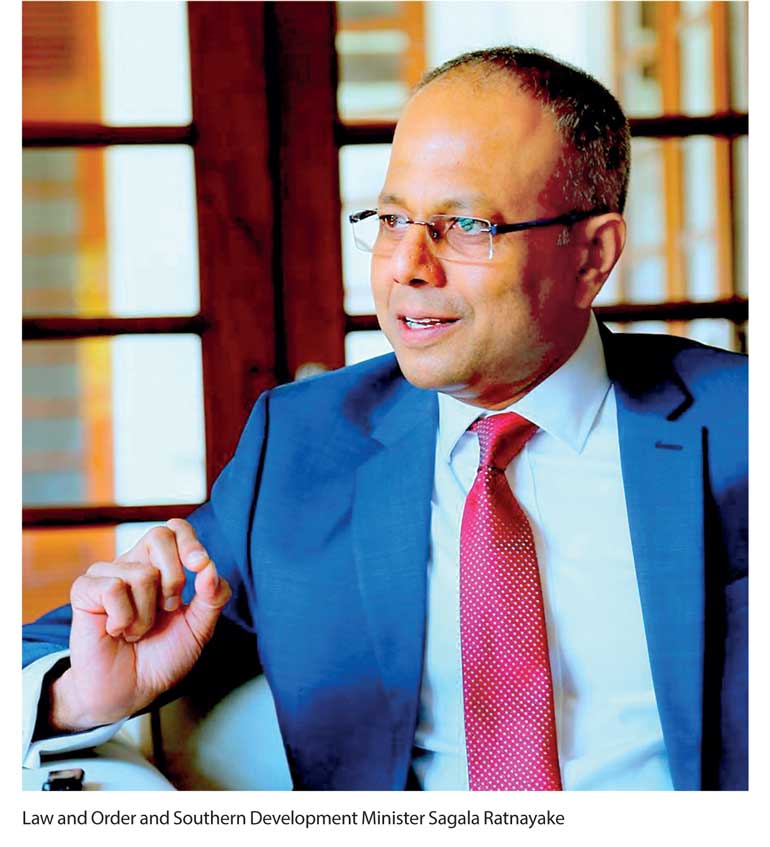 Top UK expert to give Police a complete facelift
Reforms underway to change entire structure
Rebranding, perception changes and practices under way
Police promotion scheme to undergo change to include continuous appraisals
New recruitment drive to target educated youth
Praises new IGP for bringing crime rate down
Law and Order and Southern Development Minister has been dominating headlines ever since taking over office as the man responsible for leading or, as is often the case, reining in the Police. Although responsible for maintaining law and order, Sri Lanka's Police Department is regularly at the receiving end of negative criticism. The incident in Kataragama where a policeman gunned down a pillion rider is the latest of the incidents that has put the spotlight on Ratnayake.

Taking to Twitter, the Minister highlighted a perennial problem in Police that has given rise to such incidents. "The Kataragama incident is not an isolated one. This stems from lack of training and professionalism. Failure to address core issues diligently will throw us into similar situations time and again. Drastic reforms will soon be introduced to Police with help of foreign experts."

In an interview with Daily FT, the Minister of Law and Order outlined plans put in place to address these problems and challenges he faces in pushing them through. Following are the excerpts:
By Chathuri Dissanayake
Q: The Ministry of Law and Order is still a topic in current affairs every day and speculation is rife as to whether there have been any reforms since you took over. How do you view this?
A: We have not been able to get away from the daily headlines; I will be happy the day we don't hit the newspapers! But it will take a while in the country as public perceptions should also change. It is not enough for just the Police to reform, people's attitude must reform; their expectations must reform; the public must reform; the politicians must reform in their expectations of the Police – that is the day that all of this will fall into place. Police needs to do a lot more, I think we have to do a lot of work, but we have also come a long way. We have a plan for the reforms, it may not be the most airtight plan still but it will become that.
Q: What is in the pipe line in the immediate future in terms of reforms?
A: We are working on two critical things. One is Police reforms, and Police reforms cover a lot of things. It covers from the age of the archaic Police Ordinance which is 150 years old – as old as the Police – and works on the organisation structure. Over 150 years when the situation changed we have made changes, but we have not thought out the process completely. So with the new reforms we will reform the entire process. Those are not the only two things. When we talk of Police reforms we talk of perception building, training, uniforms, branding, community policing; the whole thing. There are questions of what areas to push and which ones to pull back. It is a comprehensive thing; we will be doing it with complete consultation with all stakeholders, including officers of all ranks, highest and most junior.
Q: What is happening with the proposed reforms in the Ordinance?
A: It is not broken down, but it is not something that you can take piecemeal. So you have to take it as a whole package, and that is what we are looking at. It is not something that you can do it in a month or a year, it has to be done over a period of time. We are drawing up the timelines and it will take us a while to even get there. We have selected a very senior international human resource person from the UK to assist through this process, Sir Hugh Orde – a former Chief Constable (Chief of Police) who reformed the Police after the conflict there. After the reforms process he was also the President of the UK Police Association for many years. That body is the de facto organisation that advices the UK Government on Police policy and matters related. He did the first visit, and now has asked for feedback and commitment on our part. The commitment from the minister, the secretary of the ministry and the IGP, we have to be serious about it and give him an idea about the degree we would like to go to (in reforms). So we have to revert on those. There was a change in the secretary to the ministry, so there was a delay there. We will be back on track.
Q: How confident are you about reforms in the Police in the current environment where we have seen reversal of the changes implemented by the Government?
A: When it comes to the Police there has been one voice in the Government right throughout. During the war a lot of attention went to the tri-forces, and even the role of the Police was a war-time one. Post-war we had to do a lot of work to do for even the Police to be retrained to be a peace-time Police and to do the real work of the Police, the community Police and the other newer things that are coming in. When our Government came it was one of our promises that law and order would prevail, so we started that process and whilst we demanded professionalism we also started looking into their welfare. We have made some good progress, and never have I had to struggle with a Cabinet paper on it; the President, Prime Minister and the whole Cabinet have always supported. This is something that they all support and something that the people need.

There will always be people who try to influence, who think 'if I could do this with the previous regime, why can't I do it now?' But now, I find that there is less pressure on me from politicians to intervene, they now understand that the Police should be allowed to do their job independently. The people have come to terms with it. The people in my electorate do not come to me regarding issues with the Police. On my public day, 95% of the people who come to me are Police personnel. I do get heaps of letters writing to us saying they feel they are being unfairly treated; we have to respond to those. We have a system where we always give feedback on the complaints. It doesn't mean we are interfering, it is just ensuring rights steps are being taken, and if we feel there has been a weakness in the process, then strengthen it. That is all we do.

In the reforms, the media has a huge role to play. We want to train media reporting on Police so we focus on the right things, not sensationalise. If we only look at the media point of view, it will not help the system and do justice to the people. The Police also need a fair hearing and the people too need a fair hearing. It must be balanced by knowing what the law really is, how to analyse a crime situation, and give the right picture. Otherwise the conflict between the Police and the people will not improve, however much we try.
Q: A constant grievance of the servicemen in the department has been promotions, especially for junior rankers. What is being done to address the situation?
A: There is a perennial problem in the Police regarding promotions, not just among the junior rankers but also among the seniors; there are constables who have been constables till the day they leave. This is something we are going to look at through the reforms. At the moment we have a promotion systems that we have designed through the last three years, which we have presented to the Police Commission; some of them have been approved and some of them are still being fine-tuned. But this problem can only be sorted in the long-term by a proper appraisal system; term you serve and commendations should not be the only basis for promotions, it should be a comprehensive appraisal system like in the private sector. It is a complex system which will take about two to three years for us to work out. Once that comes in the combination of how a promotion comes with years of service and your appraisal system will sort this problem out. But not every constable is going to make the next rank, what we want to do is to reward those who work hard. We have commenced the process, but we will not do it on a piecemeal basis and this will be part of the whole reforms.

I am also going to propose to the Government an early retirement scheme, so some of those who have served 20 to 25 years can maybe take a good percentage of their pension and retire. The tri-forces have it. It's up to the Government to accept it or not. This will give the opportunity for them to engage in a second income generating activity. Policemen are very disciplined; they know how to approach a situation, which will be a very useful skill.
Q: What is your response to the criticism that has been levelled at the current IGP – he has even been accused of workplace violence and tapping phones?
A: I have regular reviews with the IGP and some of these issues that are being discussed have been addressed. But not all that's being spoken of him are issues. I will tell you one thing, this IGP was not appointed by the Minister, Prime Minister or the President. He was recommended by the Constitutional Council and appointed by the President, he is not a political appointee, and he has been in the service for a long time. He is a capable officer; he may have his weaknesses, but look at what he has delivered.

Crime is down by 35% in three years, Illangakoon was responsible for the first year of that, the current IGP Jayasundara was responsible for the next two years. They took on the challenge by the Government, they took on the professionalism we wanted them to adopt, the independence we gave them, and they managed to bring down the crime rate. Crimes against women and children were some of the highest to come down. Not only did crime come down, but the rate solving crime went up from 58% to 78%. So you cannot always look at the negatives of the person; we have look at the positives as well.
Q: But if you look at the strongest criticism levelled against the IGP and the most pronounced incidents that have defined his term, it has created a lot of controversy?
A: The meditation program was completely mishandled and miscommunicated. Meditation is something that is being used by Police forces in other countries also to help Policemen control their minds, it's not for religious purposes. Meditation is good, and should be focused on what you are trying to achieve. Due to the controversy, I wanted the entire program to be stopped.

There was a complaint to the Police Commission about phone tapping but I think there too there is a misunderstanding. But as far as I know the Government does not have the capacity to tap a phone, but we can get the phone records from the service providers and analyse the data though software and human resource. Whatever we do, we do legally; there only couple of institutions in the Police which have authority to go and get information in a critical event.
Q: You have set up a special unit to investigate into crimes related to narcotics; can you elaborate on how the new body works and why you set it up when there was already a Police Narcotics Bureau to do the job?
A: During the 150 years of the Police force, we have set up many institutions along the way, like the CID, STF and the FCID. The PNB was attached to the Police Crimes Unit and we had a dysfunctional unit called the Organised Crimes Unit, also under the Crimes Department. What I have done is to create a special Range for Organised Crimes and Narcotics, these are our biggest challenges. Both organised crimes and narcotics go hand in hand. When you say organised crime, it's the underworld, and it involves drugs and guns – now not so much gun running as it used to be before, but it is guns for their use. So we formed a Range, put it under Commandant of the STF and asked the STF to support. They have asked for equipment, we are giving it to them. They have been working for about six months. There are five large gangs in Sri Lanka, I think four of them have fled the country, we are working on tracing them and arresting. In the meantime we are working on dismantling their units here. There is no chance of influencing this new Range under senior DIG Lathiff, who has a very good track record; he has picked a good team.

As for drugs, we have drugs entering the country for two different reasons, some to be distributed here, others are in transit. The recent haul of cocaine which was destroyed was not meant for Sri Lanka, it was in transit. Some of it may stay here, we want to break the ring that distributes in Sri Lanka so the peddlers won't have drugs to distribute. Those are two things we want to stop, drugs coming in transit and the local network.
Q: As the global drugs trade is a powerful network, considering Sri Lanka's position in global politics, how confident are we in fighting this network?
A: The transit issue is hugely based on information and sharing of information among the countries, and we are building up that network; we are using our SAARC friends, we are working with the American Drug Enforcement Administration Unit, and UNODC, which is one of our top supporters and has very highly commended our work in the last two years. The UNODC is also moving some of their offices and one of their main training centres to Sri Lanka as well due our commitment to this.

We are one of the key players; we have played one of the biggest roles in global drug trade. This is because we have been able to work with all regional powers without a conflict. Our team is perseverant and works well with others and I have encouraged them to network well.
Q: Is there a reason why the number of incidents of drug smuggling has increased? Has the frequency of trafficking increased?
A: These may be because the investigations and surveillance have intensified. During the war time these crimes went unreported and the Police too did not have time to engage in investigations. What will happen now is the detection number will increase and then stabilise as we strengthen our unit. The drugs that use Sri Lanka as transit point go to different locations. Our other concern is stopping the local distribution and the newer drugs coming into the market. There are more and more pharmaceuticals coming in as drugs. Right now the law does not allow Police to carry out raids to arrest those who peddle pharmaceuticals, so we are working with different agencies to introduce new laws.
Q: Torture and deaths in custody continue to happen at the hands of Police; why hasn't this been curtailed?
A: It is not acceptable. The incidents that have happened are due to slip-ups on the part of the Police, all though they are well trained. Torture is a different issue. The recent AFP report does not detail the issue properly and has questions of credibility. But this is not to say we are not serious about addressing the issue, torture now is more prevalent in the south more than the north. During the last year-and-a-half we have worked on this matter, I personally spoke to most of the ASPs and OICs on the issue, they went through a day-long program. I have told them that the Government has zero tolerance and to remind their units about the Government's no torture policy.
Q: The Police has been actively recruiting Tamil-speaking individuals to the force. How has that move progressed?
A: We have progressed well, in December a batch of 500 Tamil-speaking Policemen passed out of the academy. But that is still not enough. We are looking at a targeted recruitment campaign at schools and the Yovun Pura so that the education level of the cadre also increases.
Q: Moving to the second part of your portfolio, Southern Development, how will development pan out – in the context of the southern belt being one of the key focuses of the tourism industry and development of the area being important to generate more business as well?
A: Southern development has been focused on the tourism sector. One of our flagship programs is in Dedduwa, which is moving inland from Bentota. It is a project with a 1,800-acre development, about 60% will be water and 40% will be land, designed under the experiential tourism concept. It is a flagship program. We are taking the whole environment and creating a whole new experience there. There will be waterways, mangroves, apartments, shopping malls and some water access ways that can be used for motorised boats but within speed limits and engine capacity limits. The area will be accessible from the ocean for sail boats to come in. Right now we are involved in a hydraulics assessment, to ensure that the project will not have an adverse effect on the water system in the area. The Environmental Impact Assessment will be done and the laws will be introduced before the project starts. In Dedduwa project land has already been acquired and compensation paid. Now we are involved in educating the entire neighbourhood on the project, how they can get involved, and gain economic benefits once it is is completed and is running.

The second development is in Akurala, similar to the Dedduwa project but not so large, it is about 1,000 acres. We are also going to restore an old Dutch canal. Except for the canal we will not acquire the land, but will be imposing new laws to ensure how they utilise the land.

We have already commenced some development in Galle Fort. We have stopped buses going into the area, and we will phase out access and later make it only electric vehicles only. Some of the dilapidated Government buildings are being restored. This is a UNESCO World Heritage Living site, if we lose the living part then we won't have much left, so we are working towards protecting that.

Sinaharaja is another development project we have embarked on. We are looking at developing it through all five access points, so the southern side will be my focus. It's best to develop tourism in the area because it will be a good mechanism to protect it.