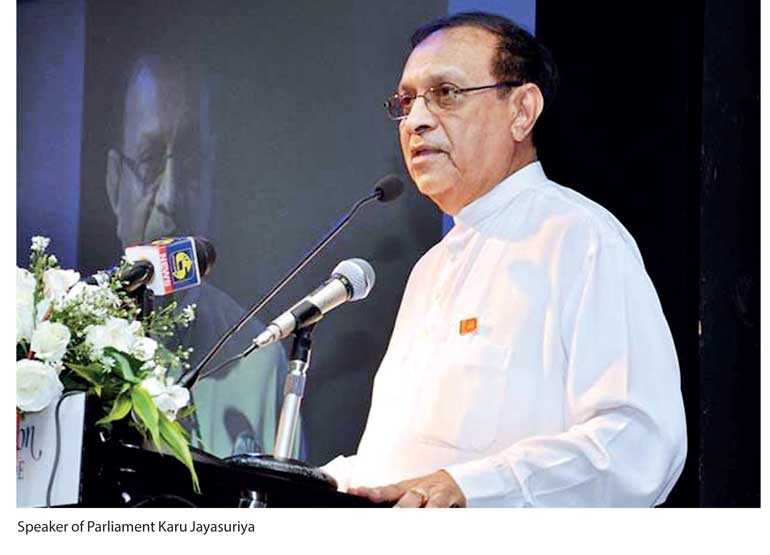 Tells South Asian Speakers Summit Parliamentarians have a critical role to ensure that adequate resources are allocated for achievement of the SDGs
Following is the speech delivered by Speaker of Parliament Karu Jayasuriya at the South Asian Speakers Summit held in Colombo on 11 and 12 July
At the first South Asian Speakers' Summit in Dhaka, we pledged to come together as a region to tap into our potential and face the challenges collectively in the journey towards achieving the Sustainable Development Goals (SDGs) by 2030.

At the second Summit in Indore last year, we decided to focus on four priority areas as a region:

1. Poverty eradication

2. Gender inequality

3. Climate change and disaster management

4. Regional connectivity

We agreed to strengthen parliamentary cooperation, mobilise resources, and to share, learn and benefit from the good practices followed in our respective countries. Therefore, it is important to discuss the progress achieved by our national parliaments on the SDGs and the implementation of the Indore Declaration, and chart our path for the next year.

Sri Lanka has taken the following overarching actions to achieve the SDGs:

As in many other countries, Sri Lanka's development agenda too is now focusing on achieving the Sustainable Development Goals. Sri Lanka is focusing on ways to overcome its structural and systemic development challenges, as it strives to transition to an upper middle-income country with a knowledge-based and highly competitive social-market economy. By focusing on rural development and social protection, Sri Lanka is looking to ensure that no one is left behind and that everyone can enjoy the benefits of development.

Since the endorsement of the 2030 Agenda for Sustainable Development, Sri Lanka has taken several noteworthy measures to facilitate its implementation in-country. These include:

1. The establishment of a Parliamentary Select Committee for Sustainable Development to provide political leadership for the implementation of the SDGs. This is the highest-level committee in Parliament, which acts as a coordinating body to ensure mainstreaming of the SDGs into Parliamentary functions, including oversight of government implementation. Thus far, the Committee has made recommendations on the need to mainstream the implementation of the SDGs in budgeting; and reviewed the availability of baseline data for SDG indicators with the Department of Census and Statistics.

2. The enactment of the Sustainable Development Act No. 19 of 2017, which provides for the development and implementation of a national policy and strategy on sustainable development in Sri Lanka, and for the establishment of a Sustainable Development Council.

3. Further, the evolving policy framework of the country reflects Sri Lanka's path towards embracing the sustainable development agenda. A Presidential Expert Committee has formulated a draft Report titled Sustainable Sri Lanka 2030 Vision – Strategic Path, after wide and in-depth consultations. There is also a mid-term development plan – the Vision 2025, the Public Investment Programme 2017-2020, and the 'Blue Green' Budget of 2018, which align at varying levels with the SDGs. The National Planning Department and the Budget Department are working with the Parliamentary Select Committee for Sustainable Development to see how these instruments can be better aligned, as well as how national planning and budgeting can be better informed by the principles of sustainable development.

4. When it comes to financing the SDGs, the country has recognised the need to improve domestic revenue collection capacity as well as to look at alternative sources of financing. Efforts are underway to simplify the tax structure, while broadening the tax base.

Eradicating poverty

Coming to the four priority areas identified in the Indore Declaration for action, the first is Poverty Eradication. Sri Lanka has taken the following notable steps in eradicating poverty.

1. Despite three-decades of war, the 2004 tsunami and the impact of the global recession, the national poverty line has declined from 15.2% in 2006/07 to 4.1% in 2016. The poverty incidence trend in the rural sector that accounts for about 80% of the poor in the country, has closely mirrored the national poverty trend. The poverty headcount index of the estate sector – which has historically been the sector with the highest incidence of poverty – has declined remarkably from 32% to 8.8% during the past decade. The rate of poverty in the urban sector has continued to remain well below the national average during the past decade.

2. It is of concern that poverty among children (i.e. those aged below 18 years), is relatively high compared to adults; in fact, the child poverty headcount index exceeds the national average. However, compared to 2012/13, poverty levels have shown a notable decline across all age and gender groups.

3. Despite Sri Lanka's performance with regard to poverty reduction over the past two decades, significant geographical variations exist. The Poverty Headcount Index varies across districts from 0.9% in Colombo to 18.2% in Kilinochchi.

4. Despite Sri Lanka's progress in improving access to basic services like health and education, electricity, safe drinking water and sanitation, there are regional disparities in some districts and sectors – the estate sector in particular. Measures to improve access to, as well as the quality of, basic services and utilities in these regions is crucial to eradicate poverty and achieve the SDGs.

5. It is important to note that although the poor account for only 4.1% of the population, a considerable proportion of the vulnerable population is clustered just above the poverty line. This population faces the risk of slipping back into poverty due to various shocks including natural disasters such as floods, droughts and landslides. It is important to improve the resilience of the poor and the vulnerable, especially given the rising incidence of climate-related extreme events in the country affecting the lives and livelihoods of households.

6. Poverty alleviation has been at the heart of Sri Lanka's development agenda, as evident from the Government's declaration of the year 2017 as the year of 'Poverty Alleviation'.

7. The Welfare Benefit Board was established in 2016, tasked with the creation of an integrated social protection system. At present, the Board is in the process of compiling a unified database for four key programmes (Samurdhi, elderly payments, disability payments and kidney patient payments), and refining their selection criteria. It is expected that in the long-term, all social protection programmes in the country will be included in this integrated system, leading to improved targeting and minimised overlaps among the programmes.

8. An effective social protection system is key to reducing poverty and the level of vulnerability. Overall, about 34% of the Sri Lankan population received benefits from social assistance programmes and social insurance programmes, including household members who are indirect beneficiaries. Nearly 45% of the elderly population (aged above 60 years) are covered by social protection.

9. It is noteworthy that Parliament has established a Sectoral Oversight Committee on Economic Development, which has poverty eradication as one of its objectives.

Gender inequality

Coming to gender inequality, which is the second priority area in the Indore Declaration, Sri Lanka presents a mixed picture with respect to gender equality. Sri Lanka was ranked 73rd out of 188 countries in the United Nations Development Programme's (UNDP's) Gender Inequality Index, which uses three dimensions: reproductive health, empowerment, and labour market participation.

1. Seven decades of universal access to free health and education services in Sri Lanka, has contributed to gender parity in many related indicators.

2. A key issue is the failure to translate female educational achievements into labour market achievements, with gender disparities recorded in formal labour force participation and unemployment rates. Formal labour force participation is significantly low at 35%. There is a large concentration of economically active women in both the informal labour market and in unpaid family labour, particularly in agriculture.

3. Women-headed households, which account for 24.3% of all households, are subsequently more prone to poverty and marginalisation.

4. Cultural stereotypes as to women's roles in society as well as child-rearing responsibilities – which often disproportionately fall on mothers, are among the main causes behind low female labour force participation.

5. Wide gender imbalances favouring men in enrolment in the natural sciences and information technology fields, limit female access to high skilled and remunerative employment in technology-related fields.

6. Measures to boost Female Labour Force Participation, such as introduction of flexible working arrangements, working from home arrangements and part-time work, providing transportation and allowances, and creating suitable avenues for females to re-enter the labour market after career breaks, are important.

7. Another area in which gender inequalities are apparent is in political participation. Although women have had the right to exercise their vote and to participate in political activities since 1931, the representation of women in Parliament has always been below 6%, in comparison to an 18% average in South Asian countries. The country is ranked 180 out 189 in the Inter Parliamentary Union's ranking of female representation in Parliament.[1] It is noteworthy that Parliament passed legislation in 2016 and 2017 to introduce a 25% and 30% mandatory quota for women at the local government and provincial council levels respectively. The mandatory 25% quota was applied at the recently concluded local government elections. It is to be seen if this will lead to meaningful representation of women and their interests at the local government level, and what other legislative measures may be necessary.

8. Sexual and gender-based violence is an issue of grave concern in the country, and has an adverse impact on gender equality as well as realising the full potential of women's contribution to the development process in the country. A Policy Framework and a National Action Plan to address Sexual and Gender-based Violence 2016-2020 was officially launched by the Ministry of Women and Child Affairs. An inter-sectoral approach is needed to meaningfully implement the Action Plan.

9. To ensure a child friendly legal mechanism in cases of sexual and gender-based violence and to avoid secondary victimisation, the proposed Bill for Judicial Protection of Children and the Children and Young Persons Ordinance is being debated in Parliamen.

10. Eliminating gender violence calls for more awareness building of existing legislation, proper enforcement of laws, and provision of adequate support services for victims such as crisis shelters, legal aid and counselling. The availability of national level prevalence data will further strengthen and streamline responses and prevent gender violence.

11. It is noteworthy that there is a Sectoral Oversight Committee on Women and Gender, as well as a Women's Caucus in Parliament, which are focusing their attention on many of the gender inequality issues that were highlighted.

Climate change and disaster management

Moving to the third focus area of climate change and disaster management in the Indore Declaration, the progress in Sri Lanka is as follows:

1. Unmistakable signs of climate change in Sri Lanka are manifested by the growing frequency and intensity of extreme environmental events. Sri Lanka has been adversely affected by natural hazards and extreme weather patterns during the last decade or more. The devastating tsunami of 2004 has made Sri Lanka's coastal zone more vulnerable to rising sea levels, and impacted on the tourism and fishing industries.

2. The tsunami prompted the appointment of a Parliamentary Select Committee on Natural Disasters to identify ways to improve Disaster Management in the country. Based on the recommendations made by the committee, the Disaster Management Act of 2005 was passed. Whilst there is a Comprehensive Disaster Management Programme for the country, this is yet to be fully implemented.

3. 2016 and 2017 have been years of deep drought and high floods, affecting many districts of the country. In 2016, the largely urban-centric flood damage was estimated around $1.5 billion. In May 2017, the total flood-related damage and losses were estimated to be around $ 480 million.

4. But the more insidious disaster has been the drought that has affected over two million people in 18 districts for much of 2017. The drought has had longer term impacts on livelihoods, food security, health and household welfare of a large population in the country. It has also resulted in most of the country having limited access to clean water. These environmental phenomena are potential triggers of conflict at the ground level, and need to be addressed in a holistic manner.

5. Changes in rainfall patterns also impact the economy as many export crops are highly sensitive to fluctuations in weather.

6. Recent projections by the Department of Meteorology up to year 2080, indicates a tendency towards more polarised distribution of rainfall in future — wet regions are becoming wetter and dry regions getting drier. Besides, being a tropical island with an extensive low-lying coastal belt, Sri Lanka is vulnerable to sea level rise in the long-run.

7. A study undertaken by the Asian Development Bank in 2014 projected that climate change will affect rice yields negatively in seven major agro-climatic zones in the country in a cumulative and progressive manner. Losses would be as high as one-third of current yield levels in some areas by 2080. Also in the long run, economic and social lives in coastal areas would be vulnerable to rising sea levels, creating pressure for migration.

8. In terms of Green House Gas emissions, it has been estimated that the country generates 2.16 tons of annual emissions per capita. Even though this level of emissions ranks among the lowest in the Asia Pacific Region, Sri Lanka has declared its commitment to fulfil obligations towards mitigation of global climate change by signing the Paris Climate Agreement and submitting Nationally Determined Contributions (NDCs) covering mitigation, adaptation, loss and damage and means of implementation.

9. The 'National Adaptation Plan for Climate Change Impacts in Sri Lanka' cites two main factors as affecting the country's capacity to cope with climate related shocks: vulnerability and adaptive capacity. Some of the key areas targeted by the National Adaptation Plan include food security (agriculture, livestock and fisheries), water resources, the coastal and marine sector, health, human settlement, ecosystems and bio-diversity, tourism, the export agriculture sector and industry, energy and transportation.

Regional connectivity

The fourth area of focus in the Indore declaration is regional connectivity.

1. As an island economy, regional connectivity is vital to Sri Lanka. Whereas its outlook was predominantly security-oriented during the three decades of armed war, the island nation has now turned its attention to economic and political security in the region and beyond.

2. Despite significant improvements in physical infrastructure connectivity, Sri Lanka has made only limited headway in strengthening its trade and investment links with the rest of the region. Thus, Sri Lanka needs to focus on two priority areas: engaging private investment in infrastructure by strengthening the country's institutional and regulatory environment, and implementing a more strategic trade policy geared to enhance regional integration efforts. Sri Lanka too, along with the other SAARC member states, must re-conceptualise existing regional trade agreements such as the South Asian Free Trade Agreement (SAFTA).

3. When looking at all the challenges our region faces, it is of great importance that we as leaders get together and create a strong and supportive network. We have to set national and regional priorities reflecting specific local needs and the circumstances of specific groups. We also need to track progress at national and regional levels and hold our governments accountable.

We must also play a critical role as Parliamentarians to ensure that adequate resources are allocated for achievement of the SDGs. The Asian Development Bank estimates that the Asia and Pacific region would need at least $1 trillion per year to finance the SDG targets, while the Official Development Assistance of this region is below $30 billion. Hence, the importance in our countries to mobilise domestic resources; and our role as Parliamentarians to question and vote budget laws and ensure efficiency, transparency and accountability.

Another important aspect of our contribution as Parliamentarians is to form active multi-stakeholder partnerships: A 'whole of society approach' is important to attain this very ambitious agenda. It is not possible only for governments to ensure effective implementation. All actors have an equal stake to participate in SDG implementation. As Parliaments, we can play a key role in this regard and form partnerships among stakeholders, including civil society organisations, academics, the business community, government, international development organisations and others.

Ladies and gentlemen, the SDGs are an opportunity for South Asian Parliamentarians to demonstrate our commitment to improving people's lives and the health of the planet on which all human existence depends. More immediately, the SDGs are a robust framework around which Parliaments can base their strategic plans, and pursue their oversight and accountability work.

Let me conclude by emphasising the importance of the South Asian Speakers' Summit in strengthening the regional cooperation between our Parliaments to achieve the SDGs. The Indore Declaration focuses on the key structural and systemic as well as practical challenges faced by the South Asian region. It calls upon the Speakers to consider setting up joint parliamentary groups under the Forum to deliberate and deepen cooperation on relevant issues. I would suggest we strongly consider taking this proposal forward through our Summit in Colombo this year.

I look forward to the updates from my fellow Speakers on the status of the implementation of the Indore Declaration in other parts of the region, and to identify next steps to achieving our ambitious agenda.