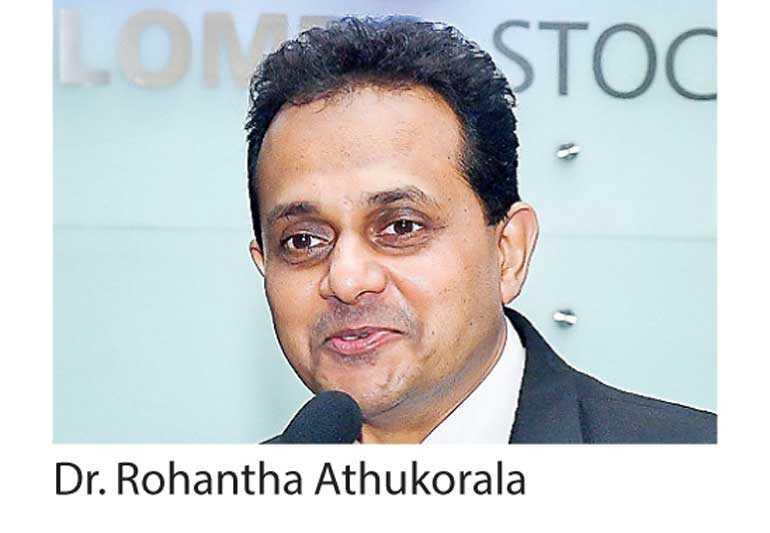 11 FTAs covering 46 countries: Dr. Athukorala at CSE
The Country Head – Turner Investments (USA) who was the former chairman of Sri Lanka Export Development Board/Executive Director National Council for Economic Development (NCED) Dr. Rohantha Athukorala voiced that Free Trade Agreements (FTAs) hurt but it is the best way to drive economic growth in a country. "The best case in point is Mexico which has 11 FTAs covering 46 countries and today it is a 1.1 trillion dollar economy with export revenues crossing $ 409 billion but thus require strong and credible leadership," he said.

Dr. Athukorala was addressing the Toast Masters Club at Colombo Stock Exchange under the Patron of CSE CEO Rajeeva Bandaranayake on the topic 'Building on perseverance'.

"Apparently during the year 2018 the ASPI is down 3.5% and the S7P SL 20 is down 9.5% as at 1 August, Colombo finishing the week lower on extremely low levels of total market turnover. With the average daily total market turnover of just $ 1.8 million challenges the break even level of a typical stock exchange," voiced Dr. Athukorala, explaining further how the trend of foreign selling continuing means that the market is cheap and trading 10 times below earnings and at around 1.2 times book value in a typical week. "This means lack of interest in the market as a whole by investors; and the only way to push the momentum up is by driving stronger economic growth. For this we must connect with the global market via FTAs. Be it the FTA with Singapore and then the FTA with Thailand and China Sri Lanka but a point to note is that Sri Lanka must focus on the supply chain development given the issue of unemployment at a low ebb of 4%," he cautioned.

"But first we must give the private sector confidence by correcting the FTA issues with India which is struggling with non tariff barriers at the Indian end," voiced the former Chairman of Sri Lanka Export Development Board.

The Q1 Corporate earnings have so far been lacklustre, led by a 23% drop in profits by market driver John Keells Holdings (JKH) for the June quarter followed by a similar performance by Aitken Spence, Soft Logic who are all operating across sectors. Given the agitation of certain sectors the President appointed top economist WD Laxman to present his finding on the FTA with Singapore that was inked nine months ago. Exports registered an $ 11.5 billion last year with GDP growth at a low ebb of 3%.