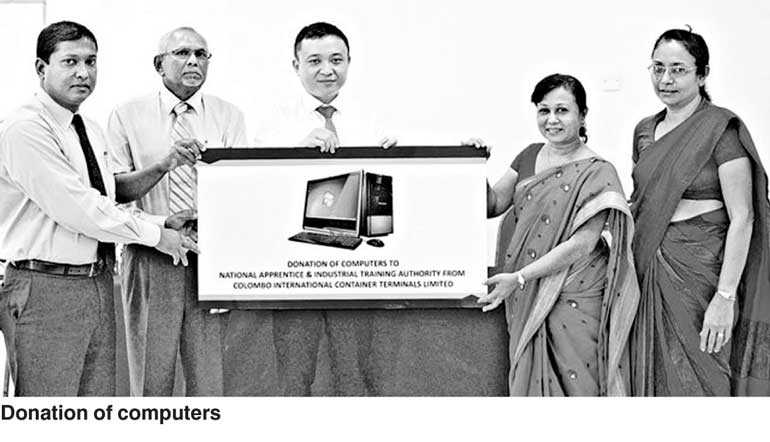 Recently a controversial donation made by Chinese company-run terminal in Colombo (CICT) was exposed by the media where Rs. 19.4 million was given to a foundation run by Pushpa Rajapaksa, the wife of the former all-powerful Minister Basil Rajapaksa.

Indeed, the media and many saw it as a bribe or and an influenced payment for the fact that this terminal got 85% of the stake, which in some business circles are calling it the most valued asset of the Port of Colombo as it is the only deep-water terminal in South Asia automatically attracting big ships without competition from SAGT and JCT the other two terminals of the Port of Colombo.



However, the company in a statement said that this $ 150,000 donation was done as a CSR commitment and that they are not involved beyond that. Interestingly most companies including CICT do CSR projects to extend the goodwill and at the same time to promote its brand to show the company's CSR commitments.

This is indeed natural, but what is questionable is all the other CSR projects named by CICT as other commitments have had clear public visibility as they have done press releases, articles, photographs, web links etc. Its parent company being a public listed company in Hong Kong, it is obvious that shareholders need to know its CSR activities and outcome.

However, mysteriously this CSR project which is larger than any of the others we could not find any publicity, whereas as all other mentioned CSR work is available on the internet and newspapers. At least if the cheque being handed over to a powerful Minister's wife was photographed and published at the time, nobody would have questioned the integrity of the CSR project in question, which was supposed to build many houses for the poor.

Readers will be happy to know what the housing projects and the details of the opening ceremony for the less privileged people's housing scheme which the media would have been invited to cover and CICT would have definitely been invited after donating such a big sum compared to its other CSR projects.

In the interest of the public we are happy to publish few photos of CSR projects CICT has done in the past with web links of newspapers, unfortunate no information is available on the Rs. 19.4 million donation and its CSR project that we could find.

We think the company is obliged to provide more information to the government and the public of the country and its international shareholders the details that are very controversial specially at a time when the New York times have revealed other controversial massive payments related to Hambantota Port.