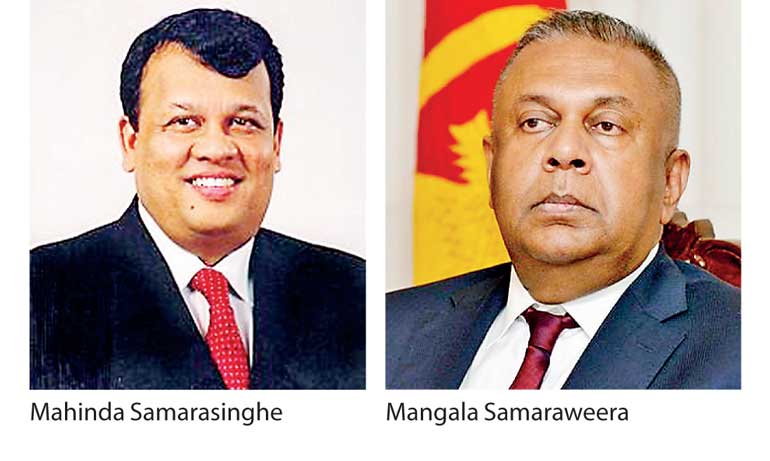 Speaking at the 2018 Budget debate in Parliament on Saturday, where the Budget was passed with a two-thirds majority, Finance Minister Mangala Samaraweera stated his intention to have an open dialogue with the Minister of Ports and Shipping Mahinda Samarasinghe before implementing any reforms related to Ports and Shipping.

In his speech he states "We need to encourage an environment of healthy competition that will drive innovation, service excellence and growth. We will ensure that such competition will be fair and balanced, eliminating unfair trade practices by enabling prudent regulation. This is why the proposal on shipping liberalisation is coupled with the proposal to implement an independent regulator for the industry. In fact, as I mentioned to my colleague this morning, we will discuss the modalities of implementation of these proposals with the Hon. Mahinda Samarasinghe, at the earliest, while taking note of all his concerns."

Responding to the Finance Minister Mahinda Samarasinghe expressed his gratitude for respecting the views of the industry and keeping the budget proposal open for discussion.

"May I just thank the Hon. Minister for considering to discuss further the position that I put forward as the line Minister and I want to thank him for offering to discuss this further. Of course, I want to reiterate that my proposal was on behalf of not only the line Ministry but also the entire SLFP where we sat down, discussed this, and took a decision. But I thank the Minister for keeping it open…"

It was made clear that the two ministries would work together to ensure that all stakeholders views are taken into consideration before implementing any changes and that the National interest will be upheld.

The industry would have to play an active role in helping the government to achieve its vision of becoming a Maritime hub which will not only benefit the industry but also the whole country. During the recent past many agency businesses have worked together with government authorities such as Sri Lanka Ports Authority, Merchant Shipping Secretariat, Sri Lanka Customs in implementing changes to the current procedure and improve ease of doing business. The industry has volunteered to engage in Pilot projects and act as change agents to ensure that procedures related to shipping are better than any other regional port. Hon. Minister of Ports and Shipping and the Chairman of SLPA ,after assuming office has initiated the long overdue National maritime policy which will have the full support of the industry. Therefore the industry will closely liaise with the Ministry of Ports and Shipping to make these discussions fruitful and also to promote fair competition benefiting all stakeholders.