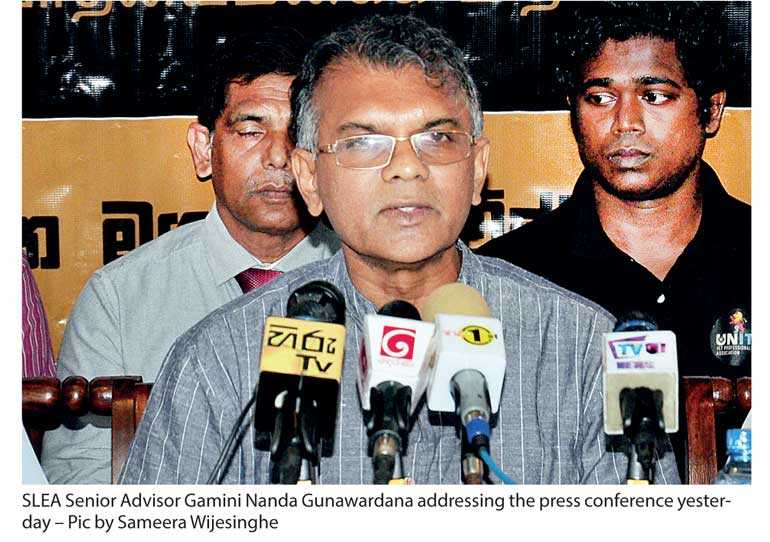 Want stronger pro-Sri Lanka policies and measures when engaging in future trade talks


By Maleesha Sulthanagoda

The United Professionals Movement (UPM) yesterday called on the Government to temporarily halt talks on trade deals, insisting they currently had little faith in the Government's ability to represent Sri Lanka's best interests competently and called for greater engagement to outline stronger negotiation measures.

At a press conference headed by UPM and the Sri Lanka Engineers' Association (SLEA), members expressed their concerns and grievances about the current Sri Lanka-Singapore Free Trade Agreement (SLSFTA). They also discussed measures on how the Government could improve future trade talks going forward so that the concerns of professionals and citizens would be better addressed.

SLEA Senior Advisor Gamini Nanda Gunawardana recalled that the UPM and other organisations had expressed their concerns to the Government on the ongoing trade talks numerous times but had received little response.

He alleged that at first the Government took their grievances into consideration but later neglected them and went ahead with the implementation of SLSFTA.

The UPM and othershad asked the Government to conduct several studies about the feasibility of the Singapore trade agreement and urged them to formulate a National Interest Analysis report and a Regulatory Impact Assessment.

"These studies would've pointed out the obvious shortcomings of the SLSFTA, but they are yet to be conducted," saidGunawardana.

UPM Technical Committee Coordinator Aruna-KanthaBandara told reporters that the SLSFTA was "the worst trade agreement and the biggest fraud in recent history."

"About 3,000 goods will be free from tariff lines. For example, in 12 years rice shall be completely free from tariffs and other products such as coconut will also soon follow this trend. We have consulted with lawyers and other professionals and believe the economy will be harmed by the SLSFTA," said Bandara.

A few other members also raised the issue of outdated legal and regulatory frameworks being used, which have proven to be ineffective in trade talks of the past to give the country a better outcome.

Even though the Ministry of Development Strategies and International Trade (MODSIT) has allegedly agreed to update these legal frameworks, developments are yet to be announced.

Members of the head table also highlighted the lack of a comprehensive National Trade Policy being another crucial factor for an unfavorable outcome for the country in trade talks.

In conclusion, the UPM demanded that the Government halt all trade talks until all the issues they had raised were sorted and the SLSFTA be ratified in accordance with constitutional requirements.