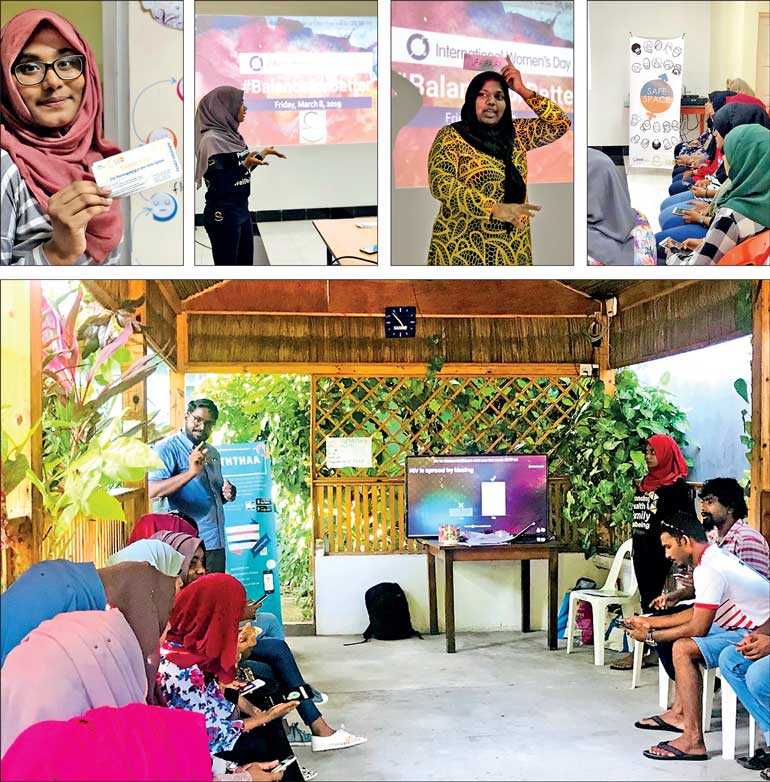 ---
Project 'Safe Space,' an initiative by the Society for Health Education (SHE – a member association of International Planned Parenthood Federation) is positively changing the recreational spaces in Maldives as a platform for youth to initiate healthy discussions on topics they hardly could talk to anyone about before.

A pilot project which was launched in January 2018, within a year has already reached out to more than 700 youngsters not just in Maldives but also the surrounding 10 islands where youth are far more reluctant to speak about sexual and reproductive health and rights.

The idea of project 'Safe Space' came up with the need to reach out to the youth of Maldives and create safe spaces for them to discuss openly about issues like gender-based violence, menstrual hygiene, relationships, social skills, etc. openly without the fear of becoming vulnerable or scrutinised.

In its second quarter, the project has reached out to 172 youngsters between the age group of 16-25 years. These sessions are conducted with the aim to create awareness around various topics such as consent, HIV/AIDs and sexually transmitted infections, menstruation and menstrual hygiene.

SHE Maldives Program Officer Mariyam Lahufa described how the initiative was difficult when they began especially to bring together the youth population, to encourage them to open up and then to maintain their engagement with the project. They had to try different methods like social media event creation, partner with cafes and restaurants in the area for free coffees and goodies. They even organised a trivia night which was a huge success and eventually the participation of youth in the project increased.

In fact, Mariyam mentioned how by the mid of the project, they brought together 105 young participants in an island around Maldives called GN Formula, which they consider as the largest gathering and one of the most successful events too.

Each session lasted anywhere between one-and-a-half hours to two hours and discussed the seven essential components of Comprehensive Sexuality Education by International Planned Parenthood Federation; Gender, Sexual and Reproductive Health and HIV, Sexual Rights and Sexual Citizenship, Pleasure, Violence, Diversity and Relationships.

About the major achievement of project, Mariyam said: "The major objective of the project was to sensitise more and more young people and solve the issues right from the beginning. We are happy with the extent of success the project has achieved and are also hopeful that with the knowledge shared, the youth of Maldives will become more informed, take better decisions and pass on the information to the next generation too."

The 'Safe Space' project not just created a platform for discussion but also opened doors for avenues from where they can seek help from like the app Siththaa (in Dhivehi, 'love and affection'), a UNFPA-supported app offering youth-friendly information on sex and sexuality, contraception, pregnancy, sexual reproductive health, STIs, consent and coercion.

They also give out information on different hotline numbers, organisations to seek help in case of emergencies and access to contraceptive options. This interactive application also enable users can also ask question anonymously which are attended by healthcare professionals.

Gearing up for their second phase, SHE CEO Ahmad Shafeeu explained: "The greatest learning during this one-year project was the importance of peer advocacy. Youth are more likely to open to a peer than a facilitator. Our next phase is to use the currently trained youth and train more of them to be advocates for sexual and reproductive health and rights amongst their peers. This year, the team will also reach out to the youth population living in the island communities, vulnerable groups such as youngsters living with disabilities, involved in gang violence and drugs."

To expand the outreach and implement the project activities successfully SHE Maldives is looking to collaborate with different stakeholders including the Ministry of Youth, Sports and Community Empowerment, Maldives Girl Guide Association and other civil societies who closely work with youth.