By N. Lohathayalan in Jaffna

Parliament and therefore COPE is one of the highest authorities on Government finance. Yet, outgoing and proposed Northern Governor Suren Raghavan has asked northern authorities to rescind COPE's adverse report concerning misuse of vehicles by his Personal Secretary S. Sathiyaseelan. The offences were committed by Sathiyaseelan when he was Secretary to the Provincial Ministry of Education.

This Secretary in the years 2013 and 2014 had a Government vehicle assigned to him in his capacity as Secretary for Education. COPE found that he had taken three additional vehicles in turn and incurred a loss to the Government of Rs. 365,000, said the Government Auditor who ordered this loss to Government refunded. COPE agreed. The Northern Province Accountant had examined this and ordered the Secretary to pay back charges identified as for private running.

Following this the provincial accountant performed his own audit and asked the Secretary to pay back Rs. 109,000. Even this reduced amount was not returned. Three increments since the incident are on hold.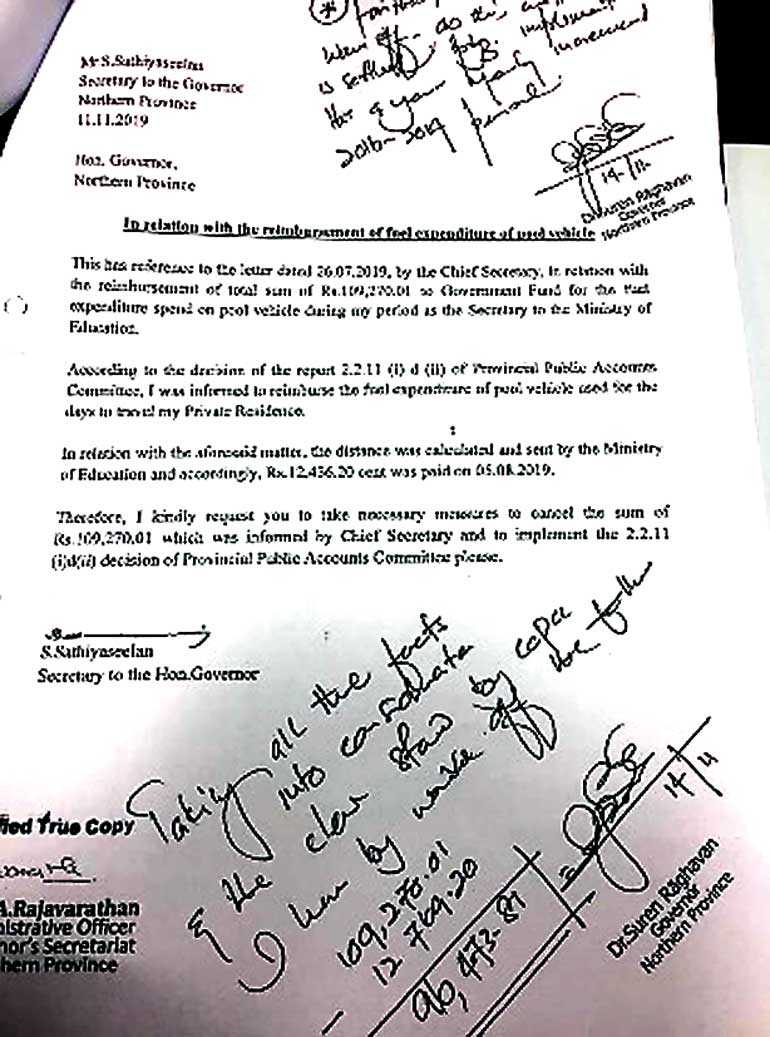 It is noteworthy that Presidential Elections were held on 16 November and Raghavan with other governors was expected to be terminated by the new President to bring in his own team.

Sathiyaseelan, who now functions as Personal Secretary to Governor Raghavan, appealed to Raghavan on 11 November to intervene on his behalf. Raghavan did on 14 November, two days before the election.

Raghavan has been playing another game in going against the law which prevents appointments during the campaign period and committing the offence called 'treating' in the accounts books. He has also campaigned in London among Tamils telling them that it is Gotabaya Rajapaksa who can revive the northern economy and they must ensure his victory and invest in Jaffna. Whether his views on Gotabaya are true or not, his trip to London in official capacity to do electoral campaigning would come under misuse of Government property for campaign purposes.

At the same time one K. Theivendram (presently Provincial Secretary to many agriculture-related subjects) was Secretary of the Provincial PSC during 2012-2013. At the time he had recruited many teachers who were on a temporary basis in Government schools. With them he had slipped in persons who had not been teaching in Government schools.

When the Government Audit queried, he explained it was G.A. Chandrasiri who authorised him. The Audit branch ruled that Theivendram had misdirected the Governor improperly to steamroll the appointments. He has been charge-sheeted.

These are typical cases of corruption from the pre-2015 period. Raghavan has taken on the task of clearing up the miscreants of that period. Theivendram naturally appealed to Raghavan "to order the Chief Secretary to withdraw the charge sheet". Raghavan like a dutiful stooge minuted to his equally dutiful and grateful secretary Sathiyaseelan, "Sathiya, please withdraw this. 14/11." A very busy broom indeed as 16 November neared, this Raghavan, just before leaving office.

After the change in the Central Government, new ministers are crossing the boundaries of their ministry authorities just like in pre-2015 days.

Following the Presidential Elections of 16 November, with the change of government and the appointment of a 15-member Cabinet, officials find themselves ordered to do this and that by ministers who have nothing to do with their ministries. As such they are unable to function, these officials say. Said a Provincial Secretary who did not wish to be named, even ordinary employees in these ministries are giving them orders, making the election seem as if taking the Government departments back to the pre-2015 problems.

At present the North Chief Secretary has both these illegal orders from Raghavan. He is too embarrassed, say officials, to tell Raghavan that he is exceeding his authority and violating all elections laws in trying to treat his friends during elections.

What will the Chief Secretary do?

Far more dangerous, perhaps, the appointment of a new governor for the north is in the works. All nine governors had resigned on the request of the new President. Six have been appointed. In Jaffna it is said to be a tight fight for influence with the new President to decide who will be appointed.

Names mentioned are those of Suren Raghavan nominated by Maithripala Sirisena (who they say has made only this one nomination and is pushing hard), EPRLF's Varatharaja Perumal, and EPDP's Thavarajah, all from Jaffna who campaigned for the President, besides some Sinhalese.