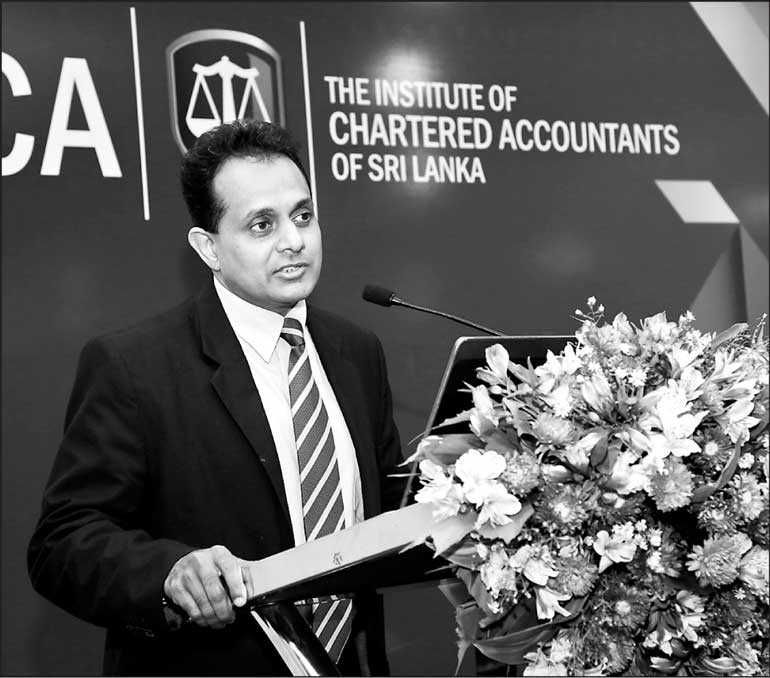 Dr Rohantha Athukorala at CA Sri Lanka
The Institute of Chartered Accountants of Sri Lanka (CA Sri Lanka) with a membership of 6000 members, known for developing versatile professionals in the key skills professional integrity, exceptional technical and perceptive skills apart from strong financial discipline staged a 'Training partner evening meeting'.

Marketing professional Clootrack (Sri Lanka, Maldives and Pakistan) CEO Dr. Rohantha Athukorala, speaking at the event, stated that given Sri Lanka has been grappling on the 'Governance' criteria, we see how the world is passing us by – not only Singapore, Malaysia or Bangladesh but now countries like Ukraine and Algeria as per the latest data released by Brand Finance. This performance does not augur well for the country, given that Sri Lanka was recently judged the number one destination to visit by Lonely Planet for the year 2019, he said.

He said Sri Lanka in 2017 was $ 77 billion, making Sri Lanka ranked 59th in the world ahead of Algeria and Ukraine which were at 60 and 61 respectively. In the 2018 Brand Finance report, Sri Lanka has grown marginally by 7.7% to $ 83 billion and ranked 61 globally whilst Algeria and Ukraine have grown by 27.1% and 23.5% to be ranked 58 and 60 respectively, beating Sri Lanka, which is unfortunate. In simple words it tells us that the pace at which Sri Lanka is performing is below the global industry average, and hence the world is passing by. Hence the key objective of the new President who comes to power on 16 November will be to address this issues, voiced Dr Athukorala, and thereby relaunch Brand Sri Lanka. Sri Lanka must become a $ 100 billion brand as a nation and an economy which is $ 100 billion. At this tipping point, Sri Lanka will see a surge in better quality tourists and also in finding strong export markets for our merchandise. Research from countries like Estonia and Croatia reveal that at this point, the FDIs attracted will be very attractive. Our duty from the private sector is to support the new President irrespective of what party he comes from, said Dr Athukorala.

CA Sri Lanka is the national professional accountancy organisation in the country which focuses on continuously focuses on enhancing the professional skills of its members, ensuring that they continue to play a significant role in partnering businesses and contribute to the success of the profession.