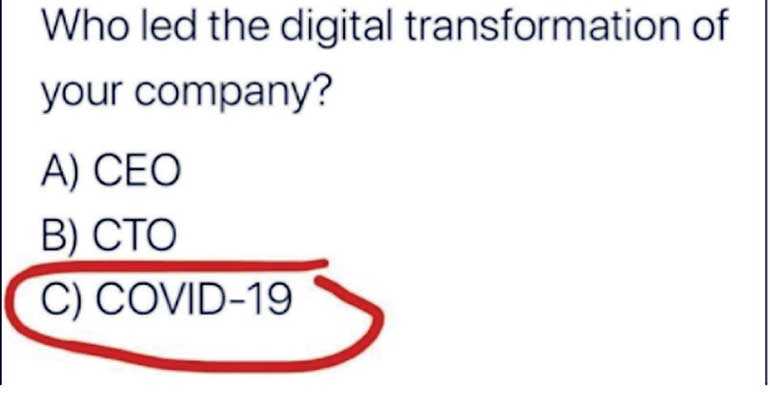 COVID-19 offered an opportunity that no one could refuse
---
By Thushan Perera
---
What is the most significant technology change in our lives post the turn of the century? It is none other than COVID-19. As Sri Lankans, we always doubted electronic payments, resisted fingerprint machines, petitioned against tablet computers. We were such a successful resistance force for change.

Yet, COVID-19 offered an opportunity that no one could refuse. It pushed our businesses and the public to integrate into the virtual world seamlessly. We started bank accounts online for the first time in our lifetime, ordered grocery items online, and even took classes online.

In the world stage, we saw people tied knot online, appeared on court online, signed contracts online, etc. We are also able to work-from-home for the first time for most of us. Amidst these silver linings of COVID-19, we can observe a challenge to act in the virtual world in the longer run. That is the requirement of proving identity online.

Proving identity is one of the fundamental requirements for accessing vital services such as education, financial services, mobile connectivity, social protections, healthcare, and financial services.

For example, I began taking a class online at this unprecedented time of coronavirus. However, I had to provide my scanned translated NIC and passport to authenticate my identity amid lockdown everywhere. So, it invokes the idea that if I had a digital ID proof, I could have used that ID to confirm my identity without providing copies of NIC or passport.

Adding to that, most of the time, we have to provide our credit card details online to confirm our identities. These platforms will not charge anything from the credit card, but they want the credit card details to establish our identity. However, a digital ID card would have been brilliant in these times.

A common argument against digital ID cards is data privacy. The Government has to build an expensive and expansive infrastructure to secure these highly confidential details. The scandals such as 'Cambridge Analytica' have created doubt amongst the general public about online identities. However, the advantages of digital IDs surpass its adverse effects, such as concerns regarding Government scrutiny if the Government can enable strong legal protections.

India is the best example of embracing these changes as they initiated the Adhaar initiative in 2009. Under this initiative, the Indian Government issued a 12-digit Unique Identification Number to its 1.3B citizens. This system has been used for granting unemployment benefits and managing attendance at work, and even now, it helps Government agencies to provide Government services in a quicker time than in the past.

Another potential benefit would be linking SIM cards with digital IDs. Currently, we have to provide our scanned NIC/passport to register a SIM card. However, digital IDs can streamline these services and make further efficiency gains not only to the customers but also for the businesses.

The potential future integration of social media accounts with digital IDs will ensure safe cyberspace for all. It will help social media companies to filter adult content, online harassment, and other forms of inappropriate contents out of sight. It also will improve accountability in social media use. However, this should not undermine the civil right to express their concerns online.

We see platforms such as Facebook allowing people to notify their safety status at times of emergencies. A digital ID system will help the authorities to track and trace people quickly in these times and identify the people in need in cases of compensations.

However, public trust in these systems is crucial for the success of the same. For that, the Government should enact strong data privacy laws against to misuse system for personal interests and built a state-of-art and robust security system to prevent any data breaches.

An independent and democratic governance practice will facilitate to genuine benefits of the digital ID system. An example of a success story in the digital ID system is Estonia where issuance of digital IDs in 2002. They built trust by setting a requirement to record the profile views.

I believe Sri Lanka's policymakers and civil activists should push the drive to the digital transformation of Government services, such as procurement, and at the same time, drive the private sector to embrace the same quickly. If we enable and empower digital technologies, we may see a reduction in opportunities for corruption and financial crimes too.

I must say that the Government of Sri Lanka has identified the need of the digital ID too. In 2016 budget proposals, issuing digital identity cards was a key proposal. The project also received the cabinet nod too with the purpose of remitting social security benefits. However, Sri Lanka fails most of the times in execution or the speed of execution.

Finally, apart from the need for digital IDs to active virtually, improve accountability, and improve the ease of living in the time of Industrial Revolution 4, the United Nations has set a Sustainable Development Goal (SDG 16.9) to provide an identity for everyone by 2030. Therefore, digital IDs can play a crucial role in achieving that universal goal too and making society a better one than yesterday.