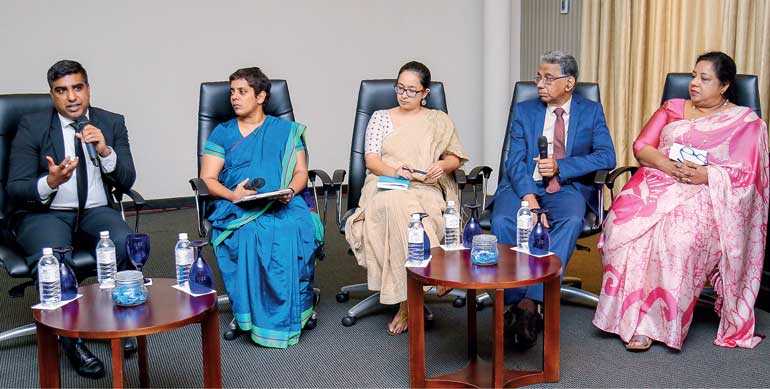 From left: Attorney-at-Law Mahesh Senaratne, TAF Director Justice and Gender Dr. Ramani Jayasundere, Attorney-at-Law Ermiza Tegal, Castle Street Hospital for Women Consultant Obstetrician and Gynaecologist Dr. Lakshman Senanayake and WIN Executive Director Savithri Wijesekera
---
Govt. must give top priority to GBV, not step-motherly treatment
Justice system must be victim-friendly to prevent re-victimisation
Greater awareness of rights, especially in rural areas, is needed
By Ayesha Zuhair

A coordinated, multi-sectoral approach where service providers from key sectors work together instead of acting in isolation is essential to effectively address gender-based violence (GBV) in Sri Lanka, and to ensure that victim-survivors are protected and empowered. This was flagged by professionals working on access to justice for GBV victims at a panel discussion held on Monday (25th) to coincide with the International Day for the Elimination of Violence Against Women.

The discussion entitled 'GBV and Women's Access to Justice' was organised by the Delegation of the European Union to Sri Lanka and The Asia Foundation. Speakers asserted that close collaboration from different sectors such medical, psychosocial, police and legal would greatly benefit victim-survivors of GBV, a highly prevalent and devastating yet sometimes trivialised issue. They also called on the government to give GBV top priority, not step-motherly treatment.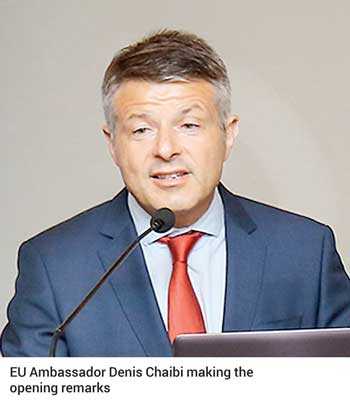 Keynote Speaker Justice Shiranee Tilakawardane, Justice of the Supreme Court (Retired), called on all those in positions of power to use their power for the important purpose of promoting gender equality and ending discrimination. "We must move from collective apathy to use our power to change the narrative. Exercise your power individually and collectively to bring about true and substantive equality," she urged.

Justice Tilakawardane said that GBV remains widespread despite the degree of legal protection with South Asia having the highest prevalence at 43%. She explained that is a problem which affects three generations; the victim, the victim's parents and the victim's children. She cautioned that discrimination against women and children could spiral in the future citing technology-facilitated abuse as a main driver, and that much work remains to be done to meet the new challenges.

Justice Tilakawardane recommended: (1) a victim-survivor centred approach where the victim can just not survive but thrive; (2) a rights-based approach to empower individuals and communities to exercise their rights, rather than assist them as beneficiaries; (3) an age, gender and diversity-based approach; (4) promoting gender equality and women's empowerment; and (5) a multi-sectoral approach.

The former Supreme Court Judge stressed that a victim-sensitive and victim-centred justice system has to be created to meet the evolving challenges and to ensure that victims are not let down by a system that is intended to protect them. Furthermore, she encouraged more females to pursue STEM (Science, Technology, Engineering and Mathematics) education, an area where women are significantly under-represented.

EU Ambassador to Sri Lanka Denis Chaibi stated that GBV is a widespread phenomenon with an estimated 35% of women worldwide having experienced either physical and/or sexual intimate partner violence or sexual violence by a non-partner at some point in their lives.

He noted that according to available data a total of 87,000 women were killed globally in 2017, with more than half of them killed by intimate partners or family members. That means 137 women died every day at the hands of their own family or someone they would normally trust.

"This is a problem very much prominent in Europe," he admitted and explained that GBV is a human rights violation which, in addition to the huge physical and emotional costs involved, imposed a severe monetary cost as well. The total annual cost of GBV for Europe is EUR 258 billion which is three times the GDP of Sri Lanka, he reflected.

The Ambassador noted that the nature of violence against women is changing, citing harassment perpetuated through social networks as one of the key contributory factors. A strong legal framework to support victims at all stages of the process is key, Ambassador Chaibi added.

The Asia Foundation (TAF) Country Representative Dinesha de Silva Wikramanayake said that since its establishment in 1954, TAF has a long history of partnership with the formal justice system in Sri Lanka. This includes supporting continuous legal education programmes, mentoring programmes for new judges and strengthening alternative dispute resolution mechanisms, among many other initiatives.

While the positive changes that have taken place must be acknowledged and celebrated, continued and joint efforts are needed to overcome the challenges GBV victim-survivors face as seeking justice is a difficult journey. Wikramanayake drew attention to the need to find ways to prevent victims from being re-victimised in the process of seeking redress. "We must support the victim-survivor to seek justice. She demands we rise up and give her our fullest support," she said.

Women in Need (WIN) Executive Director Savithri Wijesekera said that most victims don't access support services, and that the vast majority come only after experiencing several years of abuse.

"The earliest is five years but generally, most women come after 10 years of physical and/or psychological trauma," she said. She explained that there were numerous factors for this reluctance to come forward such as stigma, children, and financial reasons.

"How can a women have confidence in a system that is not victim-friendly?" she questioned, pointing out that the atmosphere was not conducive for women victims to seek legal recourse. She further stated that awareness-raising is important as there is very little knowledge of rights among women, particularly in regional areas

Wijesekera, who is also a member of the National Police Commission, also urged the Government to give top priority to GBV, not step-motherly treatment.

Castle Street Hospital for Women Consultant Obstetrician and Gynaecologist Dr. Lakshman Senanayake said that the health sector has a major role to play in addressing GBV. "Being receptive and sensitive to the victim, and also making them aware of the services that are available to them is important," he said.

Attorney-at-Law Mahesh Senaratne speaking on the role of the lawyer, said that firstly, it must be understood that it takes tremendous amount of courage to come forward. "You must understand that there is a lot of pain. Therefore, treat it very sensitively and be very careful about the advice you give," he said.

He said that lawyers handling such cases must not be afraid to push judges and help them clearly understand the victim's perspective. That is the only way to ensure some kind of accountability and that other victims too are encouraged to speak up, he said.

Senaratne explained that courts are not victim-friendly at present and recommended a separate court to hear GBV cases. "Just as there is a separate court – District Court No. 7 – to hear traffic cases, there should be a separate court to hear these cases. The Magistrate's Court, where all private plaints are heard is constantly packed like sardines. It is not the ideal place to go and talk about how you were violated," he said.

Attorney-at-Law Ermiza Tegal agreed that it took courage for victims to seek legal recourse and that it was always seen as a last resort. "It is important for us as lawyers to take the journey with them, to give support and confidence and also to provide the full context to judges so that they understand the gravity of the situation," she stated.

Tegal criticised the identification parade procedure as inhumane as it forced victims to physically point to the alleged perpetrator. "It breaks the person who undergoes that process," she argued and called for a procedure where the alleged perpetrator/s could be identified from a place where the victim is not directly exposed.

She also spoke on the need for multi-sectoral education for lawyers to understand the medical and psychological aspects of GBV.