Emphasises continuity of recent successful reforms and expediting those pending will strengthen resilience of economy and help unlock growth potential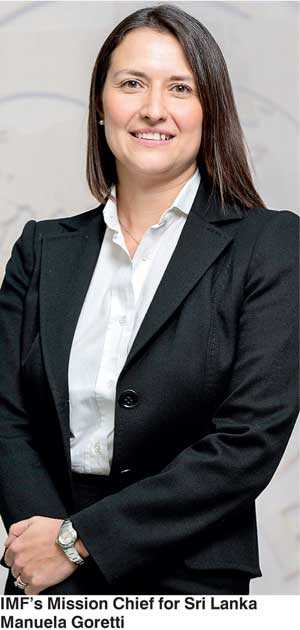 The International Monetary Fund (IMF) says for Sri Lanka to unlock its growth potential as well as strengthen the resilience of the economy to shocks, the country must persist with a multi-pronged reforms effort including revenue-based fiscal consolidation, improving business climate and regional integration.

The recommendation of a strong policy mix is from IMF's Mission Chief for Sri Lanka Manuela Goretti, who in an interview with the Daily FT noted the country's macroeconomic performance had been mixed in the first half of 2018. Sri Lanka has an ongoing $ 1.5 billion Enhanced Fund Facility (EFF) program with the IMF. The IMF staff led by led by Goretti recently concluded a visit to Sri Lanka to hold discussions on the fifth review of the EFF and the progress of Economic Reform Program. Following are excerpts:
By Nisthar Cassim

Q: During your recent review mission, what issues impacted Sri Lanka's macro-economic performance most?

A: Macroeconomic performance has been mixed in the first half of 2018, with growth recovering gradually and inflation stabilising in the mid-single digits. The current account deficit widened on the back of higher fuel imports, despite strong export performance, while international reserves declined from their peak level in April, amid volatile global market conditions. Growth is projected to remain below 4% in 2018, and gradually reach 5% over the medium-term.

Q: On which areas did see you progress on the part of the Government in managing challenges and stimulating growth?

A: The authorities have made important progress on their reform program, reaching a primary surplus through gradual fiscal consolidation, launching the new Inland Revenue Act, implementing an automatic fuel pricing formula, and setting a foundation for the inflation targeting framework with a more flexible exchange rate.

In the face of recent market volatility in emerging markets, the authorities should maintain a strong policy stance, with prudent monetary policy and further fiscal consolidation. Allowing the exchange rate to be market determined is also critical to strengthen the economy's resilience to market volatility, while supporting competitiveness and growth. Structural reforms need also to accelerate to strengthen the Sri Lankan economy's resilience to domestic and external shocks. Broadening the coverage of social safety nets based on well-defined selection criteria can help protect the most vulnerable and foster more inclusive growth.

Q: What are the medium-term challenges faced by Sri Lanka and how should those be addressed?

A: Sri Lanka needs to unlock its growth potential. To meet this objective, the government has already defined ambitious macro-economic, structural, and social reforms in Vision 2025. Consistent implementation of these reforms—by gradually liberalising Sri Lanka's protectionist trade regime, promoting greater regional integration, and improving the business climate—remains a top priority.

Stepping up ongoing anti-corruption efforts, strengthening institutional governance frameworks, including through greater transparency in fiscal and SOE management and a stronger Anti Money Laundering/Combating the Financing of Terrorism (AML/CFT) regime are also important.

With an ageing population, productively engaging Sri Lanka's sizable youth and female labour force participation remains critical, while a well-designed natural disaster risk financing framework could help mitigate the impact of climate change.

Q: Sri Lanka's currency has come under lot of pressure in recent weeks. In IMF's opinion what are the causes?

A: Along with many other emerging markets, Sri Lanka is facing external market pressures with the strengthening of the US Dollar. Oil importers, like Sri Lanka, are facing additional balance-of-payment pressures due to higher international oil prices. Sri Lanka is particularly vulnerable, due to its twin deficit and restrictive trade environment.

Q: How can Sri Lanka strengthen its resilience to shocks?

A: The key is to have a strong policy mix to strengthen the resilience of the Sri Lankan economy to shocks. In this context, continued progress with revenue-based fiscal consolidation and structural reforms is critical to tackle Sri Lanka's vulnerabilities, notably high public debt and refinancing needs, supporting investors' confidence.

The Central Bank of Sri Lanka should maintain a prudent monetary policy stance and stand ready to tighten if inflationary pressures were to resume, including due to an intensification of capital outflows, while exchange rate flexibility should be the first line of defence against volatile global market conditions.

Q: The reform challenge for Sri Lanka has been contentious and prolonged. What reforms can Sri Lanka prioritise in the short and medium term?

A: The reform effort needs to be multi-pronged. Key priorities include: (i) advancing fiscal consolidation through revenue mobilisation, a more robust fiscal rule, and stronger SOE governance, (ii) modernising monetary, financial and exchange rate policy frameworks, and (iii) accelerating growth-enhancing structural reforms, as mentioned above.

The authorities' commitment to change the monetary law to support CBSL's transition to inflation targeting and to strengthen the fiscal rules in the fiscal management responsibility law as well as ongoing efforts to complete energy pricing reforms are critical short-term steps in this direction.

Q: The 2019 National Budget is coming up. What are IMF's expectations?

A: Sri Lanka would need a strong 2019 Budget, aiming at further fiscal consolidation, to secure debt on a sustainable downward path and support investor confidence as large debt repayments are coming due. Given Sri Lanka's low revenue base, the authorities should continue to advance revenue-based fiscal consolidation.

A high-quality revenue package, supported by robust implementation of the new Inland Revenue Act and strengthened tax administration, can also create space for critical spending needs, including broader coverage of vulnerable families under well-targeted social safety net.

Q: What is IMF's outlook for the global economy and Asia and what aspects should Sri Lanka be concerned about?

A: The IMF's outlook for the global economy has been recently released. Our flagship report, the World Economic Outlook (October 2018), projects global growth in 2018-19 to remain steady at 3.7%. However, this is 0.2 percentage points lower than the forecast in April, and the expansion has become less balanced and may have peaked in some major economies.

The outlook remains robust in the US on the back of expansionary fiscal policy, while it has weakened in the euro area, the UK, and especially some emerging economies. Growth in China is expected to further moderate gradually.

Trade tensions have risen, and, together with US monetary policy normalisation and the dollar appreciation, are contributing to severe market pressures on vulnerable emerging markets. Sri Lanka is also exposed to these market pressures. Growth for emerging and developing Asia is projected at 6.5%, while for Sri Lanka growth is projected at 3.7% in 2018.

The recent Regional Economic Outlook for the Asia and Pacific region echoes these messages and recommends strengthening macro building blocks to weather the downside risks.